The Toronto Maple Leafs success this season can be attributed to one player, Frederik Andersen. Although Auston Matthews has led the way with timely goals and dominance in the offensive zone, Andersen has been the one to have elevated this team to be the third best team in the Atlantic Division and the Eastern Conference.
This season, there are a couple of frontrunners for the Vezina Trophy, with Andrei Vasilevskiy, Connor Hellebuyck and Pekka Rinne leading the pack. Andersen seems to always sit just outside the conversation as an underrated pick, but not only should he be in the Vezina conversation, he should be the leading candidate.
The Maple Leafs New Superstar
Before getting into how Andersen stacks up against his competition around the NHL it's important to see how he compares to past Leafs. For whatever reason, the Leafs have always had to rely heavily on their goalie to get by and it's still no different with Andersen.
He's been standing on his head all season and has covered up many of the Leafs defensive problems, but Andersen is close to being rewarded for that hard work. Since the 2006-07 season, Andrew Raycroft has held the Leafs' record for most wins in a season with 37 wins (also tied with Ed Belfour's 37 wins in 2002-03) and with how bad the team has been in the last decade it was impossible for any Leafs' goalie to match it. Until now.
Frederik Andersen is the first @MapleLeafs goaltender with two 40-save shutouts in a season since the NHL began compiling official shot on goal totals in 1955-56.

More in #EliasSays from @EliasSports: https://t.co/CQyOG90bcu pic.twitter.com/h3UFr26nfQ

— ESPN Stats & Info (@ESPNStatsInfo) February 21, 2018
With just 19 games left on the schedule, Andersen just needs seven more wins to pass that win record of 37 games. And with how well the team has been as of late, it's all but a certainty. He will likely start 16 of those games, since three games are back-to-back games which Curtis McElhinney tends to start.
If Andersen can break that record, it would be easy to say that he's already the best Leafs' goalie of the modern era.
Competition Around the NHL
This season there are a number of great Vezina candidates, so when comparing them against Andersen, it's important to keep it to a small group. So we are going to be looking at Vasilevskiy, Hellebuyck, Rinne and Tuukka Rask.
Vasilevskiy GP 50  W 35  SA 1580  Svs 1466  Sv% .928
Rinne          GP 44  W 31  SA 1387  Svs 1286  Sv% .927
Andersen    GP 52  W 31  SA 1781  Svs 1643  Sv% .922
Hellebuyck GP 50  W 31  SA 1491  Svs 1375  Sv% .922
Rask             GP 39  W 24  SA 1055  Svs 973  Sv% .922
Now, when looking at all these goalies side-by-side, there are three things that stand out. The first is Vasilevskiy's 35 wins this season. He is having a fantastic season, but just looking at a goalie's win record doesn't really determine how well he's playing when it's really more of a team stat.
Having just said that, Rinne stands out immediately with his 31 wins in just 44 games. It really shows just how good the Tampa Bay Lightning and Nashville Predators are this season, but both of their save percentages (Sv%) are the true indicator that they've been great and not just their win record.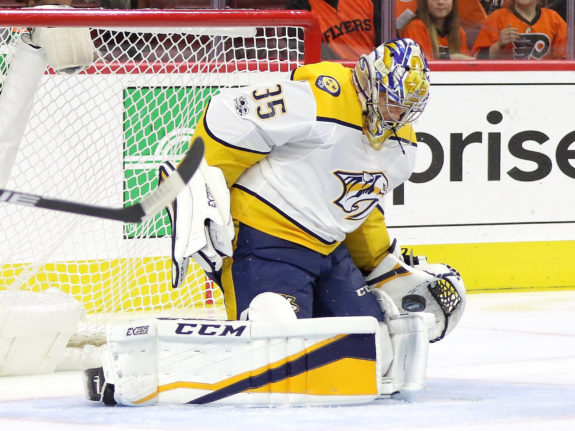 And a neat milestone for Rinne is, that by winning his 44th game of the season, he becomes the 34th NHL goalie to hit 300 career wins.
Lastly, the third stat that stands out among all these goalies is just how many more shots Andersen has faced this season.
Andersen Leading the League
As Leafs fans, we've all seen first hand how many shots Andersen faces each game and how much of a difference-maker he is for the team. But, when you stack how much work he's done in net this season against other goalies who have faced a similar amount of shots, it shows that he's the top performing goalie in the NHL.
So, first some quick stats on Andersen. He leads the NHL in games started with 52 games as well as time-on-ice and, unsurprisingly, leads the league in shots against and saves. His shots against and saves really stands out when you compare his numbers to the goalie with the second most — the New York Rangers' Henrik Lundqvist.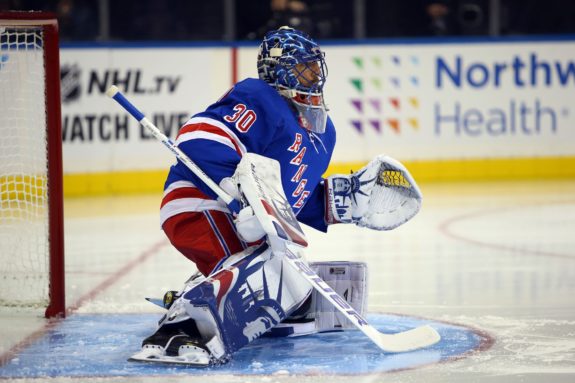 In 50 games started, Lundqvist has taken 1,609 shots against, which is 172 shots less than Andersen's 1,781 shots. It's the same for saves, with Lundqvist having made 1,471 saves, also 172 saves less than Andersen's 1,643 saves. And, interestingly, they both have allowed the same amount of goals, with 138 goals against. The difference here is that Andersen has a .922 Sv% while Lundqvist has a pretty average .914 Sv%.
Andersen has faced the most shots in the NHL and is playing significantly better than goalies of teams that have similar shots against per game (SA/GP) as the Leafs.
#1 New York Islanders SA/GP 36.0
#2 Florida Panthers SA/GP 34.6
#3 Toronto Maple Leafs SA/GP 34.2
#11 Nashville Predators SA/GP 32.5
#12 Tampa Bay Lightning SA/GP 32.5
#21 Winnipeg Jets SA/GP 31.3
#30 Boston Bruins SA/GP 29.0
Andersen's .922 Sv% may not be the best in the NHL, but when you look at the sheer amount of shots and saves he's made its amazing that his Sv% is even that good. Now, which is truly Vezina worthy? A great goalie that plays for a defensively sound team that doesn't allow many shots or a goalie that covers for significant defensive errors on a nightly basis while also being shelled with shots?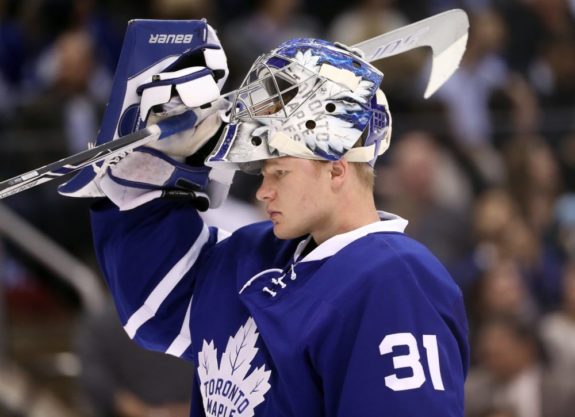 Andersen is the latter. He is singlehandedly carrying the Leafs into the playoffs while having faced the most shots in the NHL and having the 11th best Sv% in the NHL with goalies that have played at least 18 games and he is fifth in the NHL with goalies who have played at least 40 games.
Andersen not only deserves to be recognized as an elite goalie in the NHL but also as the top candidate for the Vezina Trophy.
Toronto Maple Leafs contributor for The Hockey Writers.
I've been a fan of the Toronto Maple Leafs since I was a kid and have always had an interest in writing. At The Hockey Writers, I get to enjoy both of my passions as well as writing about small convoluted details in player contracts and stats.