The Boston Bruins will be without forward Anders Bjork for the remainder of the 2017-18 season after the rookie underwent a successful left-shoulder arthroscopy and labral repair on Feb. 20, the team announced Thursday. Bjork suffered the injury on Jan. 30 in a loss to the Anaheim Ducks and was seen wearing a sling on his arm by members of the media.
Bruins issue update on Anders Bjork: https://t.co/NgwfAJiZIL

— Boston Bruins (@NHLBruins) February 22, 2018
Related: Bjork Injured in Loss to Ducks
This news is unfortunate for Bjork who was in the middle of his first season in the NHL following an impressive three-year career at Notre Dame. The Bruins fifth-round pick from 2014 was experiencing an up-and-down year in his rookie season in Boston with four goals and 12 points in 30 games.
While the point production may not have been consistently on display, there's no denying Bjork's skill as a forward and long-term upside at the NHL level.
With elite level vision and a high hockey-IQ, Bjork has shown that he can create separation and make plays in the NHL. The consistency will come in time, but for a Bruins team that is dominating their competition this season, Bjork's development was something the team couldn't put too much stock into this year.
For that reason, the team sent him down to Providence to give him more ice time and a chance to properly hone in on his abilities. He shined early on before being recalled due to injuries. That recall didn't last long, however, as he played in only two games before the injury occurred.
A Chance to Heal for Bjork
While it's unfortunate that the 21-year-old's season was cut short, he'll now get the time he needs to rest and recover from the surgery he underwent Tuesday. It's a tough way for his season to end, but he did his part when needed in Boston this year and should be ready to go once training camp kicks off next season for the Bruins. The prospect pool in Boston is deep, but Bjork's experience this season was invaluable regardless of the other players vying for jobs.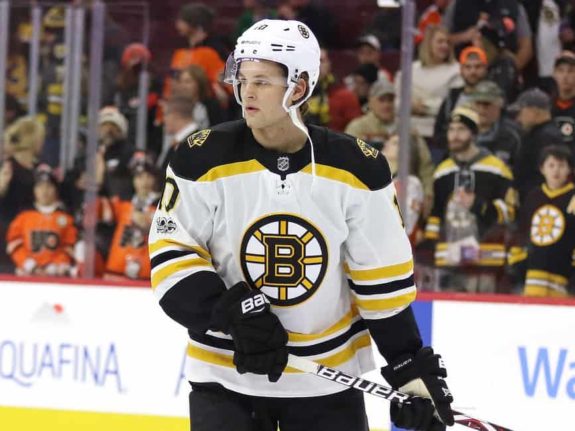 Something that works to Bjork's advantage in the long-run is their lack of depth on the right side of their forward group. As it stands, the team currently has David Pastrnak has a natural right-winger in their top-nine with Ryan Spooner and David Backes taking on those roles on the second and third lines respectively.
Both Spooner and Backes are natural centers, though Backes has played wing consistently in St. Louis and with the Bruins and Spooner is finally starting to realize his potential with a spot on the wing and not down the middle.
While the Bruins do have Zachary Senyshyn in Providence and Jakob Forsbacka Karlsson and Ryan Donato – two natural centers, who could be in the plans next season either on the wing or down the middle, Bjork's proven that he should have the first shot at a spot on the right wing when he returns to full health. Once he gains confidence and refines his skills a bit more, he could be an invaluable core piece of this Bruins team for a long time.
Brandon Share-Cohen has covered the NHL and various professional sports for seven years. Working with The Hockey Writers, Brandon works extensively on covering the Boston Bruins in addition to his role as the News Team Lead.