By Wayne Whittaker, Boston Bruins Correspondent
There's no doubting that the Boston Bruins are an extremely talented hockey team. When they're on their game they can be a nightmare to play against. But more often than not this season, Boston has escaped games with points. The killer instinct that was on display for much of the past two seasons has yet to show up in this year's incarnation of the black and gold.
Once the underdogs, known for their suffocating defense and relentless grit, Boston seems to have embraced the idea that they are now a powerhouse. They have the wins, the swagger, and no short amount of confidence in themselves…perhaps a bit too much.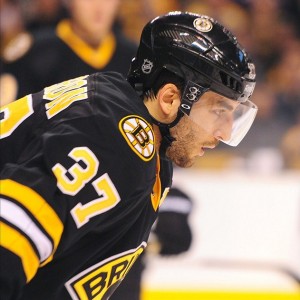 Once upon a time, a Bruins lead heading into the third period was a death sentence for the opponent. Coming into this season, the Bruins had won 94.4% of games in which they led after two periods since 2010. This year they sit in 28th place, above only Buffalo and Colorado in that category, with a .667 win percentage.
Can you point to a single game where the Bruins simply dominated their opponent? Unlikely, as they've only won a game by three goals on four occasions. And remarkably, they have yet to lead a game by four goals. Spot the Bruins a goal or two, and they begin to look like a complacent hockey team.
When asked whether or not he was worried about his team's inability to win by large margins, Patrice Bergeron told reporters that it's not a concern, adding, "it's just something that we need to readjust I guess, be a little better at, and we're satisfied with the fact that we get the lead, but we're not satisfied with the way that we're keeping it obviously, and it's just something that we've got to re-address, and I guess it's part of the process in the season."
The 'cruise control' mode Boston has seemingly embraced has not been going unnoticed by their fans, who actually began booing their home town team during a particularly lackadaisical second period of Thursday's game against the Florida Panthers.
This is not a good habit for Claude Julien's club. Now past the halfway mark of this truncated season, time is running out to correct these mistakes. It's hard to point the finger at any individual in this situation, as it appears to be a mentality held by the majority of players.
"We're average at best right now," Coach Julien admitted post-game Thursday night, "I don't think we're any different than any other team right now. We want to be different, we want to be as stable and consistent as possible."
Recently Nathan Horton commented that he couldn't wait to get the regular season "over with", and for the playoffs to begin. The last Bruins team to hold such a mentality was the 2009-2010 club, who were unable to correct their own bad habits in time to get beyond the second round of the post-season.
This is not to say the 2013 Bruins are destined for the same unfortunate fate. This team could absolutely pick up its game later this month and through April, find that next gear, and make a solid run at the Cup. At least, that's the expectation around Causeway Street.
The truth is, anything short of a Conference Finals appearance will be considered a disappointment in the eyes of ever-critical, and perpetually spoiled Boston sports fans. The lofty expectations are not without reason, however. This team is too talented to be eliminated in the first round for the second consecutive year. But for all of their talent, they'll still need to put the work in to reach their full potential.
Six weeks separate us from the Stanley Cup playoffs. In that time, the Bruins will most likely add some players to the mix, and quite possibly lose some familiar faces (either to trade or injury). We have yet to get a clear look at what this team is capable of, and unless they can correct their recent mistakes, we may never get that chance.
—
Wayne Whittaker has been a Boston Bruins Correspondent for TheHockeyWriters.com since 2010. As a Berklee College of Music graduate, and Massachusetts native, Whittaker has been around Boston, the Bruins, and the game of hockey his entire life. His work has also been featured in Sports Illustrated, Huffington Post, CBSSports.com, and Yahoo.com.