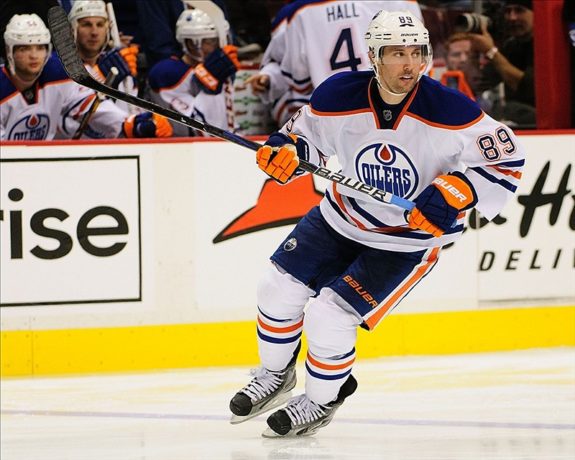 With the trade deadline quickly approaching the Edmonton Oilers Sam Gagner once again finds his name prominently among the trade rumours.  This year, however is a little different for the six year pro.
This year he is not under scrutiny for underachieving play, and he is not deemed simply an expendable part that can be packaged for more promise.  This year he is the Oilers leading scorer and their best forward on more nights than not, and more importantly, a major asset.
Gagner has shown himself to be a top six forward critical to the lineup in 2013.  Something the team has been hoping for in previous years, but had been left wanting.  Which puts Steve Tambellini and the Oilers brass in a tough spot.  Now that Gagner has finally started to show the promise and potential they expected, do they still look to deal him, or now do they look at what it would cost to re-sign him and keep him as part of the core.
The issue with the Oilers is that they have a few very glaring needs.  Specifically another goaltender, a top six power forward and ideally a left handed top pairing defenceman.  These are not exactly assets that grow on trees.
What they do have is an excess of is highly skilled smaller forwards.  We know Taylor Hall, Jordan Eberle and Ryan Nugent-Hopkins aren't going anywhere, and it would be hard to see Nail Yakupov being traded having just been chosen first overall.
That leaves players like Gagner, Ales Hemsky and Magnus Paajarvi as potential trade chips.  All three are having improved years, but of the three Gagner is the biggest asset, taking into account age, contract, position and the fact he is producing more than the other two at the moment.
While the Oilers at this point would be hesitant to give up their scoring leader and a top two centre, if he can be part of a deal to bring in one of the aforementioned pieces, than the Oilers certainly have to consider making it.
The other question is what Gagner would demand in terms of a new contract if they were to re-sign him.  Currently he is on the last year of his deal that earns him 3.2M.  He is scheduled to become an RFA at season's end and will be looking at new terms and an increase ini salary.  If the Oilers can sign him in the 4-4.5M range they may be happy to ink that deal, however if he continues on his current pace that number will continue to rise.
The fact is that Gagner has proven that when played with good offensive players he can produce.  His defensive game is improving, although still not at the point where you would be comfortable with him out there against another team's top line, but it has been better.  With the overall improvements to his game and numbers he has set himself up quite nicely.
The Oilers are in a position where they have to listen to any offer that comes their way.  If they have an opportunity to land a power forward or top pairing defenceman, then the price of Sam Gagner might be one they need to swallow.
If Sam Gagner is still an Oiler after April 3, it will no doubt mean that Tambellini did not find a deal to his liking and the team keeps it's leading scorer – not necessarily a bad thing.  However, the Oilers need to do everything in their power to improve the team as a whole.  It has been evident at times that the collection and type of skill they have is not the ideal mix to win long term.
If they have a chance to fill a hole and turn a weakness into a strength, then they need to look at every possibility, and Gagner very likely may be a key to it.
Either way, Tambellini has some thinking to do between now and April 3.