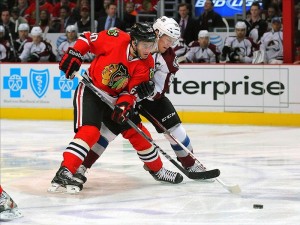 Brandon Saad was drafted by the Chicago Blackhawks in the 2nd round 43rd overall in 2011, after playing two NHL games he was returned to the OHL's Saginaw Spirit where he continued his progression and development.  This season Brandon Saad is making a name for himself in the Windy City, making the team out of camp and giving a lasting impression on Blackhawks fans. Brandon Saad has arrived in Chicago.
With the NHL lockout wiping out the first half of the season Saad bided his time with the AHL's Rockford Ice Hogs playing in 31 games collecting 8 goals and 12 assists for 20 points. Once the lockout ended Saad was once again faced with his chance to make the jump to the NHL and this time he didn't disappoint.
When you look at the Chicago Blackhawks roster the first thing you see is a roster stacked with talent from the net out. Saad faced an uphill battle just to make this team and since he has done that he has been impressing Blackhawks fans with his work ethic night after night.
Watch any Blackhawks game and you can most likely find Saad on a line with Marian Hossa and Jonathan Toews skating hard always keeping his feet moving to create chances in the offensive zone. With his style of play Saad has been drawing penalties from opposing players regularly.
Coach Quenneville is known for holding his players accountable on both ends of the ice and the fact that Saad has earned so much responsibility and trust from Coach Q speaks volumes about the rookie's work ethic.  Saad not only takes a regular shift on the top line as he has shown he is a valuable member of the penalty kill unit and he has responded to the extra ice time and responsibilities remarkably well.
http://youtu.be/45yGnJJroTU
While some may have expected Brandon Saad to remain in the AHL when the season started he has proven that he is capable of playing a regular shift on the Chicago Blackhawks top line, cementing his status as an NHL player. So far this season the rookie has collected 4 goals and 7 assists for 11 points and a +6 rating in 26 games.
Brandon Saad is showing the potential to develop into a great two way player with above average offensive skills, much like his linemate Marian Hossa. With Patrick Sharp injured Saad has a chance to show off some of those offensive skills that saw him pot 34 goals in 44 games in the OHL last season.
While Brandon Saad may not win the Calder Trophy, as it is usually given to the rookie who puts up the most points, he has certainly won over the city of Chicago. It may be too early to predict exactly how his career is going to end up but if it continues to excel the way it has, the future is certainly bright for Brandon Saad