By Wayne Whittaker, Boston Bruins Correspondent
I have a pretty clear memory of walking out of the TD Banknorth Garden on April 7, 2007. A completely unremarkable game had just taken place (a 6-3 loss to the Ottawa Senators), and another Boston Bruins season had come to a disappointing close. I distinctly remember one particularly depressing debate between two fans as they tried to decide whether or not the Bruins missed Brian Leetch.
There wasn't much to look forward to in those days. After the 2004-2005 lockout, Boston management had misinterpreted how the "New NHL" would be played, and as a result the team missed the playoffs in both 2006 and 2007. The franchise was approaching irrelevance in the world of Boston sports.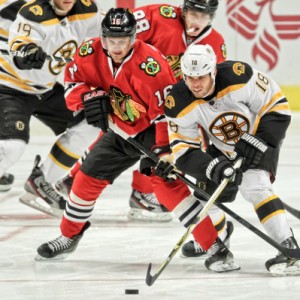 Seven years, six playoff appearances, two Eastern Conference titles, and one Stanley Cup championship later, and the Boston Bruins franchise is unrecognizable from its Dave Lewis led post-lockout days. Four more wins, and this could be considered a peak point in franchise history.
I'm not joking. Should the Boston Bruins find a way to defeat the Chicago Blackhawks in the 2013 Stanley Cup Finals, this team will be remembered as one of the best groups to ever play on Garden ice, new or old.
Names like Patrice Bergeron, Zdeno Chara, David Krejci, Brad Marchand, Nathan Horton would one day be mentioned with the same reverence held for names like Phil Esposito, Johnny Bucyk, John "Pie" McKenzie, Derek Sanderson, and Bobby Orr. Four wins, and Claude Julien becomes the first head coach in franchise history to lead the team to two Stanley Cup championships.
Four wins.
This isn't 2011. Tired 'David vs. Goliath' comparisons don't work this time around. The Boston Bruins knew they could be here. There was never a shortage of confidence in the Boston locker room, and after smothering the most prolific post-season offense in nearly three decades into a four game sweep, they fully believe they can handle the President Trophy winning Chicago Blackhawks in a best-of-seven series.
But let's face it, despite the fact that the Bruins have found a way to win close hockey games, they haven't been at their best. This isn't meant as slander, but rather a terrifying fact when you consider just how good they've already been.
Tyler Seguin leads the pack in terms of frustration and borderline underachievement. He's closely followed by linemates Chris Kelly and Rich Peverley. Together the three have combined for just 2 goals, 3 assists, and a +/- rating of -11. This is their last shot to get it together. Seguin has to lead the way. As a former 2nd overall draft pick, and a multi-million dollar whiz kid fully expected to carry the bulk of Boston's future offensive output, it's almost unthinkable for him to rank somewhere in the bottom third of Boston's playoff scoring.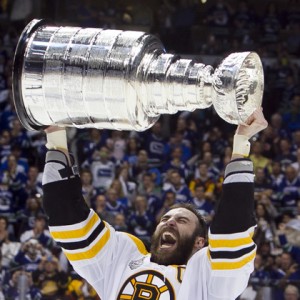 Consider that in 2010-2011, the rookie Seguin put up 3 goals and 4 assists in 13 games of post-season action, and beyond a few monumental games in the Eastern Conference Finals was considered a passenger on that team's run to the Stanley Cup. Fast forward to 2013, and Seguin has just 1 goal and 4 assists in 16 games. Want to make a statement and provide your team with the output they have come to expect from you? A good place to start would be in the Cup Finals against your best bud Patrick Kane, who despite looking like every smug kid you hated in high school remains in the elite echelon of league stars.
So far Boston has defeated a fast, young team in the Toronto Maple Leafs, a goalie-led defensive Eastern Conference favorite in the New York Rangers, and a heavily favored juggernaut in the Pittsburgh Penguins. Chicago is a hybrid of all these teams. They're young, fast, strong defensively, and packed with star players. But they're also not unbeatable.
Detroit came close, leading their series against Chicago 3-1 before falling in overtime of Game 7. But otherwise Chicago has coasted to their second Stanley Cup Finals appearance in four years with five game series victories against the Minnesota Wild and Los Angeles Kings. Boston is the toughest team they'll have faced in these playoffs, just as Chicago represents the Bruins biggest challenge.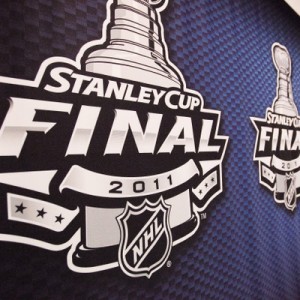 This could be a very memorable series. We all know the history of these two Original Six franchises, we've all seen them lift the Stanley Cup in recent years, and we've all seen the two teams fight to have this opportunity once again.
Wednesday may seem years away now, but it'll sneak up on us all quickly. Once the puck is dropped, nerves will spike, adrenaline will set in and one of these teams will set the tone in Game 1.
For Chicago, the key is to effectively break out through the neutral zone, get in behind Boston's defense and take advantage of any breakdowns in coverage, particularly on the power play.
For Boston, they'll look to slow down Chicago's fast forwards and disrupt any rhythm they try to maintain, set the physical tempo, and get bodies in front of Corey Crawford. On top of all this, Bruins players, management and fans will have to believe one more time.
—
Wayne Whittaker has been a Boston Bruins Correspondent for TheHockeyWriters.com since 2010. As a Berklee College of Music graduate, and Massachusetts native, Whittaker has been around Boston, the Bruins, and the game of hockey his entire life. His work has also been featured in Sports Illustrated, Huffington Post, CBSSports.com, and Yahoo.com.