It's not pretty to look at, but consider this pathetic Eastern Conference Final performance:
A powerplay unit that scores zero goals on 14 opportunities
The team captain — one of the so-called "best players in the world" — is held without a point in four games
A defense that allows one player to attempt 21 shots in a single game
Outhit 142-105 and outshot 136-106 in the series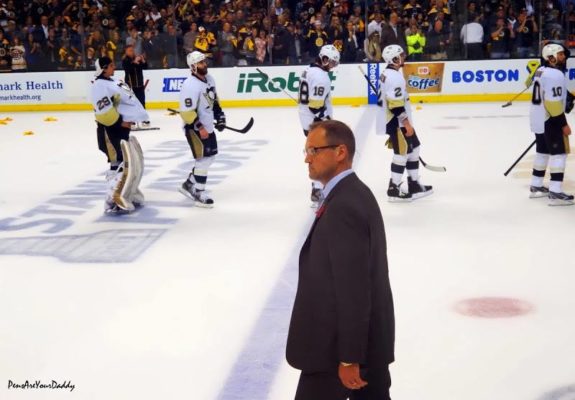 It's no wonder the Boston Bruins swept the Pittsburgh Penguins in four straight games.
Oh, and one more thing…
Those were stats about Boston — not Pittsburgh.
Narratives can take on a life of their own in NHL playoff hockey.  The Penguins set themselves up for intense scrutiny after adding four multi-million dollar players to their talented roster at the trade deadline.
Outside of Pittsburgh, hockey fans sat by their televisions quietly rooting for the team's demise.  Stanley Cups should be earned by teams, they said, not acquired by the highest bidder at the league's spring talent auction.
To the Penguins faithful, it wasn't just the series loss but the way it all unfolded against the Bruins that drove them to disgust.  Being swept by another team doesn't leave much room for debate.  No missed call or bad bounce kept the Penguins from the Stanley Cup Final.
"Every team that wins a Cup is lucky," Penguins GM Ray Shero told Bruce Arthur after his team dropped the first two games on home ice. "You've got to be good, and you've got to be lucky."
The Penguins were good — and so are most teams that survive to the NHL's Final Four — but were they lucky?
The Penguins stunning loss to the Bruins reminded me of the black swan theory, first championed by Nassim Nicholas Taleb:
"The black swan theory is a metaphor that describes an event that is a surprise (to the observer), has a major effect, and after the fact is often inappropriately rationalized with the benefit of hindsight."
The sweep was certainly a surprise and will have a major effect on the Penguins moving forward.  But the stretch for inappropriate rationalization is difficult to sort through.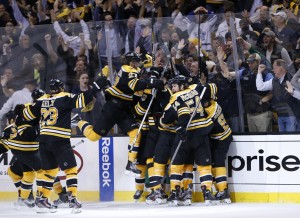 Some see Boston as a team of destiny after the April marathon bombings and their miracle comeback against Toronto in the first round.
In the aftermath, others argue that the Penguins need to trade some combination of Crosby, Malkin, Fleury, Letang, Lemieux, and their mascot to revive a dynasty that was supposed to have won multiple Cups by now.
Bruce Garrioch at the Ottawa Sun says that the Penguins will need to trade Chris Kunitz in order to make room for Evgeni Malkin's contract extension. He ignores the fact that Kunitz's current deal expires at the same time as Malkin's and the Penguins only have five players under contract beyond this season.
But forget rationality.
And how about Fleury?  He certainly has to shoulder the blame for a four-game sweep in which he only played 43 minutes, right?
Fleury folded under the playoff pressure in the first round against New York, but he wasn't the reason they got denied a chance at a Cup.  The Penguins goaltending was more than adequate against Boston and downright spectacular at times.  Tomas Vokoun stood on his head in Games 3 and 4, giving the Penguins an easy chance to win both games.
How was he thanked for his service?
"Tomas, I don't think is in any different boat than when he came in here last season to our team," coach Dan Bylsma said on Sunday.  "He came in and did exactly what we signed him for.  Next year he's not going to get that opportunity because Marc-Andre Fleury is going to be in net winning hockey games."
Thanks, Tomas, now get back in line.
Vokoun declined to speak with the media on Sunday.  At this point, he and Fleury will make up the Penguins' $7 million goalie tandem and Bylsma says Vokoun will return to his caretaker role.
At age 37, Vokoun won't be able to handle the demands of a full 82-game season and should be the backup — even if the over-the-top comments from Bylsma were a little out of line.
And that brings us to the head coach.
Larry Brooks at the NY Post kickstarted the rumor-mill with a report that team owner Mario Lemieux "may instruct Shero to dismiss Bylsma".  Of course, Lemieux may return to play next season, but let's limit the speculation.
When Shero chose Pittsburgh over Boston for employment in 2006, he was partially motivated by the freedom to make unilateral decisions without the meddling of ownership.  Perhaps those terms are being challenged in the face of four straight playoff ousters, but it'll be Shero's decision to fire Bylsma.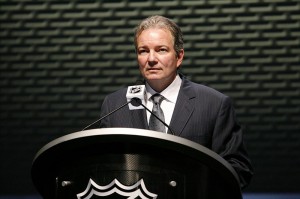 If he does, we'll find out at 11am on Wednesday when Shero plans to address the media for the final time this season.  I wouldn't hold your breath.
From this writer's perspective, the Penguins didn't play all that bad against Boston.
Consider: they shot 1.47 percent against Tuukka Rask.  If Pittsburgh had scored at the league playoff average of 9.21 percent in their series against Boston, they would have finished with 13 goals instead of 2.
The Penguins never held a lead against the Bruins.  Scoring an early goal instead of allowing one in three out of four games may have revealed a very different dynamic in the series.
"[Boston] played well, especially defensively," Douglas Murray said. "They were strong and their goalie played well.  I think the worst part of it is all of our scoring chances were probably still there.  We still had chances, lots of shots, we played and battled hard, and it just didn't go in.  That's something I don't think anyone expected."
Despite firing 271 shots at the net in the series, not one hit a leg or a body in front of the net and trickled past Rask.
"I don't feel like we got shut down," said Sidney Crosby, who finished the series with zero points.  "We didn't score but I feel like the chances were there.  In Game 3, I think Geno had 21 attempted shots.  You don't see numbers like that.  To think that we had those chances and it didn't go in or we hit posts, it's hard to explain."
As Shero forewarned, the Penguins were good, but they sure weren't lucky.  Free agent forward Pascal Dupuis said that's nothing that can be blamed on Bylsma and the coaching staff.
"We didn't score.  It's not a coaching thing.  We made some adjustments and we made the right ones.  We played against a good team with a good goaltender and it's us players that have to take ownership of what we didn't accomplish out there."
As Shero weighs the decision to dismiss Bylsma on Wednesday, he'll no doubt think about how Washington fired Bruce Boudreau two seasons ago.  Boudreau led the Capitals to repeated regular season success but couldn't exceed the lofty standards that had been set for the franchise.  He was fired and quickly snatched up by Anaheim, and recently was nominated for the Jack Adams Award after reviving the Ducks from the ashes this season.
Bylsma would jump to the top of any list of coaching nominees around the league and it wouldn't be unreasonable to envision him leading the Vancouver Canucks to dominance next year.
The biggest difference, however, between Bylsma and Boudreau (or John Tortorella) is that Bylsma still seems to have the full support of his players.  Boudreau and Tortorella didn't.
Each member of the Penguins was asked about Bylsma on Sunday.  Their answers weren't just "yes, we support the coach because he's our coach."  They were enthusiastic endorsements.
"Our coaches did a great job," Brandon Sutter said.  "We had such a such a strong season.  If you look back on the series and if we had won a couple of those games no one would probably be talking about it."
But the Penguins didn't win games.  They didn't get bounces, and you can't blame the posts, the puck, or Zdeno Chara's hand.
After the blame is equally spread on a goalie who never played and a handful of star players who never scored, the leftovers land on the head of Dan Bylsma.
Maybe there really is a problem with how Bylsma operates.  Maybe the players offer their full-fledged support because he makes it fun to come to the rink each day and that isn't what a talent-laden franchise needs.
No one who sits in front of a computer or television will ever be able to fully appreciate the player-coach locker room dynamic.
That's up to Shero to evaluate.
"When you're one of the final four teams, you want to win it all but so does everybody else," said Jarome Iginla.  "Unfortunately it only happens for the one team, but coming here and seeing the players that they have, you really believe that next year you should have that opportunity again as a team to try to get it done.  As a player, you want as many of those opportunities [as you can] to increase the odds of it happening."
Changes have to be made.  The Penguins finished the season with too many players on their roster and too many dollars on the books. But change for the sake of change doesn't increase the odds of winning a Stanley Cup.
Just ask the Philadelphia Flyers.
________________________________________