By Wayne Whittaker, Boston Bruins Correspondent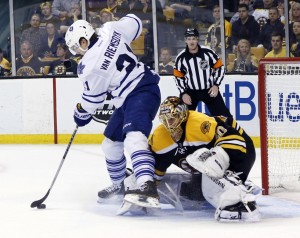 Since the clock struck 0:00 on June 15, 2011 in Vancouver, the Boston Bruins roster has been more or less cemented. The core group of players have remained in their familiar depth chart slots, with Boston management apparently believing "they have won before, they will win again."
Then Braden Holtby frustrated the reigning Cup champions into Game 7 overtime submission last April. Then Boston went up 3-1 against the Toronto Maple Leafs this year. Then the Leafs stormed back and forced a Game 7.
This is nothing new for Claude Julien's Bruins. Of the 11 playoff series Boston has participated in since 2007, 8 of them have gone to a Game 7. They are 3-4 in those deciding games.
So what happens if the Toronto Maple Leafs are able to complete the comeback? What if Phil Kessel and company march into TD Garden and win their third game on Boston ice in this playoff series? What happens if Tuukka Rask and his Boston Bruins fail to find that elusive fourth win?
Certainly, the definition of "core group" would be re-evaluated. Once considered a young group coming into their prime, Boston has found themselves being described as an older team for the first time in recent memory. While only eight Bruins players who have been active in this series are 30 years or older, Toronto dresses just three player who are 30+ (the oldest, John Michael-Liles, is 32).
The Stanley Cup window in Boston isn't closing anytime soon, (at least not until Zdeno Chara calls it a career), so any sort of "re-tooling" would most likely involve fringe/role players such as Rich Peverley, Chris Kelly, Andrew Ference, or Nathan Horton- all of whom have had great successes and occasional struggles in Boston.
Should Toronto win Game 7, Rask would add another blown series lead to his resume, though he has been exceptional in this series. With his contract situation resting on this post-season, Boston could hesitate to commit to a long-term deal.
Furthermore, the 2011 Stanley Cup championship could be viewed more widely as a fluke, or a lucky run behind world-class goaltending. First round exits in back-to-back seasons certainly don't do anything to prove otherwise.
This young Maple Leafs team is doing its best impression of a 2007-2008 Boston Bruins club that gave the Montreal Canadiens all they could handle in the post-season. Can Toronto sustain the momentum, perform under the pressure, and fend off the Bruins attack one more time? It's entirely possible.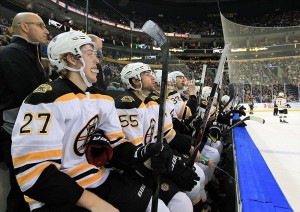 It will be apparent quite early Monday night whether or not the back-to-back schedule wears down Boston skaters. During the condensed 48-game schedule, the Bruins struggled mightily down the stretch, when their calendar became most cluttered. The energy, nerves, and environment in a Game 7 should serve as an adrenaline boost, but after their performances in Games 5 and 6, one has to wonder how much is left in the tank for the Bruins.
This was not an easy series for either team. It's been a classic #4 vs #5 matchup, featuring two very capable and worthy playoff teams. Whichever club takes advantage of their opportunities Monday night will deservedly advance to the Conference Semi-Finals. The pressure is on, both fanbases have their microscopes set, and Game 7 could be a pivotal point for both franchises.
It should be an all-time Original Six classic in Boston.
—
Wayne Whittaker has been a Boston Bruins Correspondent for TheHockeyWriters.com since 2010. As a Berklee College of Music graduate, and Massachusetts native, Whittaker has been around Boston, the Bruins, and the game of hockey his entire life. His work has also been featured in Sports Illustrated, Huffington Post, CBSSports.com, and Yahoo.com.