Brett Pesce THW Close-Up
Date of Birth: November 15, 1994
Place of Birth: Tarrytown, NY
Ht: 6'3" Wt: 175 lbs
Shoots: Right
Position: Defense
NHL Draft Eligibility: 2013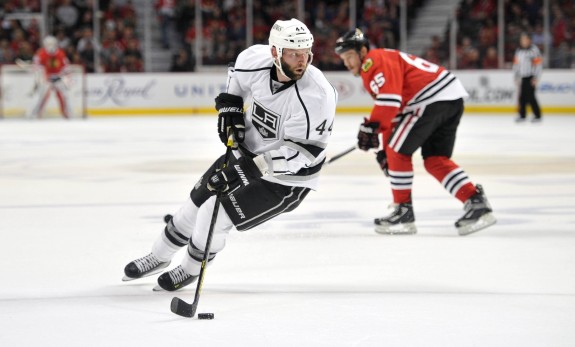 The hardest thing for scouts to project is how a player will translate his performance from one level of hockey to another. There are so many weird nuances and subtle differences between leagues as similar as junior A and major junior have huge learning curves. Thus, while some scouts may shy away from older prospects, often you can get an indication of their versatility based on how they translate to higher leagues.
Brett Pesce is an older defensive prospect. Had he been born eight weeks earlier, he probably would've been chosen in the 2012 draft. But while Flames draftee Mark Jankowski (born two months before Pesce) had question marks surrounding how he would transition from prep school to the NCAA, Pesce faces no such question marks – he's already done it. And passed with flying colours.
Hockey East may be the most competitive conference in college hockey today. It boasts several strong teams – including recent national champions from Boston College and Boston University – and the rosters are always stocked with NHL talent. As an 18-year-old, Pesce leaped in and managed to succeed. Now that he has a year of experience under his belt and is an established presence on the University of New Hampshire Wildcats' blueline, Pesce may actually get better as a sophomore.
He heads into the draft with a strong, but understated, resume and a good skill-set. He's big, but not slow, and he's still growing into his frame. He didn't light the lamp a lot as a freshman, but it's likely that he'll get more power-play time and offensive opportunities next season. Defensively, he's positionally sound and will likely be even tougher for opponents to get past once he adds some muscle and uses his body more in his defensive play.
The 2013 draft class has some strong blueliners in it, but don't sleep on Pesce. Toiling away quietly and efficiently in the NCAA with the Wildcats, Pesce adjusted to a very different style of play and became a very reliable dependable presence for his team. As an 18-year-old.
Scout's Honour:
"Pesce had an impressive freshman campaign at New Hampshire. While he did not amass significant counting stats, he showed a very advanced defensive game for a player with his age and experience. Pesce shows the ability to play an effective shutdown game, due to his good stick positioning, aggressive physical style, four-way mobility, and overall quality defensive reads. He is an active player, as he is always engaging the opponent, waving his stick to interfere with passing lanes, or moving his feet. While Pesce is mobile, his stride can be a little short, which is admittedly a nitpick, as he does get good power from his legs. Pesce can move the puck, but offense will not be the main aspect of his game, other than making good outlets." – Corey Pronman, Hockey Prospectus
"Brett Pesce's confidence in his offensive abilities at the college level has grown throughout the first half of the season. When the opportunity arises, he doesn't hesitate to carry the puck out of the defensive zone and into the offensive end. When he is playing defense, Pesce demonstrates an uncanny ability to steal pucks and intercept passes with his stick. As Pesce continues to grow into his 6'3″ frame, he is likely to become more of a physical player – just the type of prospect NHL teams covet." – Mike Lowry, UNH Hockey Blog
"Brett stepped in and really solidified the 'D' corps… For a young kid coming in as a freshman, he brought a great physical presence and he's strong defensively. When he gets on the ice, he's one of the toughest out there." – UNH coach Dick Umile, via The Hockey News
Statistics:
Bio/Interview(s)/Link(s):
International Tournaments:
No significant international experience.
ETA:
2-3 years
Risk-Reward Analysis:
Risk 1/5, Reward 3/5
NHL Potential:
Number three or four defender.
Strengths:
Good hockey sense
Adaptable
Good positioning, particularly defensively
He's tall
Flaws/Aspects He Needs To Work On:
Needs to add some bulk to his frame to battle NHL defenders
Needs to continue to build on his budding offensive game
Could stand to add some meanness and grit to his play
Fantasy Hockey Potential:
Offensive 7/10, Defensive 8.5/10
NHL Player(s) Comparison:
If Pesce can add some grit and size, he could become another Robyn Regehr – a dependable defensive zone player with an under-stated offensive game.
When He'll Go In June:
Pesce has a lot of assets that NHL teams covet, most notably his size and mobility. He could go anywhere between the late first round to the early third round. However, I'd wager that he'll be gone by the middle of the second round – teams will only be able to wait so long.