When the regulation clock wound down to 0:00 on Sunday in Minnesota, sending the Boston Bruins and Minnesota Wild to sudden death overtime, I had one initial thought: "Crap. I don't want to deal with another overtime period."
The idea of overtime had been stressing me out all week. This was about to be Boston's third overtime game in the last seven days, and the previous two tries hadn't treated them very well. The Columbus Blue Jackets handed them an overtime defeat on their home ice last Monday, and then the Bruins got spurned by Jaden Schwartz twice in St. Louis on Wednesday — first in the third period, and then again in OT.
Only three things saved this past week from being a total stress overload: Boston clinching a playoff spot on Wednesday after making it to OT against the Blues, David Pastrnak's go-ahead goal in Dallas with just 12 seconds remaining on Friday, and Loyola-Chicago's improbable run to the NCAA Final Four…I hope you've enjoyed that Cinderella story as much as I have.
But, another overtime game? And only because Tuukka Rask accidentally kicked the puck into his own net, tying the game 1-1 in the third period? Did we really have to do this again?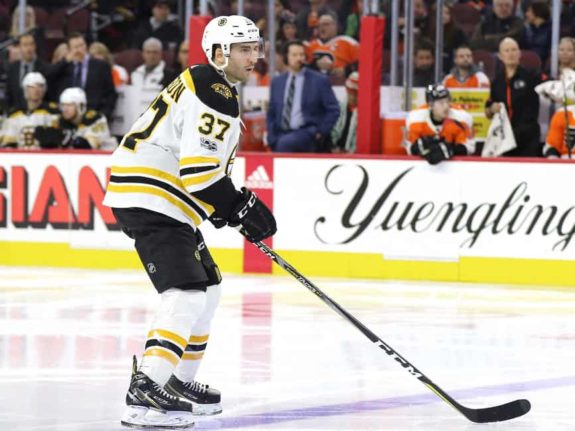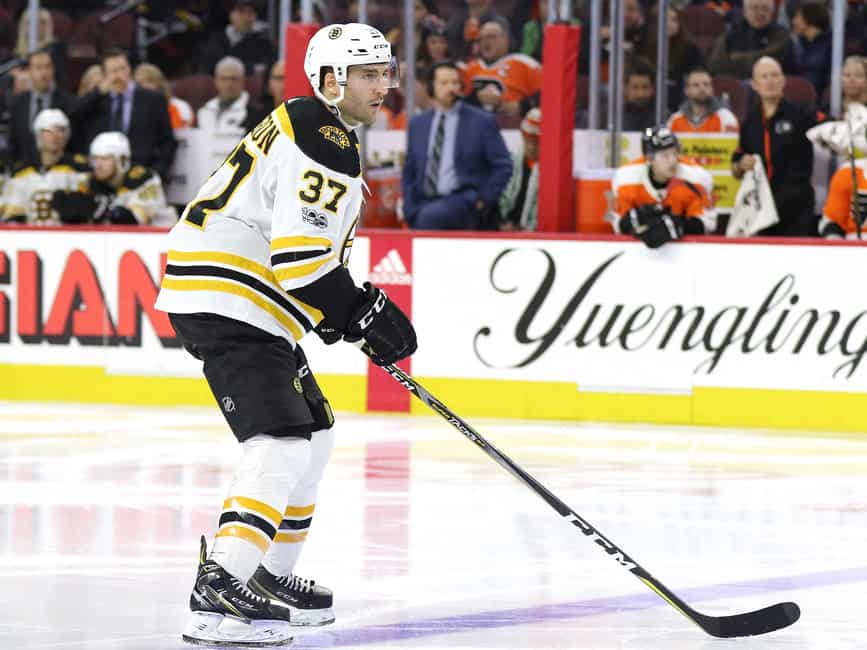 But then I remembered something: Bergy was back.
That's right. Longtime Bruins center Patrice Bergeron was officially back on the ice after missing more than a month of action due to a broken foot. And even though they were headed to another overtime period, this fact alone made everything feel about a hundred times better.
Feeling Rusty? Not at All
Patrice Bergeron has been playing in the NHL since 2003, and has spent his entire career with the Bruins. He is about as seasoned of a veteran as you're going to find anywhere in the league. So was it likely that he was going to come back from injury after missing a month and look like he had taken a year-long vacation in the Bahamas? Forget about it. As soon as the puck dropped, Bergeron was playing as if he had never left.
In the first period alone, Bergeron won eight of nine face-offs — something the Bruins definitely missed during his time away. Bergy ended up winning 61 percent of his face-offs, continuing to show that he is one of the best in the NHL, even after missing 13 games.
"It's always getting the legs and the timing and the execution back," Bergeron said after the game. "I felt like I was getting better as the game went on."
Simple words from the four-time Selke Trophy winner, but we all know that he was loving every second of it. Dominating the face-off game made Bergeron look like he was right at home.
Have No Fear, Bergy Is Here
If you need further proof to see just how valuable of a hockey player and teammate Bergeron is, look no further than the first goal of the game. Less than four minutes into the second period, Bergeron fed a beautiful pass over to the 21-year-old David Pastrnak, who slapped an absolutely gorgeous one-timer directly into the net. 1-0, Bruins.
Thanks to the assist from the ever-valuable Bergy, Pastrnak notched his 30th goal of the season, and it was a beauty.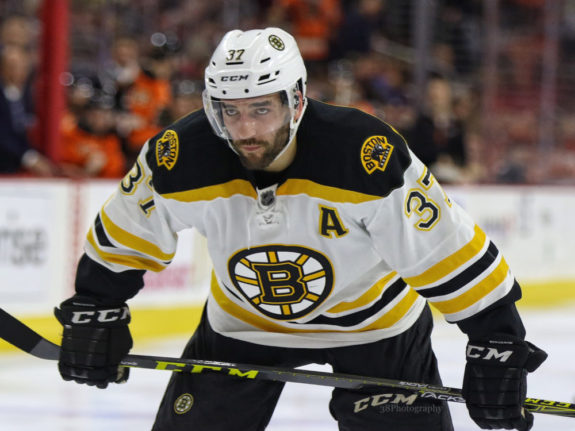 After Boston goalie Tuukka Rask accidentally kicked the puck into his own net, allowing Minnesota to tie the game (the goal was officially credited to Mikko Koivu, but Rask should've been credited with a VERY heavy assist in the Wild's favor), the game officially reached the dreaded overtime period that I was rambling about at the beginning of this article.
But as a fan, a calming presence came over me when I remembered that Bergy was back on the ice. Even though the last two overtime games didn't fall Boston's way, I had a much better feeling about this one.
Turns out, I was right. And it only took 28 seconds.
The Bruins began the OT period with Bergeron, Brad Marchand and Torey Krug (also returning from injury). As soon as Marchand got his stick on the puck, he fired it directly past Alex Stalock for the game-winner, and the assists were credited to both Bergeron and Krug.
It only took 28 seconds. Just like that, the Bruins exorcised their overtime demons from the previous week. No matter the situation, the lesson here is that everything is always better when Patrice Bergeron is around.
As WWE Hall of Famer and Olympic gold medalist Kurt Angle would say … "Oh, it's true. It's damn true."