Seasons in the National Hockey League never unfurl quite the way they're supposed to. Every team in the league is host to a multitude of surprises, both good and bad. Individual players overachieve, underachieve, blossom earlier than expected or see their development plateau, unable to get over the proverbial hump.
The 2016-17 Boston Bruins checked off every one of the aforementioned boxes. Both Brad Marchand and David Pastrnak shattered their previous respective scoring records. Marchand's 85 points cemented his place among the league's elite wingers, while his younger counterpart's 70 points thrust him into the conversation for the first time.
Brandon Carlo, just 19 years old to begin the season, played 82 games of steady defense on Boston's top pairing; no small feat for a guy selected in the second-round just one year prior. Dominic Moore, a man nearly twice Carlo's age, had a bit of a renaissance last season. Signing just before camp for $900,000 on a one-year deal, the veteran pivot was an integral part of Boston's bottom six and top-ranked penalty kill.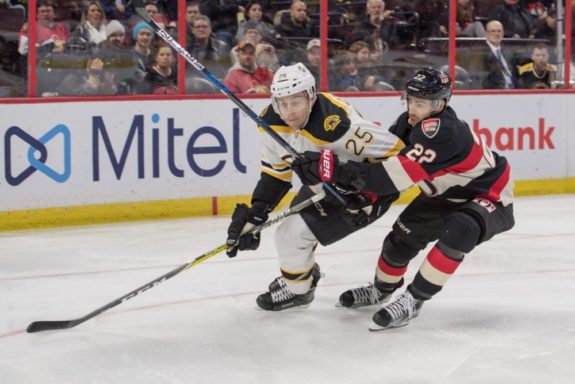 Unfortunately, not every surprise was a pleasant one. Matt Beleskey and Jimmy Hayes combined for just 13 points in 107 games, torpedoing the team's third line. Malcolm Subban once again got a brief look as an NHL netminder and failed to finish the contest. He was pulled halfway through the affair for the second time in as many appearances. Ryan Spooner's numbers and game regressed in a contract year, ending with multiple healthy-scratch designations in the playoffs.
The unexpected, good and bad, will happen every season to every team. Predicting how, and with whom, is the tricky part.
Regardless, I'll take a crack at it. Who doesn't enjoy attempting to predict the future, knowing full-well how foolish one can look in a year's time?
Without further ado…
Charlie McAvoy Wins Calder Trophy
The road to unmatched rookie greatness will be a steep climb for the rearguard. Though his talent and ceiling are undeniable, the fact remains that just two of the previous ten Calder winners were defensemen. Points, and lots of them, historically have captured the eyes and votes of the Professional Hockey Writers Association.
I predict a season worthy of the award for Charlie McAvoy, and I believe the chips will fall in such a way that he edges out the stiff competition.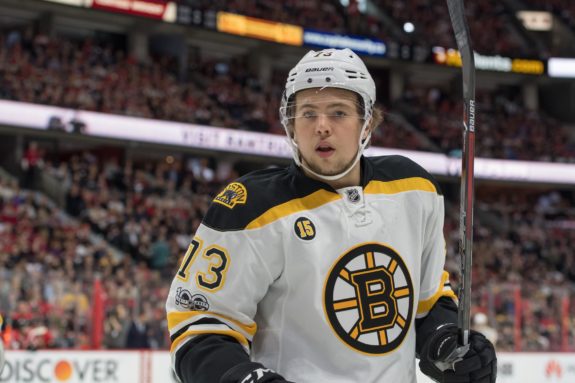 The path to the top is clearer this season for McAvoy than in seasons past. He figures to play big minutes in the top four for a presumptive playoff team in a major market. Extended time on the power play will bolster his offensive numbers and provide him with the opportunity to display his considerable talents with the puck. In the modern NHL, a defenseman's ability to join the rush and inject offense is a prerequisite for any defenseman vying for an award, and McAvoy does so with aplomb.
It's the same recipe that enabled Aaron Ekblad to capture the award in 2014-15. That season, Johnny Gaudreau, Mark Stone and Filip Forsberg all eclipsed 60 points. However, it was Ekblad's impact at both ends of the ice in a top-four role (39 points, plus-12 rating) that brought home the hardware.
Outside Help
In addition to making his own case, McAvoy figures to receive a little outside assistance. Two of the presumptive candidates (Clayton Keller and Dylan Strome) play for the same team. We've seen time and again across all sports that teammates vying for the same award effectively steal votes from one another. Both Keller and Strome will receive ample ice time and figure to post solid numbers. The two also figure to frequently share the ice, and as such, separating their stats will be difficult. Is one the beneficiary of the other?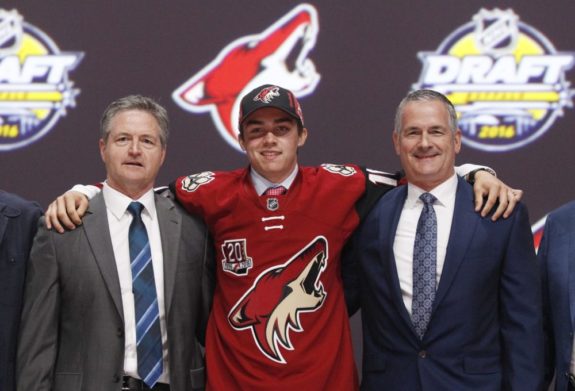 Two additional candidates, Kyle Connor and Joshua Ho-Sang, figure to play for teams that finish the season just outside the playoff bubble. Though excelling as a rookie on a non-playoff team doesn't preclude a player from winning the award, it can serve as a de facto tiebreaker for voters when torn between two players.
Nico Hischier and Nolan Patrick find themselves in this category as well. Both project to be excellent future NHLers, but neither possesses the kind of franchise-altering talent of past top-two selections such as Auston Matthews, Patrik Laine, Connor McDavid and Jack Eichel.
As such, McAvoy figures to have an excellent shot at becoming Boston's first Calder winner since Andrew Raycroft.
McIntyre Supplants Khudobin as Backup
Though he's unlikely to win the job out of camp, Zane McIntyre will at some point this season replace Anton Khudobin as the team's backup goaltender.
Khudobin was excellent down the stretch last season for Boston. A 6-1 record and .922 save percentage went a long way toward stabilizing the position. He could very well reprise that excellence to begin the upcoming campaign, but the law of averages suggests it's only a matter of time before Boston turns to McIntyre.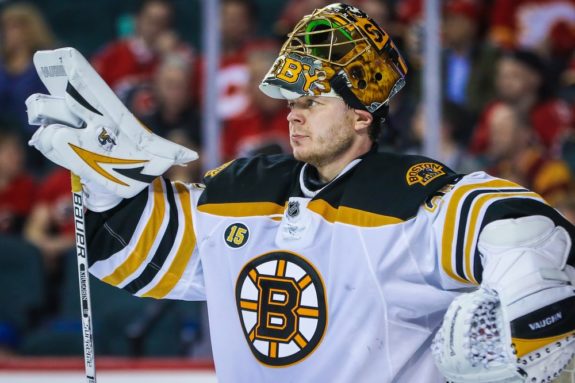 In his last three seasons in the NHL, the Kazakh has posted a goals-against average of 2.64, 2.69 and 2.72. His save percentage? Even less impressive, at .904, .909 and .900.
Furthermore, Khudobin has of late failed to dominate the AHL when sent down, a la Jaroslav Halak last season. In Providence, a goals-against average (GAA) of 2.69 and save percentage of .898 through 11 appearances are hardly inspiring statistics. A 2.46 GAA over 31 appearances in San Diego the year prior is also inflated for a veteran netminder playing in the minor leagues.
Mighty Mac Himself
Conversely, McIntyre was a stud in his second season with the Baby B's. His 2.03 GAA and .930 save percentage over 31 appearances were a marked improvement over his rookie year, and good enough to earn a trip to the AHL All-Star Game. He was a brick wall through two rounds of the AHL playoffs, backstopping Providence to the Conference Final. His 50 saves on 51 shots versus Wilkes-Barre Scranton in the deciding game of the first round were Tim Thomas-esque.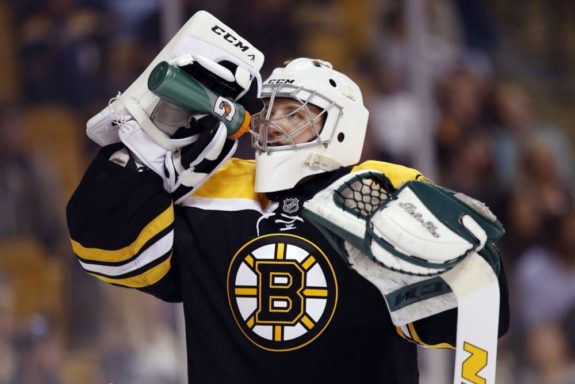 His initial foray to the NHL was not quite as successful. He finished the season 0-4-1, with a GAA just a hair under 4.00. However, McIntyre is hardly the first goaltender to initially struggle at the NHL level. Considering the significant improvement he made from Year 1 to Year 2, it stands to reason that Year 3 will be even better.
He may not be the heir apparent to Tuukka Rask, but I (and most of my colleagues) believe this is the year that Boston finally finds the steady backup they've spent seasons looking for. Throw some paint on that mask, kid!
Ryan Spooner Finishes Season Outside Boston
Many, including yours truly, expected Ryan Spooner to already be playing elsewhere. Despite having several in-house candidates to center the third line, uncertainty, arbitration and few dance partners for a trade forced Boston's hand in re-signing the 25-year-old to a one-year deal.
I can't remember a time when Spooner wasn't reportedly on the team's trade block. Furthermore, I wouldn't be surprised if the constant chatter and uncertainty have played a role in his arrested development. Though 39 points through 78 games last season wasn't terrible, it did represent his lowest scoring rate since the 2013-14 season. Inconsistency has plagued him for his entire Bruins career.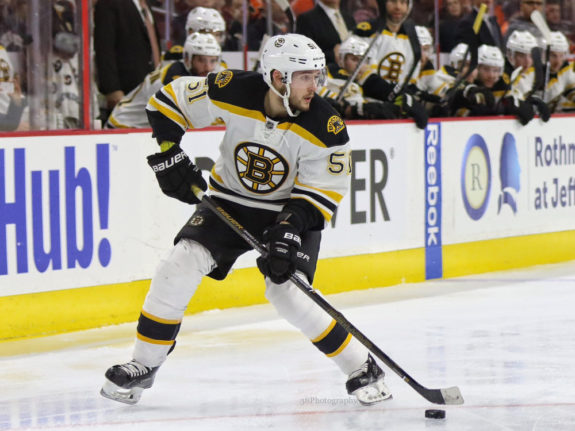 Spooner has submitted a 213-game portfolio highlighting sharp hands and vision, blazing straight-line speed, and slippery agility. But he's also exhibited slack defensive-zone coverage and spotty even-strength presence.

It's all made for a shrug of the shoulders when projecting how the Bruins will proceed with the next segment of his career. The same could be said about each of Spooner's shifts.

-Fluto Shinzawa (Boston Globe) April 8, 2017
Pack It Up, Pack It In
One of two things will happen this season to make Spooner a likely trade chip prior to the trade deadline. Jakob Forsbacka-Karlsson is viewed as the heir apparent centering the third line. Should he prove ready to assume the role at some point this season, Spooner will once again be a man without a home. The experiment playing on the wing never did pan out, and his style of play is not conducive to a fourth line role, at least not within Boston's philosophy.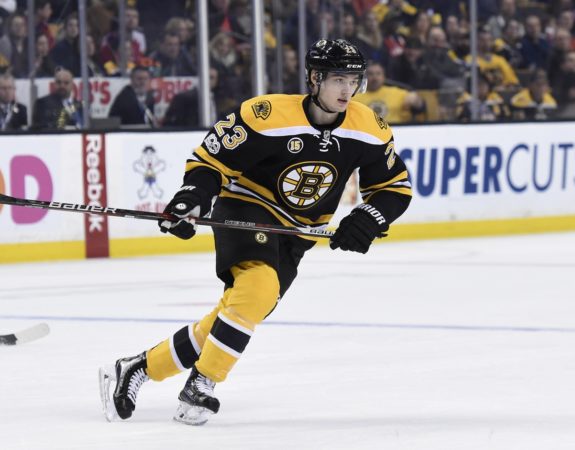 Should "JFK" require a touch more seasoning, an alternate scenario could send Spooner packing. With so many talented prospects vying for spots on the wing, it's possible that several will play well enough to warrant NHL roles. In this occurrence, David Backes likely becomes the new third-line center, sliding back into his natural position.
He may lack Spooner's explosiveness, but his two-way approach and success on the dot (fourth in Selke voting in 2013-14) make him an ideal steadying presence centering a bottom-six line.
Be it in the form of another defenseman or impact goalscorer, Boston will be looking for a boost come February. Should Boston look to make a "hockey trade" with another contender, Spooner's speed and deft playmaking will be attractive to clubs looking for depth down the middle.
Should the B's look to pilfer talent from a "seller," his $2.8 million cap hit leaving the books would likely enable the team to sneak a large, expiring contract under the cap. Furthermore, his pending RFA status and team control would be attractive to a rebuilding club.
One way or another, expect Ryan Spooner to end the 2017-18 season outside of Boston.
Kenny Agostino Earns (and Keeps) Middle-Six Role
The Bruins boast an impressive stable of young talent at wing. Anders Bjork, Jake DeBrusk, Danton Heinen, Peter Cehalrik and Zachary Senyshyn provide excitement and hope for the seasons ahead. However, it will be Boston's newest addition at the position to make waves this year.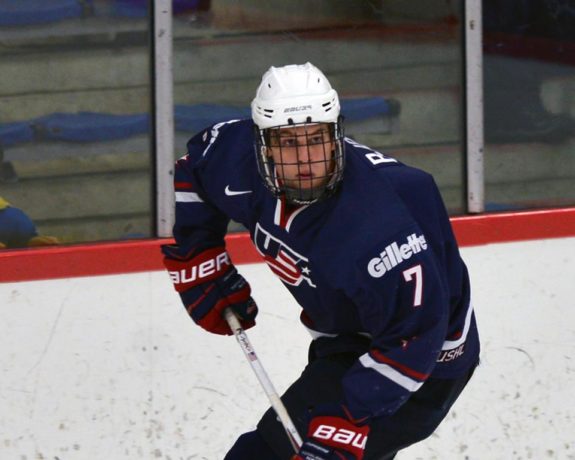 Kenny Agostino led the AHL in scoring last season with 83 points in just 65 games. A seven-game stint with St. Louis yielded three points and 17 shots on goal, illuminating his confidence in playing to his talents at the highest level.
As we've seen in years past, not every player who lights up the AHL is guaranteed success with the big boys. Most recently, Seth Griffith torched opponents to the tune of 77 points in 57 games with Providence during the 2015-16 season; good for second place in the entire AHL. Since that campaign, he has just six points (all assists) over 28 games in the NHL.
Where Agostino differs from Griffith and similar players is the speed at which he plays the game. At just 5-foot-9, Griffith's lack of quickness and speed has proved too lethal a combination to bring about success in the NHL. Agostino, however, has the necessary speed, and then some.
Size+Skill+Speed=Spot
Bruce Cassidy has quickly done an admirable job in tailoring Boston's style and game plan to the modern era. Speed kills, and it's a philosophy that is finally being embraced in Boston.
Kenny Agostino can really scoot. More importantly, he can make plays at that speed. He possesses a nifty pair of hands, solid spatial and situational awareness, and excellent passing and finishing ability.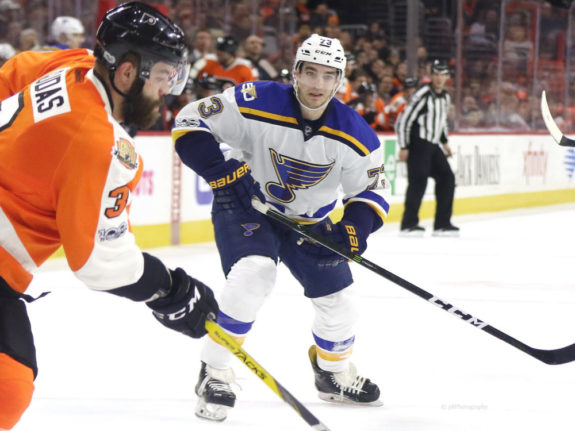 Now, that can be said for pretty much all of Boston's prospects at the position. However, it's Agostino's experience that will likely give him a leg-up in training camp. With 214 games of professional experience between the AHL and NHL, he, unlike his internal competition, knows exactly what to expect. He's been through the rigors of 70-plus game seasons, call-ups and demotions. Moreover, he's shown steady improvement in each of his three full pro seasons, culminating with last year's MVP campaign.
Combine that talent and experience with a 6-foot, 202-pound frame and steady two-way game, and you have a player who figures to carve out a year-long role in the team's middle six, perhaps even alongside David Krejci and David Pastrnak. Agostino has a legitimate chance to be this season's Jonathan Marchessault.
Brad Marchand Comes Up Shy of 70 Points
"The Little Ball of Hate," fresh off an eight-year, $49 million extension figures to have an excellent season; don't let the headline fool you. I still expect Brad Marchand to eclipse 30 goals while being a key cog in the engine that drives the Bruins.
But when looking at his career numbers, one thing is immediately, abundantly clear: Last season's 46 assists are quite the aberration.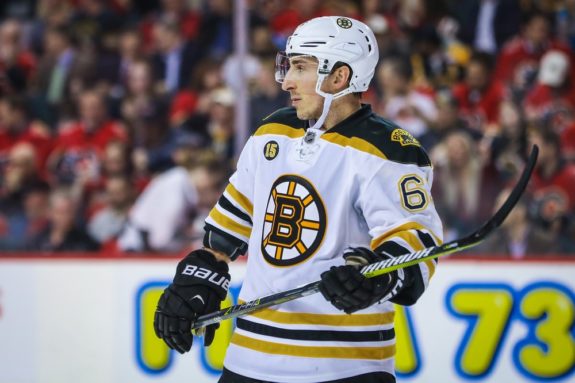 In fact, prior to last season, Marchand had never eclipsed 30 assists in one campaign, much less 40. His 18 assists during the strike-shortened 2012-13 campaign represented a rate of 30-plus assists per 82 games (33, to be precise), but nevertheless, the official benchmark had otherwise evaded him. His career average of 24 assists per 82 games is barely half of last season's total.
Granted, he has taken his game to new heights over the past two seasons, evolving from talented pest into bona fide stud. And as long as he and Patrice Bergeron play together, the two will continue driving possession and scoring goals. But last season's 85 points were a whopping 25 more than his previous career high; that screams unsustainable.
Why the Projected Regression?
Last season's offensive output is likely unsustainable for several reasons.
For starters, Pastrnak will not be reprising his role from last season's first half as the right wing alongside Marchand and Bergeron. This year, Pastrnak's presence will likely be required alongside David Krejci in an attempt to make Boston's top six matchup-proof. Only when the team is down a goal late should we expect a Nose-Face/Pasta reunion.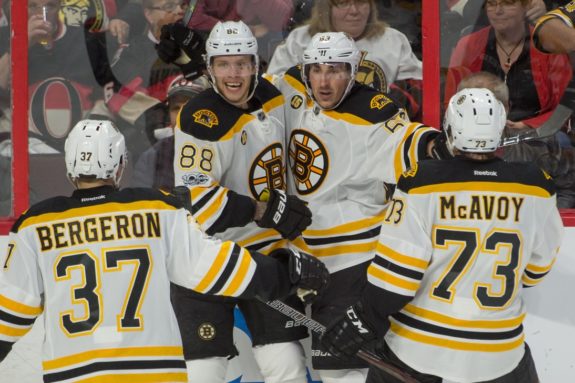 David Backes may not have had an ideal season offensively, but his strength, frame and net-front presence bought plenty of time and space for Marchand when the two were flanking Bergeron. There's a chance that he too may not be reprising his role on the line in an attempt to further distribute offense throughout the lineup.
It's quite possible Backes finds his ideal fit alongside Ryan Spooner this season, feasting on an opponent's depth while helping to mask some of Spooner's deficiencies defensively and on faceoffs.
The Halifax native's offensive zone starts are also set to dip slightly this season. A year ago, 55 percent of his starts came in the offensive zone; a career high. With Dominic Moore departing, Bergeron will likely be called upon slightly more frequently to take defensive-zone draws.
The man will continue to score goals, and plenty of them. In fact, I predict Marchand will have the second-best statistical output of his career this season. However, a lack of elite talent on his right wing and the law of averages suggest a regression of sorts. Something along the lines of 30-plus goals and assists will leave Brad Marchand just shy of a 70-point campaign.