With free agency over and training camp about a month and a half out, the Boston Bruins enter the 2018-2019 season with some question marks on defense after a busy offseason. However, these questions are not the type that GM Don Sweeney and company are used to.
In past seasons as recent as 2017-18, the main storyline with Boston's defensive corps was who would step up and fill in a major role on a defensive unit pressed for bodies, a la Matt Grzelcyk, Charlie McAvoy, etc. This year, the Bruins appear to have eight NHL-ready defensemen battling for six starting spots: McAvoy, Zdeno Chara, the recently re-signed Grzelcyk, Adam McQuaid, free agent pick-up John Moore, Brandon Carlo (assuming his return from ankle surgery), Torey Krug, and Kevan Miller.
Let us also not forget about 2015 first-round draft pick Jakub Zboril, who after a pretty long development process in the QMJHL and with the B's AHL affiliate in Providence the last three years, could finally be ready to make his debut for the big club in 2018-2019.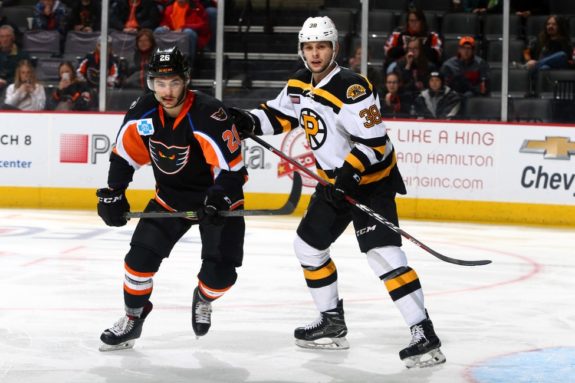 So, while there is definitely some work to be done and some battles to be won during training camp for the six starting spots on the point, rostering a large number of NHL-ready defensemen along with a top-level prospect in Zboril is a pretty good problem for Boston to have.
Piecing Together the Bruins' Puzzle
In terms of who plays where and who watches from the seventh floor come Oct. 3, there are several factors one must consider:
We do not know when Brandon Carlo will be ready to return. Reports are that Carlo could be ready in time for training camp, but nothing is 100-percent certain.
Zdeno Chara is 41 years old and could see a lesser role in terms of average minutes than what we are used to, but given the $5-million extension the Bruins signed him to as well as him being the team's captain, he'll remain in the top-four until proven otherwise.
The Bruins have four right-shot defensemen and five left-shot defensemen including Zboril, so they have the ability to put every guy on his strong side.
With these factors considered, let's do our best depth chart predictions for what Boston's 2018-2019 defensive core could look like to start the season.
First Pairing: Zdeno Chara, Charlie McAvoy
Second Pairing: Torey Krug, Adam McQuaid
Third Pairing: John Moore, Kevan Miller
Out: Matt Grzelcyk, Brandon Carlo, Jakub Zboril
Penalty Kill No. 1: Zdeno Chara, Adam McQuaid
Penalty Kill No. 2: John Moore, Kevan Miller
Power-Play Defensemen: Charlie McAvoy (first unit), Torey Krug (second unit)
Why Leave Out Grzelcyk or Carlo?
"Getting younger" is an ideology that allows many on the Bruins beat and the talking heads in Boston to keep the narrative going that the team is not building its roster the correct way, primarily on the back end. Is the goal to eventually have Carlo, Zboril, and Grzelcyk succeed guys like Chara and McQuaid? Of course. But, no matter your agenda when it comes to the Bruins, it is impossible to say that Grzelcyk is more deserving of a spot on Boston's defensive set right now than Chara, Moore, or Krug, especially when you consider salary.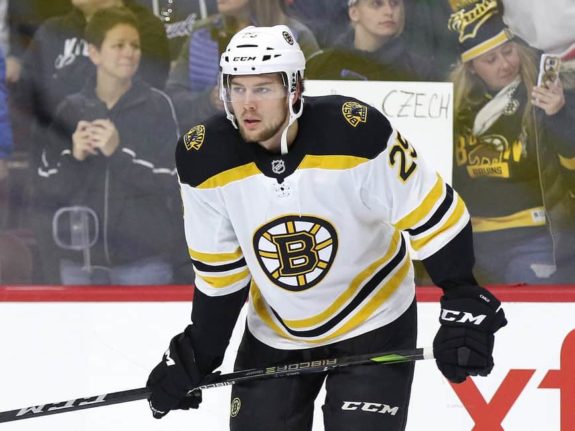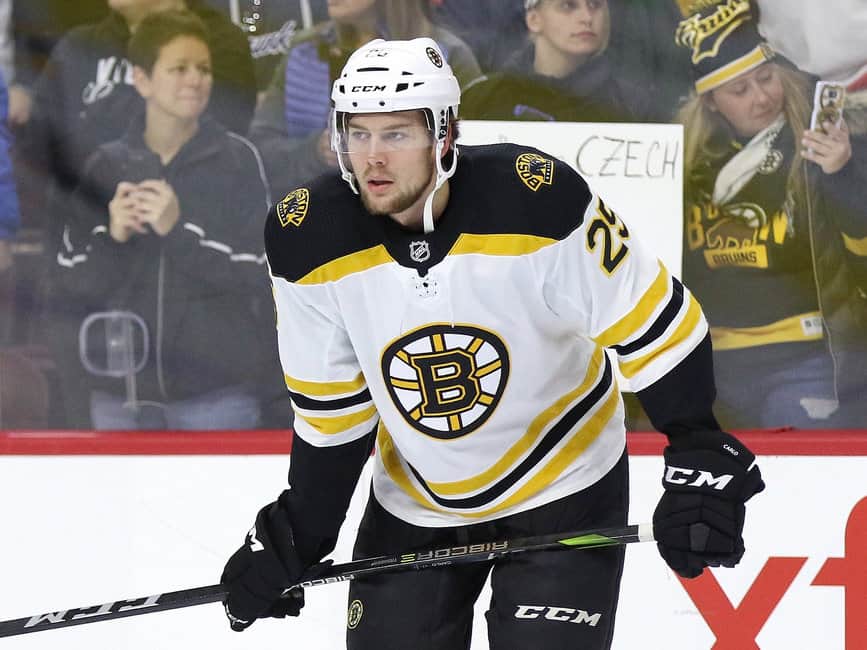 Based on what they are paying Chara, the Bruins clearly feel that he is still a top-four defenseman in this league despite his age. Based on what Boston is paying Grzelcyk (two years, $2.8 million), they see him as a fifth or sixth defenseman at best with room to grow. Torey Krug is locked under contract at $5.5 million per for this season and next season. You want to get the most out of a guy making that type of money so, like Chara, Krug gets a spot on the top-four until he proves to be incapable.
As for the third left-shot defense, John Moore was given a five-year deal with an annual cap hit of $2.75 million to come in and be a mainstay on defense. Coming off a career-high 81 games played last season with the New Jersey Devils (the previous career-high for Moore was 63 games in 2016-2017), the expectation is that Moore can do it again barring injury. Given the contract, the Bruins clearly have faith that Moore can be that third left-shot defenseman who can eat minutes on the penalty kill, block shots, and do all of the other little dirty things correct. For those reasons alone he should begin the season with a starting spot.
If Moore is unable to play up to his pay grade, the Bruins should have no problem giving Grzelcyk a chance to crack the lineup and log minutes on the third pairing, though the skillset of Grzelcyk, a puck-moving defenseman with offensive upside is far different than that of Moore, who's logged just 99 career points in 10 years in the league.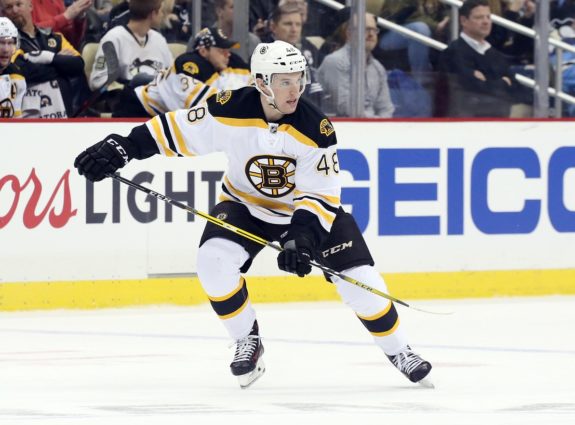 Zboril's road to cracking the lineup seems a bit more problematic considering there are four NHL-ready defensemen in front of him in the pecking order, but injuries will happen and there should come a point this season where the Bruins need him to fill in.
In terms of the right-shots, it is a bit easier to predict given that Boston is less deep on the right side and currently dealing with uncertainty in regards to Carlo's surgically repaired ankle. Even at full health, it is doubtful that Carlo would have a solidified starting position in Boston's defensive core given the balance that McQuaid and Miller both provide with their defensive-minded and physical skill sets.
Charlie McAvoy looked decent on this Sean Kuraly goal. #NHLBruins pic.twitter.com/3jtjp1O7W6

— Boston Bruins (@NHLBruins) November 24, 2017
Charlie McAvoy is obviously Boston's No. 1 right-shot defenseman thanks to his versatility along with him being an offensive threat and holding pristine ability to move the puck up the ice. Miller and McQuaid do not supply Boston with that type of offense or precision puck-moving but make up for it with grit and defensive attributes that McAvoy lacks at this early stage in his career. Yes, the NHL is evolving into a league that is now based more primarily on speed and skill, but guys like McQuaid and Miller are still necessary components for a team to have on its back end with the way they throw their bodies around and do all the little things well.
Comparing the Defense to the Competition
Obviously, Boston's defensive lineup is not even close to being the most talented in the Eastern Conference, with the defending champion Washington Capitals re-signing John Carlson and Brooks Orpik; the Tampa Bay Lightning re-signing Ryan McDonagh to go along with Victor Hedman, Mikhail Sergachez, and Anton Stralman; and the Pittsburgh Penguins adding to their group of Kris Letang, Justin Schultz, and Brian Dumoulin with UFA Jack Johnson.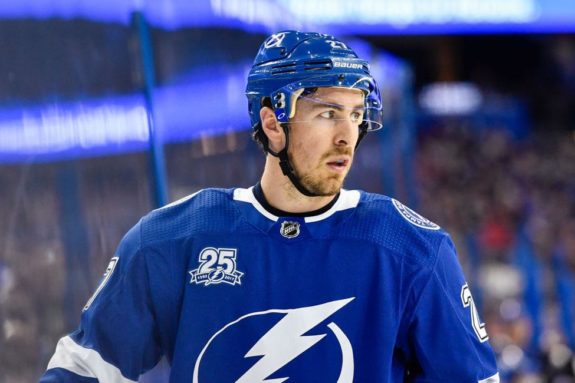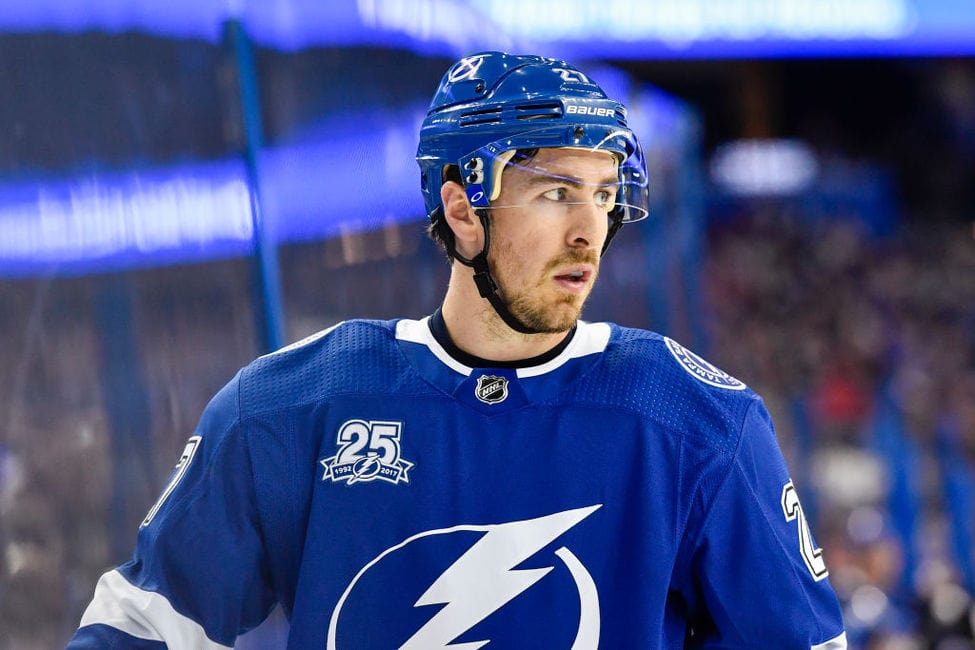 Despite there being three teams in the East with defensive units that are clearly better than what Boston has, Bruins fans should be excited for what they roster on their blue line when looking around the rest of the Atlantic Division. The Ottawa Senators are an absolute dumpster fire and it appears as if it is only a matter of time until Erik Karlsson gets dealt or leaves in free agency after this season.
The Buffalo Sabres are still rebuilding their defense around Rasmus Ristolainen, and the Montreal Canadiens are starting to see the devastating negative effects of the P.K. Subban trade with Shea Weber (knee) being out until at least December. The Florida Panthers have two solid No. 1 defenders in Aaron Ekblad and Keith Yandle but are still young like the Bruins are, and despite the addition of John Tavares at up front, Toronto's weakness is still its defense, with only five NHL-ready defensemen currently rostered (Connor Carrick, Nikita Zaitsev, Morgan Reilly, Jake Gardiner, Ron Hainsey).
Putting a ranking next to each team's defensive set in the Atlantic Division, it would probably look something like this:
Tampa
Florida or Boston
Florida or Boston
Toronto
Buffalo
Ottawa
Montreal
More Options Than Any in the Atlantic
No matter who the Bruins opt to send out as their starting-six defense against the Washington Caps on Oct. 3, they have more options than every team in their division outside of Tampa Bay and maybe Florida. It'll be interesting to see how this all plays out, but Bruins fans should feel more confident in their defensive set heading into this season than they have ahead of any of the last several.
Mike Flanagan is a freelance sports writer and multi-media journalist who covers the Boston Bruins and their prospects for The Hockey Writers. Mike often produces videos for the social media platforms of Barstool Sports' The Crease Dive and Spittin Chiclets podcasts and also serves as the sports editor for the newspaper Hometown Weekly. Follow Mike on Twitter at the above handle or on Instagram @flano0.