Buffalo Sabres defenseman Zach Bogosian stands 6-foot-3 and weighs 230 pounds. He's a physical blueliner who isn't afraid to throw his weight around. On the ice, he'll crush opponents into the boards, and isn't afraid to drop his gloves to defend himself and his teammates. This past weekend, on Twitter, he crushed a troll.
Feeding Frenzy
It all started when Sabres' defenseman Rasmus Ristolainen posted some of his summer training on social media. The minute-hogging blueliner looks to be pushing himself and his body to new levels of fitness, strength and conditioning. He's in pure beast mode, flipping tires, whipping chains and sweating up a storm while building muscle and pushing his cardio to new heights.
Meanwhile, Bogosian, like many hockey players, loves to fish during the summer. He's an avid outdoorsman. Over the past few weeks, he's posted numerous shots of himself fishing with friends.
One trolling fan was quick to call out Bogosian's dedication to his profession. He must've figured Bogo is out frolicking on the water, neglecting his profession on the ice. He went so far as chirping "Lots of fish pics. I project a 26-game season."
Bogosian's Pushback
Bogosian, a fisherman, couldn't resist taking the bait and responded with a tweet of his own. He answered back, offering the fan Sabres season tickets this season if, and only if, he can complete the defenseman's summer workout without puking all over himself. It was a fiery response from the professional athlete who was clearly ticked off and he threw down the gauntlet.
https://twitter.com/BogosianZach/status/1023034835181477888
Fan's Frustration Boils Over
This isn't the fan's first jab at Bogosian. On July 3, he tweeted, "I've got to ask, where are the training pics like i see from other NHL professionals? It's time to get deadly serious about hockey here…be part of the answer or turn in your jersey."
Bogosian replied "I can answer that for you. I just don't care to hand my phone to someone to video me working out in the gym. I don't need social media to solidify my own hard work. Have a great 4th!"
Obviously, the fan doesn't expect to see video of his team working out during the summer months. But his frustration and anger was nevertheless real. Bogo hasn't exactly been a productive player. He later cited Bogo's never-ending injuries and inability to stay healthy for the majority of his career. His "$6 million is killing my team," he wrote.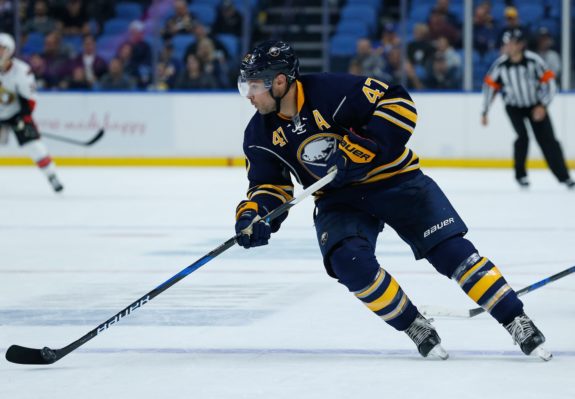 Though he may not have made his point tactfully, the Sabres fan does have a legitimate beef. In four seasons with the Sabres, Bogosian has played only 159 games. He's averaging just 39.75 games per season. Last season, Bogosian played in just 18 games. After suffering a lower-body injury on Jan. 11, he was placed on long-term injured reserve, missing the final 38 games of the season.
Bogosian's production with the Sabres has been a forgetful nine goals and 34 assists, while racking up minus-44 rating. The defenseman from Massena, NY, has only played more than 70 games twice in his 10-year career and has been a plus player just three times. Not exactly the numbers one expects from a No. 3 overall pick.
Still, one has to wonder why the "fan" is taking shots at his own team. Injuries happen in hockey. Unfortunately, Bogosian has been snakebit with too many. Jumping on his case for his misfortunes is silly if not cruel.
Challenge Accepted?
The tweeter has yet to accept or decline Bogosian's invitation. The tweeter jokingly did say he may "fast for five days beforehand."
Some wiseguy replies on Twitter suggest working out successfully with Bogosian and earning 41 tickets to watch the Sabres is more punishment than actually throwing up. The team has finished in last place three of the last five years and missed the playoffs in seven straight seasons.
Primed for Bounceback Season
Bogosian has two more seasons remaining on his contract, which pays him $5.14 million annually. Though he doesn't feel compelled to post his workout videos, there's no doubt he's keeping in shape during the offseason. His work ethic is second-to-none. His passion for the game is unquestionable and the class he's shown in confronting the individual head-on is exemplary.