By Mike Miccoli, Boston Bruins correspondent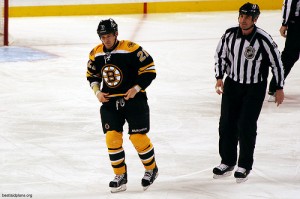 This all seems too familiar.
It will be three years next month when I originally wrote a column on what a mistake it was extending Andrew Ference. And at the time, it sort of was. Ference finished the 2009-10 season playing in only 51 games, recording eight assists and no goals. He was even worse in the postseason after his contract extension. He never played in a game in which he could be considered a "plus" player and finished those 13 games with a -9.
The stats weren't pretty, but Boston Bruins general manager Peter Chiarelli must have saw something in the oft-injured defenseman that warranted an $850,000 raise that bumped Ference's annual salary to $2.25 million. Turns out Chiarelli was right all along.
Ference's contributions no doubt had an eminent effect on the Bruins winning a Stanley Cup in 2011. He played in at least 70 games each season, even recording a career high +22 in 2010-11 and a career-high in goals with six the following season. Little by little, we would see just how important Ference was to the morale in the locker room and the impact he had on make-up of the roster.
It was Ference, after all, who purchased the vintage Bruins Starter jacket that was passed around the room to the hardest working player after every game.
It was Ference who put together the chain with 20 links that represented every player on the roster, bound together with a Bruins engraved padlock during last season's shortened playoff run. His contributions to the city of Boston and work with various charities have been remarkable. The "A" on his sweater just kept getting more justified.
So here we are again. Ference's contract expires at the end of the season and has made it (somewhat) clear that he'd go for a hometown discount if the Bruins wished to re-sign him. So does Peter Chiarelli do it? An easy "yes" isn't so simple.
The Bruins will have a little more than $7 million in cap space to start the 2013-14 season, prior to putting Marc Savard on LTIR. This wouldn't be bad news for Ference if the Bruins free agent class didn't also include Nathan Horton (who has been going off as of late), Tuukka Rask (likewise), Anton Khudobin and Aaron Johnson. While the last two free agents could be viewed as somewhat disposable, Horton and Rask will demand a large chunk of the available space, and rightfully so. Realistically, the almost-34 year-old Ference will be looking for his last contract. A multi-year deal isn't out of the picture entirely, but the Bruins must be careful not to tie themselves down as the cap jumps from $70.2 million to $64.3.
Ference's off-the-ice qualities are certainly redeeming but his on-ice play hasn't been all that outstanding so far this season. He has once again slipped into the "minus" category and his play in the defensive zone has been a bit erratic. Ference has been able to stay healthy and shred the stigma of being a player dogged by injuries and has also been a strong penalty killer for the Bruins. Would his strengths off-the-ice actually counter his sub-par production this season? Absolutely.
All too often you hear talks about "locker room guys." They're the leaders of the team, the glue that holds the roster together and the players that the younger players look up to. Once they're gone, there's a void–an emptiness that other players try to fill, sometimes overcompensating for their own leadership abilities. When you're the GM of a hockey team, you find room for those players to stick around.
It's quite obvious how close the Bruins team really is and how that chemistry transitions to their successful play on the ice. A lot of that has to do with Andrew Ference and to me, that's worth another year or two.
Follow Mike on Twitter for more Bruins updates, news and commentary