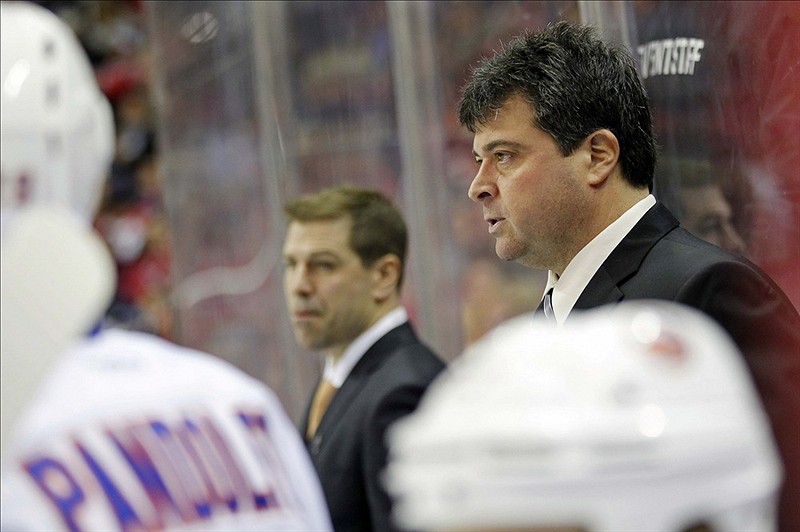 Things just never gets boring in Islander Country.
Rick DiPietro was finally placed on waivers, marking the end of an era. The Isles wanted to give him one last hurrah and a shortened-season was the perfect situation for them to do so. DiPietro showed the front office and coaching staff all they needed to see during his few appearances, and they finally pulled the trigger.
Fresh off an impressive 4-3 overtime win against Montreal and a 4-0 drubbing of the Buffalo Sabres, the New York Islanders now sport a record of 8-9-1. They currently sit two points out of the playoff picture and have, for the most part, struggled as of late.
Still, if you would've told me that one-third into the season, the Islanders would be two points out of a playoff spot, I'd have signed up for that in a heartbeat.
If you'd talk to an Islander fan, you'd think this team had lost all 18 of its games. The flood walls have been breached by a torrent of negativity and, no matter what this team does, no one's ever happy.
I'm going to address the major hot-button topics and try to answer your questions. You might not like everything you hear; all I ask is that you at least hear it.
On that note, here goes:
GARTH SNOW
Ever since he was first hired, I've been simply dumbfounded at  how much criticism has been directed at Garth Snow. Despite all the young talent he's drafted and quality moves he's made, the complaints, insults and banter have  just been endless:
"He's a terrible GM and needs to be fired immediately. His draft picks have all been busts, his so-called rebuild has ended in disaster." 
I've heard it all before and I'm sure I'll keep hearing it until the Islanders take that next step, when those who bashed him will develop instant-amnesia, claiming they believed in Snow all-along.
Here's the reality of the situation: Garth Snow is quite underrated as a GM. In fact, he's pretty darn good at what he does. His latest acquisitions have helped the Islanders on the ice and his drafts have, for the most part, been productive.
Snow has also made smart hockey and business decisions.
You want proof? Take a look at Brian Strait, a defenseman who was picked up by Snow after being placed on waivers by the Pittsburgh Penguins. Until he suffered an ankle injury on Sunday, Strait was the steadiest defenseman on this team. He was, and still is, the only Isles' skater with a positive rating (+3). Through 15 games, he'd registered 25 hits and 15 blocked shots, to go along with four assists and just six penalty minutes.
I compared him to Rob Scuderi, that prototypical Penguins' defenseman who is steady, smart, responsible and keeps it simple. Craig Button of NHL Network and Brian Metzer of NHL.com agreed with me:
Said Button: "I like the Scuderi comparison. Smart and settled in his play but not as rugged as Orpik. Solid."
Metzer offered a similar take:  "I really liked his game. Blue collar guy, who isn't afraid of getting nose dirty. A perfect 5-6 guy, with a chance to become a second pairing player on consistent basis. Definitely a poor man's Scuds. Still developing a bit, but Isles got themselves a guy who is very capable."
People were quick to downplay and even ridicule Garth Snow for plucking Strait off the waiver-wire. Surely, this was just another budget move for an incompetent GM and an owner who refuses to spend money.
Unless of course you consider the fact that Snow knew exactly what he was looking for and getting in Brian Strait, though I'm sure such an explanation could not possibly be sufficient.
For your convenience, here's a quick refresher on some of Snow's other "budget" acquisitions:
Matt Moulson ($575,000, two-way contract) 
Michael Grabner ($765,000, entry-level contract)
P.A. Parenteau ($600,000, two-way contract)
Shocking as this might seem, Garth Snow and his scouting staff have shown a knack for finding talent in uncommon places. There's something to be said for that.
Additionally, Snow has made significant offers to free agents like Paul Martin, Christian Ehrhoff and Ilya Kovalchuk in the past. The mere fact that these offers were made show that ownership was prepared to make such financial commitments. After all if he wasn't, why bother in the first place? That brings us to our next topic, Charles B. Wang.
CHARLES WANG
Wang has shown in the past he's willing to spend money. The Islanders have had trouble attracting top-flight UFAs because of the uncertainty surrounding the organization. You try looking Pat Brisson in the eye and telling him that his client should sign with a franchise that has no clue whether it'll be playing in Nassau County or Nova Scotia three years from now. It won't go over well.
Fortunately, the arena issue has now been settled and the Isles will be moving to Brooklyn after their current lease at Nassau Coliseum expires. This upcoming offseason will be an easier one for Wang and Snow, in terms of their ability to draw some more interest from free agents.
Also, it's important to make a distinction between being cheap and being practical.
P.A. Parenteau wanted $4 million a year and didn't deserve it. Kudos to Snow for realizing that he could essentially replace that offensive production with Brad Boyes for $1 million. That's a very smart move from a dollars and cents standpoint and there's absolutely nothing wrong with it.
The Islanders re-signed Moulson and Grabner and yes, at somewhat of a hometown discount. But if this team and its ownership were as cheap as everyone proclaims, would they have brought back both players?
It's not as much of a no-brainer as you'd like to think; plenty of teams have let go of key contributors over monetary factors. The Buffalo Sabres opted to let Chris Drury and Daniel Briere get away, the Minnesota Wild doing the same with Marian Gaborik.
Yes, Moulson and Grabner are a bit different, in that the Islanders held their negotiating rights. Still, if Charles Wang really didn't want to spend the money, he wouldn't have.
Wang didn't have to be asked twice before locking up John Tavares to a long-term deal, either. They're not exactly paying him in food stamps; more like $33 million over six years. But you're right, obviously this owner refuses to spend money.
Now, is there budgeting going on to some extent? Undoubtedly. If you lost hundreds of millions of dollars on a business venture (or anything for that matter), you'd be budgeting too.
Charles Wang isn't stupid, ladies and gentleman. The answer to financial issues is not to ensure that they continue. Wang knows that, in order for the Islanders to be competitive once again, he has to invest capital. It's been difficult for them to do so, because as was already mentioned, top-tier free agents haven't exactly wanted to come to Long Island. That will change now.
TRADES (OR A LACK THEREOF)
As for why the Islanders haven't made any drastic or dramatic splashes in the trade market, that too is a matter of common sense.
Garth Snow has stated repeatedly he will not mortgage the future for, say, Bobby Ryan or P.K. Subban.
We've witnessed firsthand the adverse effects of those kind of moves. We lost Zdeno Chara and the draft pick that became Jason Spezza. We lost Roberto Luongo, Oli Jokinen, Todd Bertuzzi and Bryan McCabe, among others. Are we really now going to be upset at Snow for  avoiding similar mistakes?
Any trade involving a Subban or Ryan would require the Islanders to deal away a prospect or player who's not worth giving up. You're not going to convince the Montreal Canadiens to take Calvin de Haan and Kirill Kabanov, then give you a stud in return. It's just not going to happen
Do you really want to get rid of Ryan Strome or Griffin Reinhart? Are you prepared to give up on Nino Niederreiter after just one year?
Who are you kidding? Five years from now, when Niederreiter's racking up 25-35 goals, you'll be kicking yourselves. There's no reason for Snow to jeopardize this team's bright future for a quick-fix.
Kyle Okposo's struggles have brought him under heavy fire as well. People are demanding that he be traded immediately and I'll tell you right now, I think that would be unwise at this point.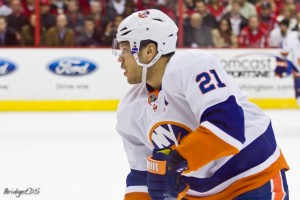 Why? Because Okposo's not Brett Lindros, he's just in a slump. Most players go through those from time to time; It HAS happened before.
This is a guy who's either averaged or been on pace for 40-50 points each year since he was a rookie. He's 24-years-old, for gosh sakes. If you want to send a message, stick him in the press box for a game or two. Tearing down the sandcastle isn't always the solution.
COACHING 
Lastly, I wanted to address the coaching situation and the apparent confusion and/or misconceptions that have been thrown out there.
Jack Capuano is not an NHL-caliber coach; that much is obvious. Contrary to popular belief, the Islanders will fire him at some point which, at this rate, will likely be sooner rather than later.
What has been misconstrued, however, is the reasoning behind his current employment.
Capuano wasn't first brought here because "Wang refuses to spend on a real NHL coach," as so many of you are convinced beyond a shadow of a doubt.
Capuano was brought here on an interim basis because Scott Gordon was let go and the Isles didn't want his successor to be a rush-job. When the Islanders started turning things around under Capuano (they had one of the best records in the NHL during the second-half of the season), it became quite clear that Capuano would be back. With the team responding to his arrival the way they did, I can't say I blame Snow and Wang for keeping him aboard.
It should be noted, by the way, that most mid-season coaching changes involve the AHL bench boss. Of course, when the Islanders do the same thing, it's viewed in a different light.
Last year did not go very well and this year hasn't been much better. This front office has demonstrated that they're not afraid to fire coaches.
It has nothing to do with Wang liking Capuano because he listens to him or anything like that. The decision that is in the best interests of this team is the one that will be made. Plain and simple.
As for the idea that Wang refuses to hire a legitimate coach, I couldn't disagree more.
Was Ted Nolan not an NHL coach? Do you think he just showed up on Wang's doorstep?
And how quickly people forget that Scott Gordon was highly sought-after when the Islanders hired him. Gordon was the AHL's coach of the year and there were several other teams that wanted him behind the bench. Wang was aggressive and convincing enough to land him.
In hindsight, Gordon turned out to be a disappointing hire but, at the time, it made all the sense in the world, not to mention a statement.
THE BOTTOM LINE
What I'm trying to say here is, the sky isn't always falling.
Not everything about this team has to be a conspiracy theory, not every player who's in a slump needs to be traded.
Granted, the Islanders haven't made the playoffs in 2007 and that's definitely frustrating. But taking things to this extent? That ledge is getting a bit too crowded. I know it's hard to see right now but the New York Islanders are headed in the right direction. It might take some more time for them to get to that next level but they will.
It is at that moment when you'll understand why they didn't trade Kyle Okposo or Ryan Strome. When they have to re-sign all these young guns after their entry-level contracts expire, you'll realize why committing $16 million to P.A. Parenteau would've taken away a significant amount of breathing room on that front.
Take a sip of the kool-aid for once. It's delicious.
Comments are welcome.
Follow Daniel Friedman on Twitter