For the first eight years of their existence, the Minnesota Wild knew exactly who they were. Head coach Jacques Lemaire's firm hand ensured that the expansion franchise maximized their potential, and the Wild actually enjoyed higher levels of success than most of their fellow expansion teams.
Eventually Lemaire left and a new style of Minnesota hockey was promised. Despite that rhetoric, the next three seasons would see a team mired in mediocrity, while not really having a true identity. Free agent acquisition Zach Parise may not have instantly turned the Wild into one of the Western conference's top teams, but he has begun to lead the identity change for this roster.
Like most expansion franchises, life wasn't easy off the bat for Minnesota at first in the NHL. They finished dead last in the Northwest division in their first two seasons, but under Lemaire's system which demanded absolute defensive discipline, the Wild reached the Western conference finals in just their third season 2002-03.
Even in the 'new' and more offensive-minded NHL after the 2004-05 lockout; Lemaire and his system helped Minnesota to three playoff appearances in the space of six seasons despite the franchise regularly being among the NHL's lowest spenders.
When the veteran coach eventually stepped down after the 2008-09 season along with long time General Manager Dough Risebrough, the franchise decided it wanted to play a more entertaining brand of ice hockey. They hired Todd Richards as head coach and Chuck Fletcher as GM, but it didn't quite work out.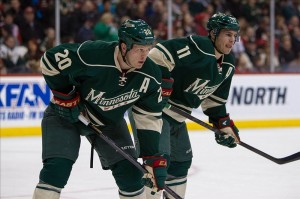 Richards made it clear that he wanted to change the identity in Minnesota rather than simply try to mirror Lemaire's system, which had left some fans calling out for more entertaining hockey. However, during his two seasons behind the bench the only statistic that went up was the goals against column. He failed to improve the team's offensive output and ultimately a change was made after Minnesota failed to reach the playoffs in each of those two seasons.
Mike Yeo stepped into the coaching job one year ago and enjoyed instant success with his team leading the league early in December. Unfortunately, offensive struggles came back to haunt the roster once again and they collapsed eventually missing the playoffs for the fourth straight season.
Zach Parise was born in Minneapolis and considered himself to be returning home when he signed with the team on July 4. Parise is one of only four players from the Minnesota area on the current Wild roster, and forging a clear 'Hockey Town' identity has been genuinely problematic for the organization. The other players born in the Minnesota area are Matt Cullen, Tom Gilbert and Nate Prosser.
Parise's father captain the Minnesota North Stars and he has brought the energy and desire to make an NHL franchise the center of Minnesota's culture with him. There were plenty of preseason debates about Parise's role, chance of success and even his likely line mates [see also: Will Zach Parise Skate On Top Line All Year].
Not much attention was afforded to the important role that Zach Parise could play in leading the identity change that the franchise has been searching for over the past three seasons. He leads the team with seven goals and 12 points through 16 games, but more than that the 28-year old plays the game in a way that has the Xcel Energy Center feeling excited.
Parise combines a tremendous offensive skill set with two-way play, tenacity and a tremendous feisty hunger around the net. He is averaging 4.5 shots per game and has been a constant source of energy even on a team that is averaging a league low 2.12 goals per game.
There are signs that Parise's style of play is rubbing off on a few of his team mates, and he is the perfect model for developing young wingers Jason Zucker, Johan Larsson and Charlie Coyle to follow. The Wild are moving towards being a fast-skating, net-driving offensive team and Zach Parise is the leader of that culture change.
Any Minnesota fans expecting this roster to instantly compete for a Stanley Cup after last summer's big additions will no longer be under that illusion 16 games into the shortened 2013 season. However, identity change is undoubtedly a key component for both the short and long term success of this franchise, and 16 games has shown that Zach Parise is a key component of that identity change.