By Mike Miccoli, Boston Bruins correspondent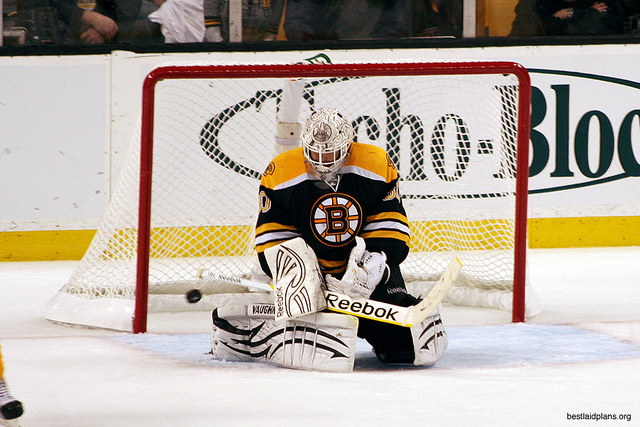 The Boston Bruins always had a problem on their hands. A good problem, but nonetheless, a problem.
Together, Tim Thomas and Tuukka Rask make up one of the best goaltending tandems in the NHL today. Because of this, the Bruins should be thankful. Coach Claude Julien has said numerous times that the Bruins do not have a #1 goalie, but rather a 1a and 1b.
Thomas and Rask have been anchors. Since the start of the 2009-10 season, the Bruins are the only team in the NHL to use only two goaltenders—a total of 218 games since the last time someone other than Thomas or Rask started in goal.
Though Thomas has gotten the majority of the starts this season, it's Rask with the better save percentage (.932%, 4th in the NHL) and goals-against average (2.01, 5th in the NHL). In the third year of his career, Rask could be a starter on perhaps 15-20 other NHL teams. Instead he splits time with Thomas, the reigning Vezina and Conn Smythe Trophy winner.
For Thomas, the 37-year old netminder might be considered one of the best goalies in the league, but doesn't play the same amount of games as comparables such as Henrik Lundqvist, Pekka Rinne, Jimmy Howard or Jonathan Quick. On the other hand, unlike the Rangers, Predators, Red Wings and Kings, the Bruins can start their "backup" against quality teams and still be given a good chance to win.
This is the good problem: the Bruins essentially have two #1 goaltenders that are able to co-exist on the same team, both while being successful.
Here's the real problem: how much longer can that last?
In the last month, we've seen some distress signs. With the Bruins no longer tearing up opponents like they did in November and December, both goalies have been under the microscope even more so. During times of struggles, deficiencies become more glaring. In his 12 games since January, Thomas has allowed three or more goals eight times or in 75% of his appearances. Before that, he had only done it in eight games out of his 24 appearances, 33% of the time.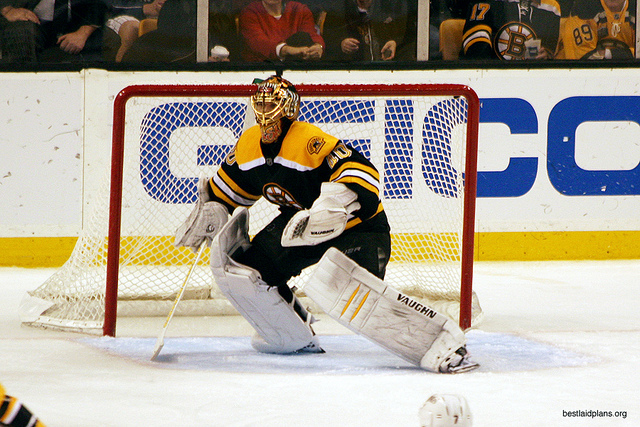 Rask has to be better, too. After an incredible outing against the Rangers on January 21, the Finnish netminder dropped his next three games allowing a total of 12 goals. In his last start, he was pulled after allowing three goals on ten shots against the lowly Buffalo Sabres.
Right now, the tandem doesn't have it. The same pair that has kept the Bruins in many games have been soft, almost as soft as the team playing in front of them.
This is one problem.
Sure, it's a slump that's plaguing the Bruins but when the team is unable to string together wins, it becomes harder for a goaltender to get into their rhythms. With the trade deadline approaching, it's highly unlikely that Chiarelli moves either goalie (read: not happening). However, if this Bruins team fans out in the playoffs, this offseason could be rather interesting.
Rask is set to become a restricted free agent on July 1, the exact day that Tim Thomas' no-movement clause gets lifted. In an ideal situation, Rask gets extended by the Bruins and transitions into the starter's role while Thomas becomes more of a mentor for the younger goalie, playing less games and having more of a supporting contribution.
This is another problem.
Both goaltenders are passionate and will continue to compete to be the starter in Boston. Though it was Thomas backing up Rask during the 2009-10 season, the roles have been reversed in the past two seasons. It's no secret that Rask wants to play more (and who wouldn't want to) and that his requests have been heard more frequently. Rask has come out and said he wants to stay in Boston after this season but with Thomas still proving he can be a top netminder, even in his current slump, something's gotta give.
So what happens?
Thomas and Rask should be able to bring back a good return if either were to be traded, with Rask, because of his young age, getting more. If the Bruins are looking to move a goalie after this season, it would most likely be Thomas. But, with one year left on his contract, is it even worth it? Would it be fair to give Rask the keys to the Bruins while Thomas gets less playing time to ride out the remainder of his contract?
Probably not, but fair playing time doesn't always equal wins.
The 1a and 1b situation can only work for so long. One goalie is going to want to step up and play 60+ games per season. One of them will have to. Neither Thomas or Rask has done that for as long as they have been a tandem.
If Tuukka Rask is indeed the future goaltender of the Bruins organization, it might be time for him to play more games. The most games that Rask has started for the Bruins was 45, his rookie season. Thomas has proven that he still has what it takes to compete and be a starter on a good team, but from here on out, it might be time to start transitioning one way or another.
Someone has to lose out and accept a lesser role. It has to be either Thomas or Rask or else it's the Bruins fans' who will see more of the same from a team that's a mediocre 4-5-1 in their last 10 games.
There's no such thing as a good problem to have. Instead, it's just a period of time where everything works together in perfect harmony until one day, it doesn't.
That might be coming soon.
Follow Mike on Twitter for more Bruins updates, commentary and news.