Four months ago Jeff Petry was the odd man out on the Edmonton Oilers defence.
Sitting outside the the top six on the depth chart early in the season, he was sent packing down to the AHL's Oklahoma City Barons for more seasoning.  Petry at the time was not deemed indispensable enough to stay with the big club and with seven other NHL defencemen on the roster, he became the easy choice to go down.
Currently, with Theo Peckham day to day, the Oilers just about have all eight of their active NHL defencemen healthy and able to play for the first time since very early in the year.  The difference is that while Jeff Petry's name was scratched in favour of other veterans at the start of the year, his is front and centre this time around.
It is a testament to his hard work and the improvements he has made in his game.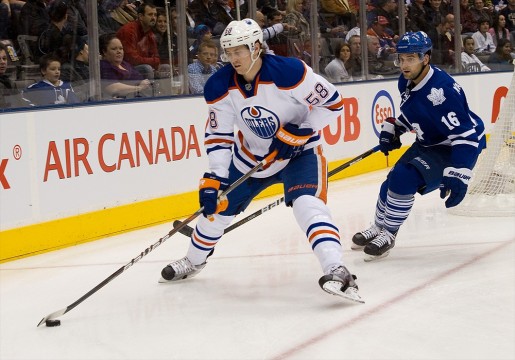 After Petry was sent down, he did not spend much time in the minors, and when the injury bug hit, he was the first call back up to the big club.
He played well at times in his first couple of months, with flashes of brilliance and also moments of indecision.  Partially due to a massive number of injuries as well as to his improving game, Petry kept getting plenty of minutes to show what he could do.  While his numbers on the year as a whole are good, in 48 games he is second on defence in minutes per night (21:12) and points (15), many of those numbers are inflated because of injuries to Ryan Whitney, Tom Gilbert, Corey Potter and Cam Barker, who surely would've taken some of those minutes earlier in the year.
Recently he has started to put it all together, playing a more physical, confident two way game and using his speed to jump up and join the rush.
Currently leading all Oilers defenceman in ice time post all-star break, he is playing in the top pairing with Ladislav Smid, a spot previously held by Tom Gilbert.  Even though Gilbert has been back three games from injury, Petry still finds himself with the same pairing with Smid, at least for the time being.  Here's a look at the Oilers defence post all-star break:
| | | | | |
| --- | --- | --- | --- | --- |
| | GP | TOI/G | PTS |  +/- |
| Jeff Petry | 6 | 22:32 | 4 | +1 |
| Ryan Whitney | 6 | 21:34 | 5 |  -4 |
| Ladislav Smid | 6 | 20:05 | 0 | +4 |
| Corey Potter | 6 | 18:48 | 1 |  -4 |
| Cam Barker | 4 | 17:02 | 1 |  -3 |
| Andy Sutton | 4 | 15:32 | 2 | +2 |
| Tom Gilbert | 3 | 18:44 | 1 |  -1 |
| Theo Peckham | 1 | 19:26 | 0 |   0 |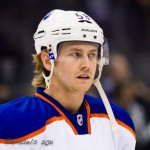 A product of Michigan State, Petry was the 2nd round, 45th overall pick of the Oilers in 2006.   He signed a two-year, entry-level contract with Edmonton in March 2010 following his junior season at Michigan State and made his pro debut with the AHL's Springfield Falcons that year playing 8 games.
In 2010-11 Petry split the year between Oklahoma City and Edmonton, playing 41 games for the Barons and 35 for the Oilers.
Petry's skill set is obvious, he's a strong, powerful skater, an accurate passer and has a cannon shot from the point.
While there are still growing pains with the 24 year old defenceman, the Oilers have seen enough improvement to keep giving him the minutes and hope he continues to develop into a top pairing defenceman to match with their group of skilled young forwards.
One thing is for sure, if Petry continues his current progress and continues to impress, he won't have to worry about being the odd one out again.
Follow Carl on twitter @maloney3383 for more articles.