The Boston Bruins have re-signed restricted free agent forward Sean Kuraly to a three-year deal worth $3.825 million, the team announced Tuesday. The deal comes with an annual cap hit of $1.275 million and will keep Kuraly under contract through the 2020-21 season.
.@kurals9 is 🔒 up.#NHLBruins pic.twitter.com/8vV0JLPmCE

— Boston Bruins (@NHLBruins) July 3, 2018
In a season that featured multiple rookies breaking out in a huge way in 2017-18, Sean Kuraly was sort of buried in the shuffle in terms of league-wide exposure or appreciation. Fans in Boston didn't overlook Kuraly for long though as he played an integral role on the team as a fourth-liner in his rookie season. Scoring six goals and 14 points in 75 games, Kuraly's real strengths were seen off of the scoresheet.
Related: Bruins Forgotten Rookie
When the Bruins are at their best, they have a fourth line filled with players who have a strong work-ethic, a high motor and an ability to generate opportunities and chances despite getting limited ice time relative to other members of the team. Kuraly brought all of that in more despite averaging 12:15 of ice time – the 17th highest mark among forwards on the Bruins in 2017-18.
Due to his ability to create something out of nothing and his accountability in his own zone, Kuraly was tasked with starting 63.9% of his shifts at even strength in the defensive zone. His 46.46% at the faceoff circle was also admirable and it was part of the reason the Bruins felt confident in giving him an opportunity to play so many crucial minutes this season. To put that total in perspective, Riley Nash, the Bruins' regular third-line center and at times top-line center when Patrice Bergeron dealt with injuries, was able to win 48.37% of his draws in 2017-18.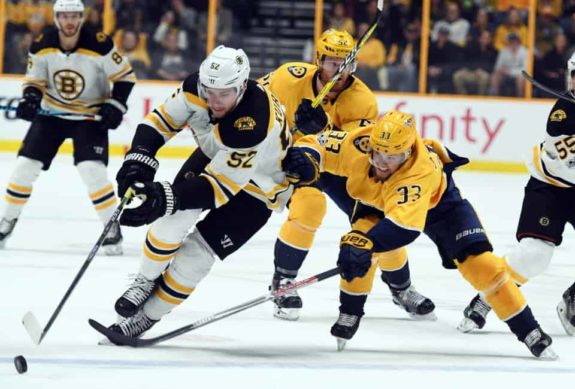 For many, Kuraly is one of the key cogs on this Bruins' team despite his role as a bottom-six player. Whether he suits up in a fourth-line role or in a third-line role in 2018-19, the Bruins are going to be expecting a lot out of Kuraly as the team is known for rolling four lines rather than relying on the top-six to carry the brunt of the load.
Things will be different in the bottom-six with Nash signing in Columbus and Tim Schaller signing in Vancouver but the Bruins made an effort to shore up those holes by signing Chris Wagner out of New York (with the Islanders), Joakim Nordstrom out of Carolina and also have Providence forward Ryan Fitzgerald in the mix to play in the NHL in 2018-19. Keeping Kuraly around for the foreseeable future was a good way at keeping some consistency, along with Noel Acciari, Danton Heinen and potentially David Backes, barring a trade.
Related: Ryan Fitzgerald Has Immediate NHL Potential
The Bruins also have centers like Jakob Forsbacka Karlsson, Trent Frederic and Ryan Donato all vying for a potential job as the team's third-line center. It'll be interesting to see who gets the first crack at the job next season and whether or not Kuraly will even be in the mix out of training camp and the preseason. At such an affordable cap hit for the next three seasons, however, it doesn't really matter where the 25-year-old lines up. He'll be worth the value one way or another.