The Chicago Blackhawks have had some of the best centers in the history of the NHL. Centers usually carry the most responsibility on the ice where they're supposed to score and win faceoffs. Because of this responsibility, centers are often some of the best players.
Although the Hawks have had their fair share of strong centers in franchise history, here's a look at the best of the best.
3. Jonathan Toews
Despite his numbers dropping off in the past couple of seasons, there is no doubt that Jonathan Toews is one of the best players to put on a Hawks sweater. It's tough to refute that he's their best captain after leading them to three Stanley Cups in six seasons and is without a doubt the best center on the Hawks today. Despite the 2017-18 season being his weakest on the scoresheet, he had a faceoff win percentage of 57.95%. His average faceoff percentage throughout his career is 56.9%.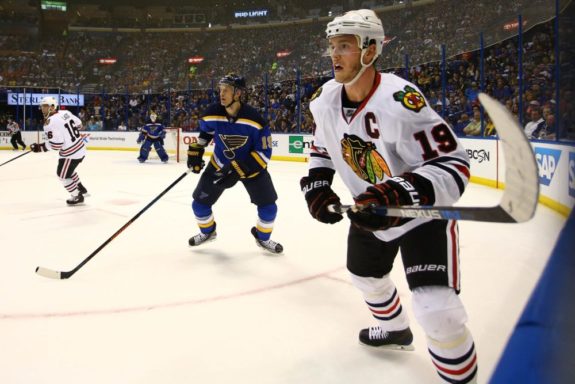 In his 11 seasons in the NHL, all with the Hawks, he has scored a total of 292 goals and 382 assists in 791 games. Known for being a two-way forward and a strong leader, he took home the Frank J. Selke Trophy in 2013, the Mark Messier Leadership Award in 2015, and the Conn Smythe Trophy in 2010.
According to NHL.com, "Jonathan brings it every night," said Scotty Bowman, a Hockey Hall of Fame coach and the Blackhawks senior adviser to hockey operations. "It's one thing to have the ability, but another to compete. You are not going to outcompete Toews. He plays in all situations. The power play, penalty kill, 5-on-5."
Toews is the only player on this list still active in the NHL. Despite his decreasing numbers these past few seasons, he will go down as one of the best centers in the history of the time and still has time to improve.
2. Denis Savard
Often noted to be the best Hawk during the 49-year drought era, Denis Savard was the face of the franchise during the 1980s. Unfortunately, faceoff win percentages weren't recorded when he played in the NHL. Fortunately for Savard, his other stats speak highly of him. In his 16 seasons in the NHL, he tallied a total of 473 goals and 865 assists in 1,196 games. He played 881 games as a Hawk where he tallied 337 goals and 719 assists.
He also holds the franchise record for most points in a season for the 1987-88 season with 131 points. Despite winning his only Stanley Cup with the Montreal Canadiens, Savard will always be remembered as a Hawk.
Known for his signature move, the Savardian spin-o-rama, he used his speed and hockey IQ to his advantage. While playing against the defending champion Edmonton Oilers Feb. 24, 1988, he broke the tie game with a short-handed goal that even Wayne Gretzky called "one of the greatest goals you'll ever see." Savard echoed the same sentiment:
"The best I ever scored?" Savard said. "Probably."
Savard's skills landed him in the Hockey Hall of Fame three years after his retirement and also earned him a coaching position with the Hawks. He was the head coach for a few seasons before being replaced by Joel Quenneville and became a Hawks ambassador.
1. Stan Mikita
Like Savard, faceoff win percentages weren't recorded when Stan Mikita played in the NHL. Even without them, Mikita has one of the most impressive resumes in Blackhawks history. He spent all 22 years of his career with the Hawks, playing 1,396 games and scoring 541 goals and 926 assists.
He was on the legendary 1961 team that got the Stanley Cup, and his most impressive feat was when he won the Art Ross, Hart, and Lady Byng Trophies in 1967 and 1968. He added two more Art Ross Trophies to his resume before retiring as well as Lester Patrick Trophy in 1976. He was inducted into the Hockey Hall of Fame three years after hanging up the skates and became a Hawks ambassador in 2008.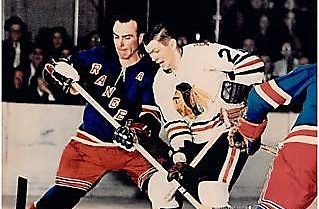 Known for his legendary play on the ice and big heart off the ice, Mikita is often regarded as one of the greatest NHL players of all time. Teammate Bobby Hull refers to him as "pound for pound, the greatest hockey player who ever played. He was tougher than a night in jail."
Despite his successful career, Mikita, who came to Canada from Czechoslovakia as a child remains humble. He told NHL.com, "When I came to Canada, I couldn't understand what people were saying," Mikita said. "I might as well have been deaf. So I could understand what these kids were dealing with, barriers, lack of confidence and self-esteem. Amazing. Because I was able to skate a little bit and shoot a puck, I have been incredibly blessed. I scratch my head sometimes. How did this happen? Like I mentioned before. Fiction. Except it's true."
All stats are from NHL.com.