It is no secret that the Chicago Blackhawks are one of the most successful teams in the NHL right now. With their recent success, it can be hard to believe that it wasn't always this way. Prior to their 2010 Stanley Cup win, the Hawks experienced a 49-year championship drought. The years between championships were filled with ups and downs for the Hawks and some of the most iconic players in the history of the organization. Here are five of the best Blackhawks from the 49-year drought period.
5. Eddie Olczyk
Prior to his career as a commentator for the Hawks, Eddie Olczyk played in the NHL for 16 seasons. Despite playing on multiple teams throughout his career and winning the Stanley Cup with the New York Rangers in 1994, Olczyk is best known as a Blackhawk. Born in Chicago, the Hawks drafted him as their third overall pick in the 1984 draft. He played three seasons with the Hawks before they traded him to the Toronto Maple Leafs. He is also well known for his 18 game point streak in the 1989-90 season which Phil Kessel tied in the 2008-09 season. It was the longest point streak for an American-born player before Patrick Kane broke the record in the 2015-16 season.
4. Ed Belfour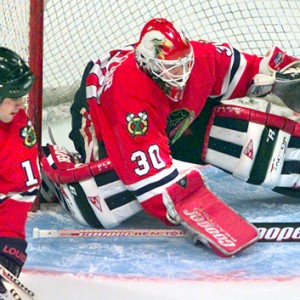 Although he won the Stanley Cup with the Dallas Stars in 1999, Eddie "The Eagle" Belfour is a Hawks legend. Belfour's 201 wins are ranked fourth among Hawks goalies after Corey Crawford surpassed him in February. Belfour recently returned to Chicago for a final skate as a part of the Hawks' "One More Shift" initiative to honor retired players. He caught up with reporters discussed some of his memories as a Blackhawk, including the 1992 Stanley Cup Final. Belfour told Chris Hine of the Chicago Tribune:
"Unfortunately we didn't win," Belfour said. "That was probably my biggest regret was we didn't play that well in the finals, and it still haunts me some days, but that kind of stuff happens when you're a younger player and you learn from it and get better. That's what I tried to do."
3. Chris Chelios
Although the highlights of his historic 26-season career were with the Detroit Red Wings and Montreal Canadiens, the Hawks always had a place in the heart of Chris Chelios. The Chicago native spent nine seasons with Hawks, where he won the Norris Trophy twice. The Hawks traded him to the Wings in 1999, where he added two more Stanley Cups to his resume. Despite never winning a Stanley Cup for his hometown team, Chelios is still a favorite among Hawks fans.
2. Jeremy Roenick
Despite being the only player on this list without a Stanley Cup, Roenick is also the only player to reach the 500-goal milestone. He spent eight years of his lengthy NHL career as a Blackhawk, and that is where his legacy remains. Drafted eighth overall in 1988, Roenick quickly became a fan favorite due to his skill, likability, and physical style of play.
Roenick's departure from the Hawks in 1996 was a surprise to everyone. He recently discussed it in an "Off Script" interview with Kathryn Tappen of NBCSN:
"I'd grown up as the best player on all my teams. Never had a losing season in my life on any sports team, so I never had the sense of "we don't want you," of getting cast out. When I got traded from Chicago was the first time I was expendable, and that's a terrible feeling."
1. Denis Savard
Despite winning his only career Stanley Cup with Montreal Canadiens, Savard is a Blackhawks legend. Drafted third overall in 1980, Savard was the star of the Hawks in the 1980's after the departure of Stan Mikita and Bobby Hull. He was traded to the Montreal Canadiens for Chris Chelios in 1990 but returned to the Hawks in 1995 to finish his NHL career. Shortly after his retirement, the Hawks retired his number. His jersey hangs alongside legends such as Stan Mikita, Bobby Hull, and Glenn Hall. He still resides in Chicago and serves as a Blackhawks ambassador.
The Hawks have always valued the history of their organization as well as their players. These players all have their own unique legacy with the organization. It goes to show that you don't need a Stanley Cup to leave a long-lasting impact on a team.
Illinois State University graduate and lifelong Chicago Blackhawks fan. I also write for The Odyssey at Illinois State and Fans Talk Sports. Other than hockey, I love to write historical fiction and nonfiction.