Winning a Stanley Cup is hard. It requires a good team that plays well when it matters most, as well as a good deal of luck. Winning a Cup and remaining a contender in subsequent years is even more difficult. Players on championship teams often require raises. In a salary cap league like the NHL, a team often can't afford to keep all their players. General managers have to make difficult decisions and find affordable ways to fill out their rosters. Poor choices can hamstring a team financially for the better part of a decade.
Only three teams other than the Boston Bruins have won the Stanley Cup in the past eight years, and all three of those teams have done it at least twice. Those three teams—the Pittsburgh Penguins, Chicago Blackhawks, and Los Angeles Kings—have some similarities to the Bruins. This is a good opportunity to analyze those similarities, look at what these teams have done following each of their most recent Cup wins to try to extend their contention windows, and which of these tactics the Bruins should borrow.
The Kings Blueprint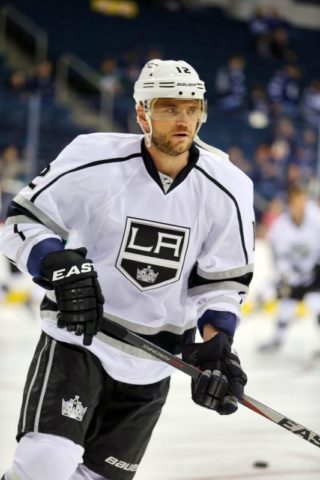 Of the three aforementioned teams, the Bruins are most often compared to the Kings. They have big money invested in goaltending as well as their top two centermen, and they have struggled to get out of the first round of the playoffs since their last Cup win. They are also the team whose blueprint Boston would least like to follow. When Los Angeles last won the Cup in 2014, they averaged over a goal per game more in the playoffs than they did in the regular season. That most likely indicates a good team that got hot at the right time, not one that was geared for sustained success.
The consequence of that Cup run was that they had to turn around and pay their players like champions. As one of their few sources of scoring, the Kings felt as though they had to re-sign Marian Gaborik. However, the trade deadline acquisition had shown signs of declining health and performance after eclipsing the age of 30. Regardless, the Kings shelled out a seven-year contract worth almost $5 million per year.
The transactions weren't all bad, though. Los Angeles went on to lock up defensemen Alec Martinez and Jake Muzzin to similar extensions. Muzzin received a five-year extension with a $4 million average annual value (AAV). Following the arrest and subsequent suspension of Slava Voynov, Martinez signed a six-year extension with the same AAV. Additionally, they saved some money allowing stay-at-home defenseman Willie Mitchell to walk after his age-36 season.
What Bruins Can Learn from Los Angeles
There's not much to learn that the Bruins haven't already discovered for themselves. Boston has their Selke-winning center—Patrice Bergeron—locked up for a cap hit under $7M per season through his age-35 season. Meanwhile, Anze Kopitar will count against the Kings' cap for $10M per year through his age-35 season. Bergeron is a bargain, while Kopitar will likely never live up to the third-highest salary in the league. At the same time, however, the Bruins have already signed David Backes—their version of the Gaborik signing.
Boston's future outlook is better, though. The Kings need to sign restricted free agent Tyler Toffoli, which would be a much less troublesome negotiation if they didn't have Dustin Brown on the books for almost $6 million for the next five years in addition to the cap penalty for the Mike Richards buyout.
The Kings are going to be burdened with Mike Richards' cap hit until the 2031-32 season! http://t.co/njvSYReN4D pic.twitter.com/3HYLfQK4iP

— theScore (@theScore) October 16, 2015
Furthermore, it's also unclear if Toffoli is actually good or just the lone scoring winger on a team that desperately needs one. In David Pastrnak, the Bruins have their own RFA wing to re-sign, but at this point, it's pretty clear that he's the real deal. Kings fans certainly don't regret their two Stanley Cup wins, but right now it seems like they're enduring the repercussions. Meanwhile, the Bruins are on the upswing.
The Blackhawks Blueprint
Chicago has won three Stanley Cups in the past seven years. They are the closest thing to a dynasty that the NHL has had since the Oilers of the late 1980s. If there were ever a blueprint to follow, it would be theirs. Yet even the Blackhawks have had trouble getting past the first round of the playoffs in the two years following their most recent Cup. This is still a blueprint that any team should follow.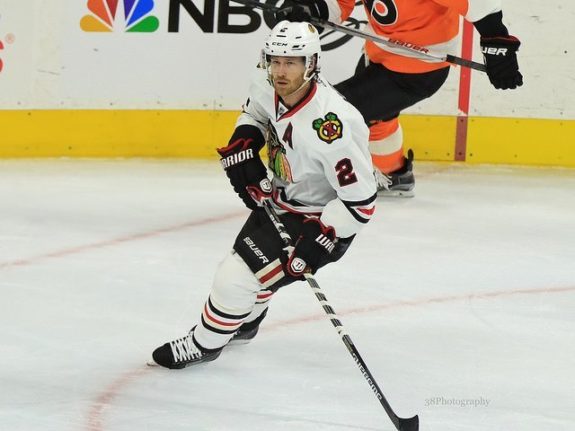 After winning their third Cup in six years, the Blackhawks made two major moves. The biggest move, as it turns out, was signing Artemi Panarin away from the KHL to a two-year entry-level contract. This opened the door for Chicago to unload Patrick Sharp's contract on the Dallas Stars and receive defenseman Trevor Daley. As a result, Johnny Oduya walked and joined Sharp with the Stars. The overall result was an upgrade at wing while saving almost $3 million. Daley never really worked out and he was later traded to the Penguins, but the overall exchange was a good one.
What Bruins Can Learn from Chicago
The Bruins aren't as far off from recreating this Blackhawks team as it may seem. Top wingers Brad Marchand and Pastrnak are nearly as good as the duo of Patrick Kane and Panarin. Top centers Bergeron and Jonathan Toews also offer similar skill sets. The Blackhawks have a tremendous advantage on the blue line, but Boston's infusion of young players like Brandon Carlo and Charlie McAvoy has them moving in the right direction for less money.
The Bruins would like to imitate the Sharp trade, considering they have several contracts that they'd like to get off the books. However, none of those contracts are as enticing as the back end of that Sharp deal seemed. Additionally, most of the contracts they'd like to move are restricted by a no-trade clause.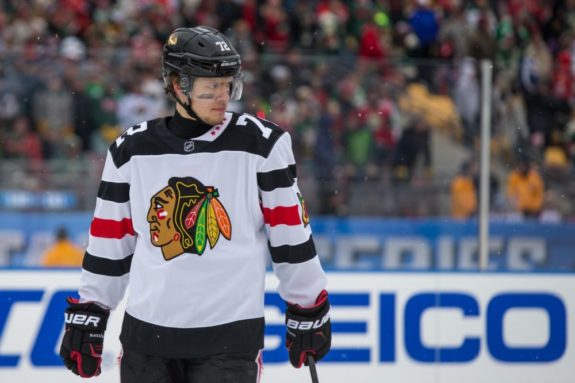 What the Bruins can really take away from the Blackhawks is the Panarin signing. The Bruins should be using their excess cap space to acquire high-upside, low-risk deals. These aren't easy to find, and players like Panarin are extremely rare. However, a few swings and misses on cheap players like Brett Connolly—an overpay in the trade market, but a small contract—are easier to stomach than constantly overpaying low-ceiling players like Jimmy Hayes, Matt Beleskey, and David Backes.
The Penguins Blueprint
The Pittsburgh Penguins won the Stanley Cup last year and are now back in the Final. The NHL hasn't had a repeat champion since the Red Wings 20 years ago—prior to the salary cap era. Simply getting to this point in back-to-back years is impressive.
In their 2009 Cup-winning season, the Penguins were almost entirely dependent on Sidney Crosby and Evgeni Malkin, but this incarnation is much different. The past two seasons the team has received contributions from trade acquisitions like Phil Kessel, Patric Hornqvist, and Carl Hagelin. They've also been blessed with homegrown players like Conor Sheary, Jake Guentzel, and Justin Schultz.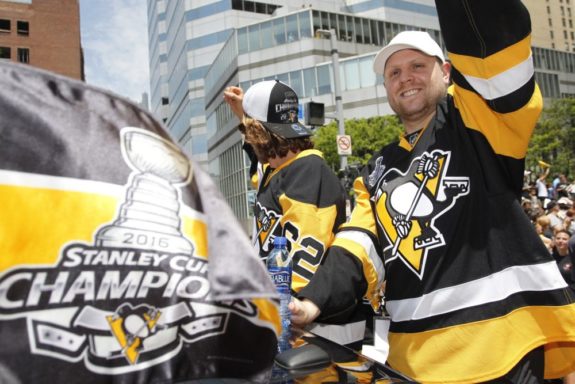 Despite untimely injuries to Hornqvist and top-pairing defenseman Kris Letang, this team has still fought its way through the playoffs. Pittsburgh has managed to ice a deep team regardless of its top-heavy salaries. The Bruins would be wise to attempt to imitate this formula.
What Bruins Can Learn from Pittsburgh
The Bruins don't have a Malkin or a Crosby—nobody else does. They can, however, take a lesson from how the Penguins have filled out their roster with their top three contracts eating up over 40% of their cap. Of the 12 players who made under $3 million and played at least 40 games for the Penguins, the average age is just over 26 years old. That includes 40-year-old Matt Cullen and 31-year-old Eric Fehr, who has since been traded to the Maple Leafs.
The Bruins are on their way to replicating this if they pull it off correctly. They are flush with young talent at the NHL level as well as in their prospect pipeline. There's no guarantee that players like Jake DeBrusk, Peter Cehlarik, and Danton Heinen will pan out, but the Penguins have shown that giving them every opportunity to succeed can have major benefits.
The Bergeron-Marchand Window
Watching the free-for-all that was the Eastern Conference playoffs, it's easy to envision an offseason where the Boston Bruins load up to make a run next year. The window has all but closed on Zdeno Chara, while the primes of David Krejci, Tuukka Rask, and Bergeron are waning. It's also reasonable to wonder how many remaining years of elite play Marchand has as the calendar turns to his age-29 season. At a time like this, it's difficult to be patient, but that's exactly what the Bruins need.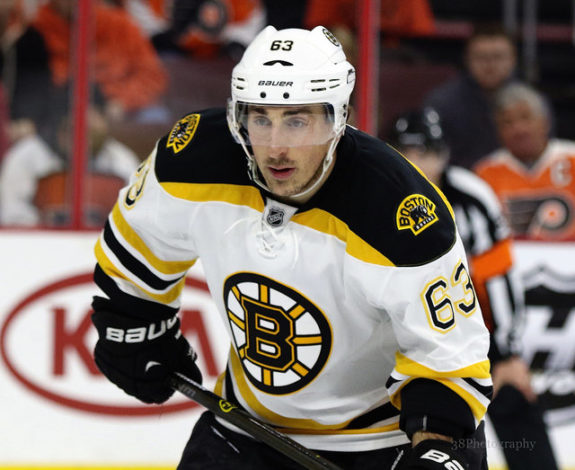 The temptation for the Bruins will be to fill out the roster in free agency and trade away young prospects for established NHL players. This impulse isn't necessarily wrong, but it sets the table for a single run at the Stanley Cup rather than a window of contention. The NHL's salary cap and parity of its talent pool make winning the Cup one of the most difficult feats in sports. It takes a talented and balanced roster, goal scoring luck, and injury luck.
That talent is most readily and inexpensively available internally. Yes, it may be scary to delay for another year to develop the young players, but a sustained contention window is better than going all in on a mediocre hand and hoping to get lucky.