With more than a quarter of the season in the rearview mirror, the question, "Who are these Boston Bruins" remains unanswered.
A debilitating string of injuries  have temporarily disrupted Boston's plans for a youth movement. Rookies have been thrust from their intended complimentary roles into prominent ones before they too landed on the shelf. The development of chemistry between Bruins young and old has been strained with Patrice Bergeron, Brad Marchand, David Krejci, David Backes, Ryan Spooner and Adam McQuaid combining to miss 74 games (and counting) less than two months into the season.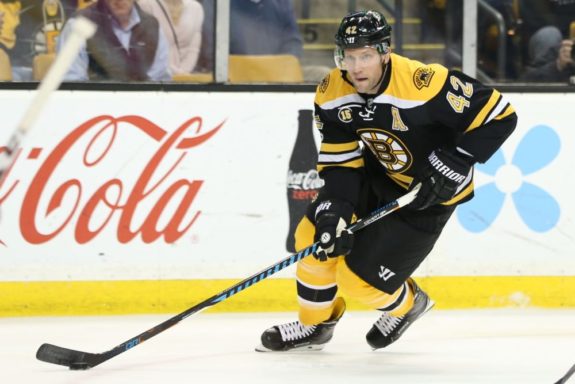 As such, it's difficult to discern what will be repaired when the team is healthy. Will Boston's moribund power play be bolstered to sufficient levels once the big guns are all back in the fold? Will the slow starts, late fades and inability to play their best hockey in front of Tuukka Rask be rectified by an increased veteran presence? Can Adam McQuaid's return aid the team's inability to clear their crease and prevent second (and third) chance opportunities?
Through it all, the Bruins are improbably in a playoff spot as of this writing. With the Detroit Red Wings, Ottawa Senators and Montreal Canadiens similarly spinning their tires, the Atlantic Division's third slot belongs to Boston. With key veterans returning Wednesday and other pieces not far behind Boston's true identity should be unveiled shortly.
Should the front office not like what they see, and believe that outside help is required, options will exist to augment the roster in hopes of seizing a playoff spot.
When I think of potential trade partners, I think of the New York Islanders, specifically, their blue line.
Why the Islanders?
I understand if the inclusion of a team sitting firmly in playoff position is confusing. The cellar-dwelling Arizona Coyotes and underachieving Edmonton Oilers, on the surface, are perhaps more obvious partners. However, the Islanders present the Bruins not only with attractive upgrades but also have the unique luxury of dealing from a position of excess without mortgaging much in the way of futures, be they in the form of rookies, prospects or future draft picks.
It's precisely New York's place in the standings that makes this possible. As of this writing, the Isles sit one point out of first place in the Metropolitan Division, with a game in hand on the Columbus Blue Jackets. With franchise cornerstone John Tavares headed for unrestricted free agency in June, General Manager Garth Snow is officially in "win now" mode. He'll do virtually anything in his power to ensure a deep playoff run in hopes of enticing Tavares to return on a long-term extension.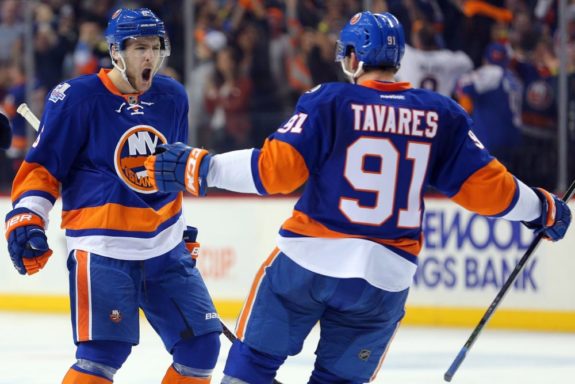 The Bruins won't be able (or willing) to engage in a blockbuster-type deal. What GM Don Sweeney can offer, however, are short-term, low-cost depth scoring options to a team struggling in that department. Four different Islanders are scoring at a point-per-game rate. Two more are on pace for 60-point seasons. From there, things get pretty thin.
The team has lacked sufficient depth at center since the offseason departure of Frans Nielsen prior to the 2016-17 season. The emergence of rookie Matthew Barzal has been a boon, but the bottom six remains bereft of offensive impact at the position. Currently, Alan Quine (21 points in 69 career games) is centering the third line while versatile winger Nikolai Kulemin is slated to miss the next six months due to injury.
In short, they could really use Ryan Spooner.
Odd-Man Out
The Bruins have a prodigious amount of competent young forwards. It hasn't always been pretty, but Danton Heinen, Jake DeBrusk and Anders Bjork have all shown flashes of excellence in the top six. Tim Schaller, Sean Kuraly and Noel Acciari have logged effective minutes from the bottom six. Even career journeyman Jordan Szwarz has been serviceable when called upon.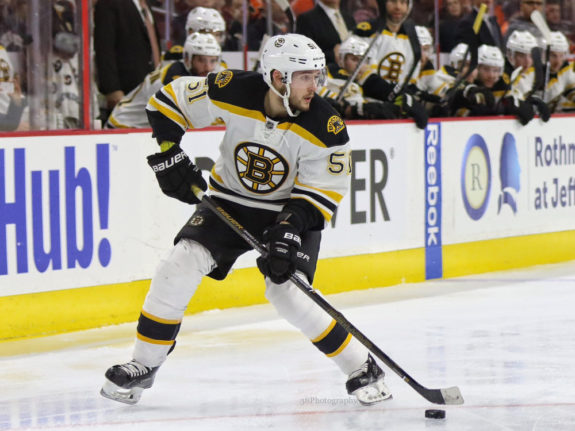 Ryan Spooner has always been a bit of a square peg in a round hole with the Bruins. Despite considerable talent, he has yet to fully put all the pieces together for extended periods of time. He has effectively become a power play specialist, and considering the sudden glut of talented young forwards as well as players capable of centering a bottom six line on the roster (not to mention promising centers in the pipeline), his future in Boston appears non-existent.
A groin-tear (yowzah) interrupted Spooner's quest for redemption following last season's disappointing campaign, which culminated in a series of "healthy scratch" designations in the playoffs. Regardless, his skill set remains in demand in a league placing increased importance on speed.
With 91 points over his last 166 games (45 points per 82), Spooner would represent a significant upgrade over Alan Quine as New York's third-line center. He, along with Joshua Ho-Sang and Brock Nelson could give an opposing bottom six fits, and his services would improve New York's twelfth-ranked power play.
Bountiful Blue Line
The Islanders are blessed with an abundance of talented blue-liners, both on the roster and in the pipeline. Johnny Boychuk, Nick Leddy, Calvin de Haan and Adam Pelech give the Isles a formidable top four. Thomas Hickey and Scott Mayfield form a solid bottom pair. Dennis Seidenberg and Ryan Pulock provide an excellent blend of youth and experience as plug-and-play options beyond the top six. Pulock is particularly exciting, as his 46 points in 55 games last season with Bridgeport of the AHL can attest.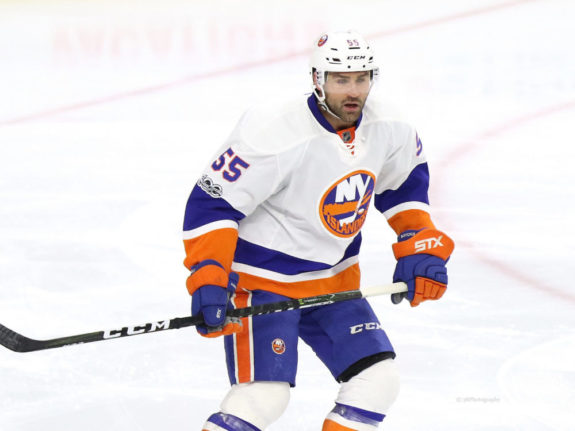 Of the eight aforementioned blueliners, only Boychuk and Seidenberg are on the "wrong" side of 30. Further down the pipeline, Devon Toews, Sebastian Aho (the other one) are lighting up the AHL, while David Quenneville (Joel's son) is doing the same with Medicine Hat of the WHL.
Pulock and Mayfield are set to be restricted free agents at season's end. De Haan, Hickey and Seidenberg are slated for unrestricted free agency. With Tavares likely doubling his current $5.5 million salary on his next deal and with so many talented rearguards in the system, it's unlikely that any of New York's UFA defensemen return next season.
Does Boston Need A Defenseman?
"Need" can be a tricky word. Do you need to eat today? No. You could go the entire day without one bite of food and be fine. You'd be uncomfortable and weary, but you would survive.
The Bruins' defense following McQuaid's injury has similarly been weary and uncomfortable, but ultimately fine. Local-boy Matt Grzelcyk has made some nice plays en route to two points and a plus-4 over five games. However, it's important to note that he's receiving the most sheltered minutes and matchups, averaging just 13 minutes of ice-time per contest.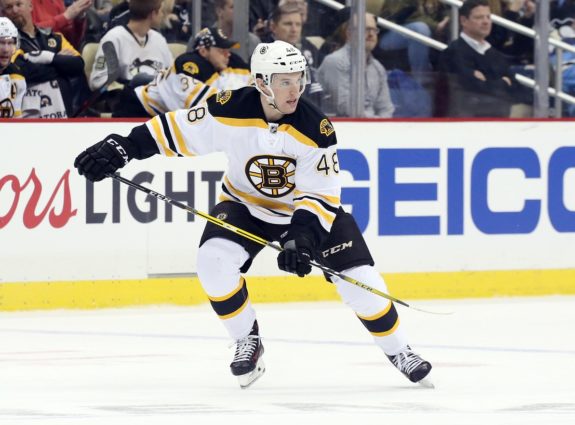 Paul Postma has similarly been used sparingly, playing eight minutes or less in each of his last three contests.
As I mentioned in a recent Bruins Round Table, Boston has dressed their eighth defenseman for at least one playoff game in six of their last seven playoff appearances. This includes last season, when Tommy Cross was pressed into service for one game, Joe Morrow for five, and a rookie who had yet to play a single regular season NHL game played in all six.
During Boston's last trip to the Finals in 2013, heralded rookie Dougie Hamilton was scratched for 15 of the team's 22 playoff games in favor of some undrafted rookie named Torey. Matt Bartkowski drew-in for seven contests and Wade Redden saw action in five games. Nine blueliners in all suited up during that run.
One can never have too many defensemen. Teams with designs on postseason hockey need them.
The Targets
Calvin de Haan
Calvin de Haan is the player the Bruins hope first-round pick Urho Vaakanainen becomes; an all-situations defender. In the defensive zone, he plays a steady, reliable game. He isn't overly physical,but uses his six-foot-one, 200-pound frame to angle opponents off the puck and to the margins of the ice.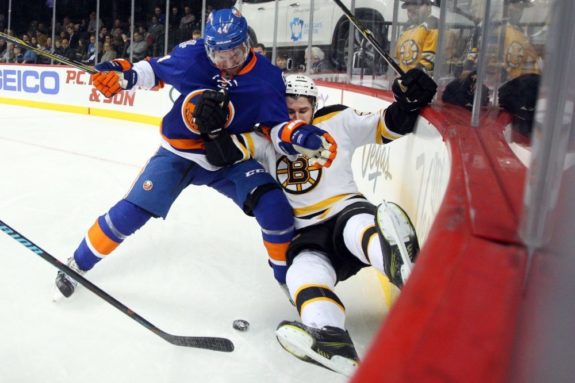 His 388 blocked shots (198/190) over the past two seasons trail only Kris Russell and Francois Beauchemin, and yet de Haan managed to dress for all 82 games last season; a testament to his toughness and durability.
Offensively and in transition, he's a smooth, effortless skater, capable of skating pucks out of danger and sending crisp outlet passes to his forwards. His 25 points last season were a career-high for the 26-year-old, and he's on pace to match those totals this season with eight points over 24 contests.
His well-rounded skill set enables him to play on a team's penalty kill as well as its second power-play unit. Moreover, his expiring $3.3 million cap hit would be easy for Boston to absorb, especially if Spooner's contract is going the other way. He projects to be an excellent fit alongside either Brandon Carlo or even Charlie McAvoy, enabling Boston to reunite the shutdown pair of Zdeno Chara and Carlo.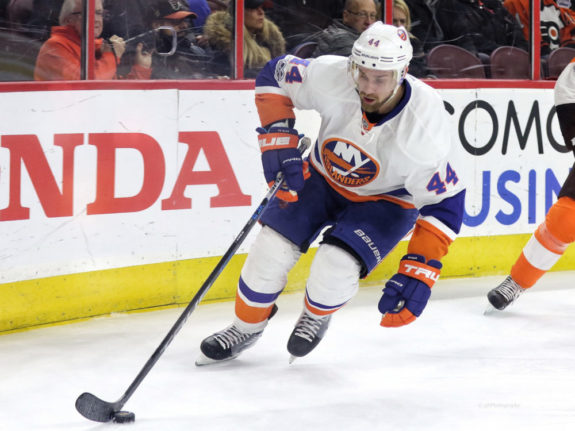 Whether or not he re-signs with Boston following a trade has more to do with Chara's decision at year's end than anything else. But considering Spooner's career with the B's doesn't appear to extend beyond this season, using de Haan as a rental isn't the end of the world.
It will likely take a little more than just Spooner to acquire de Haan. However, the inclusion of a third-round pick and mid-tier prospect (Rob O'Gara, Ryan Fitzgerald) could net the Bruins the second-pairing defenseman.
Thomas Hickey
Should de Haan's acquisition cost prove too steep, or should the Bruins be looking for more depth than substantial impact, look no further than Thomas Hickey.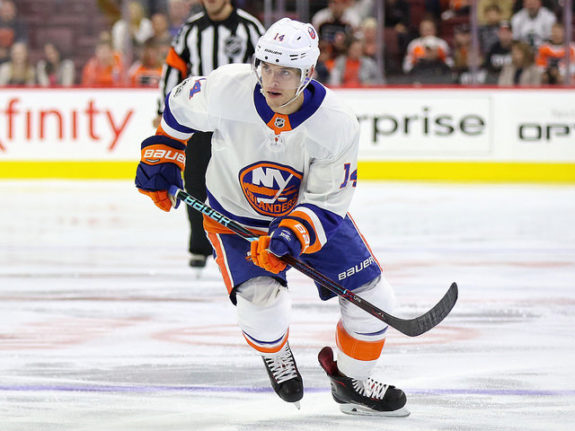 Though Hickey never lived up to his billing as the fourth overall pick in the 2007 Draft, he remains a solid, everyday NHLer. He's an outstanding puck mover and skater; the guy can fly. He has eclipsed 20 points in three of his last four seasons, and like de Haan would be a solid fit on Boston's second power-play unit.
He's hardly Scott Stevens, but like the similarly-smallish Torey Krug he doesn't shy away from a battle. Check out the thunder he laid on Jonathan Drouin in the playoffs two seasons ago:
Hickey would be an excellent insurance policy down the stretch for Boston as their sixth or seventh defenseman. Moreover, his acquisition could not only be had for just the price of Ryan Spooner, it's possible Sweeney could squeeze a late-round pick out of Garth Snow as well.
Recap
Given Boston's track record of going deep into their defensive pipeline in the playoffs, Chara's age and the injury histories of McQuaid and Kevan Miller, the team would be well-served to bolster their depth at the position. Considering the Bruins' long-term plan and eye to the future, the team is more likely to make a "hockey trade" of the cosmetic variety than a major splash involving highly-touted prospects or draft picks.
The New York Islanders may not be "all-in" per se, however, they'll be compelled to augment the lineup enough to convince Tavares that they're committed to competing this year and in subsequent years, in hopes of retaining his services.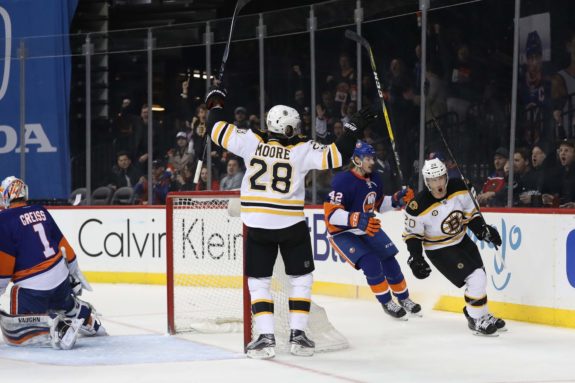 Given their excellent depth on defense and the need to bolster their bottom six (with the inverse being true for Boston), the two teams are ideal trade partners. They can each deal from positions of strength to address roster weak spots without either team needing to concede futures.
Rarely are teams so well-suited to do business with one another.
Boston may not feel the need to make either of the aforementioned trades. But if the past is any indicator of the future, they'll likely wish they had.