Recent rumors indicate that the Boston Bruins have expressed interest in Edmonton Oilers center Ryan Nugent-Hopkins. Nick Kypreos mentioned the Bruins on Hockey Night in Canada as a team that has checked on the 24-year-old pivot's availability. The Bruins may be looking for a center for any number of reasons.
For starters, Ryan Spooner is a restricted free agent (RFA) again at the end of this season. So far, including last season, he's done nothing to force himself into the team's future plans. David Krejci continues to struggle with health issues, so a player who can fill in on the second line might seem like a good idea. The Bruins missed out on a couple of the top centers on the trade market when Matt Duchene and Kyle Turris each moved in a three-team deal. As such, general manager Don Sweeney may feel as though he needs to strike before his options run out. This is the wrong impulse.
Why Trade Ryan Nugent-Hopkins?
This past offseason, Oilers general manager Peter Chiarelli shelled out monster contracts to Connor McDavid and Leon Draisaitl. In doing so, he ensured the team's future at the center position. However, Chiarelli has put the Oilers in a precarious position. The team may be at its best with Draisaitl on McDavid's wing, but Draisaitl's cap hit of $8.5 million over the next eight seasons indicates that he's being paid as a center.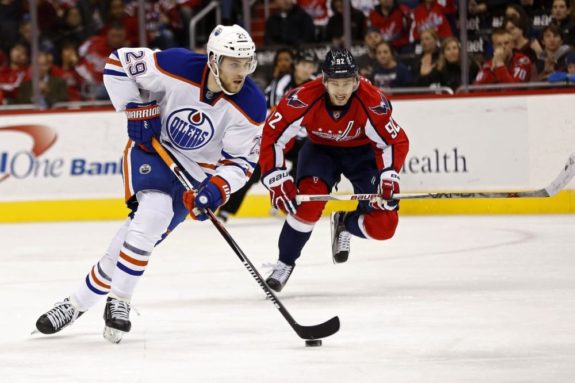 Once McDavid's gaudy, but well-earned $12.5 million cap hit kicks in next season, Chiarelli will find himself in a familiar spot — salary cap jail. Paying talented players like McDavid and Draisaitl isn't his mistake, though. The Chicago Blackhawks have made a similar situation work for years.
It's Chiarelli's blind loyalty to his type of player. Milan Lucic's $6 million against the cap for the next five years is immovable, even ignoring his modified no-trade clause. The Andrej Sekera and Kris Russell deals count a total of $9.5 million against the cap for the next three years.
Additionally, in consecutive offseasons, Chiarelli traded a top-six winger. With Taylor Hall and Jordan Eberle gone, Edmonton is bereft of high-end talent on the wing. This is why Nugent-Hopkins, the first overall pick of the 2011 NHL Entry Draft, now finds himself as the only movable player on the roster.
At $6 million AAV, he is overpaid but still young enough to garner potential-based value on the trade market. The Oilers would be looking to move him both to shed money and to recoup talented young wingers. The Bruins have several of those. Danton Heinen, Peter Cehlarik and Frank Vatrano might be of interest.
Why Not Trade for Nugent-Hopkins?
There are plenty of reasons why the Bruins should not engage in these talks, foremost being that the Bruins can't afford Nugent-Hopkins' contract. Sure, there are ways to make the money work. Ideally, David Backes would waive his no-movement clause, and the Oilers would take the remaining $24 million left on his deal. Unfortunately, we live in the real world, and not even Chiarelli likes gritty veterans enough to agree to that.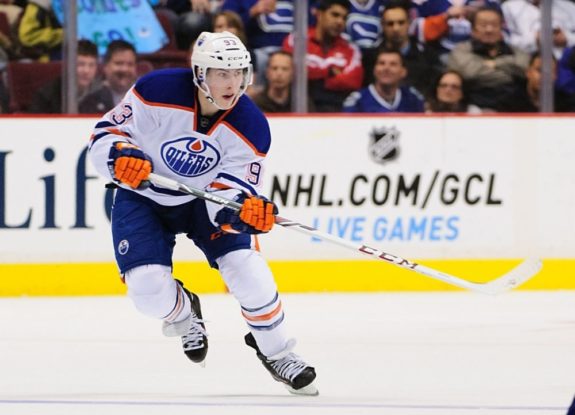 The next obvious candidate is Matt Beleskey. He's owed $3.8 million in each of the next two years. But, for some inexplicable reason, Beleskey has a modified no-trade clause. He may be Canadian, but there's a chance that one of the coldest cities in the NHL is on his list of eight teams he'd prefer not to be traded to.
This is all moot, though. The Oilers don't want to take a bad contract. As mentioned above, half the point of moving Nugent-Hopkins would be for cap relief. Meanwhile, there's an important reason why the Bruins can't afford to take on any money either. They just found out with David Pastrnak that even getting a bargain on an RFA can be expensive.
Some of Boston's most important young players will be RFAs in the next few years, and some of them will be in for a hefty raise. Their current situation will already force Sweeney to perform salary cap gymnastics. Adding another bloated contract into the mix would only complicate things.
Is Nugent-Hopkins Even Good?
While he would be an upgrade over Spooner on the third line, most of Nugent-Hopkins' value lies in his age and draft pedigree. The perception is that since he's only 24 years old, he still has some untapped potential. This is his seventh year in the NHL and he's never eclipsed 56 points. Despite a hot start, he's currently on pace for about 58 points through the first 24 games.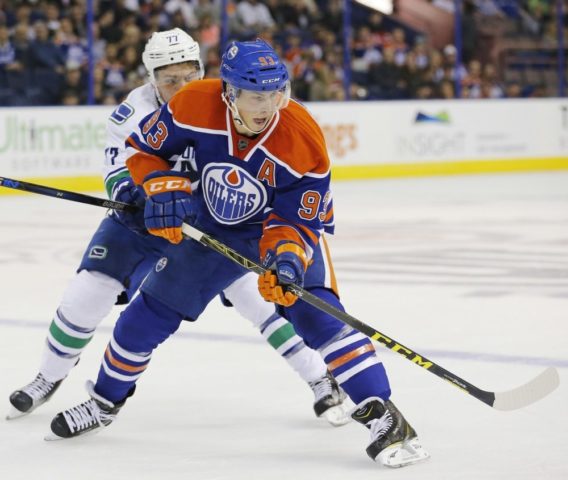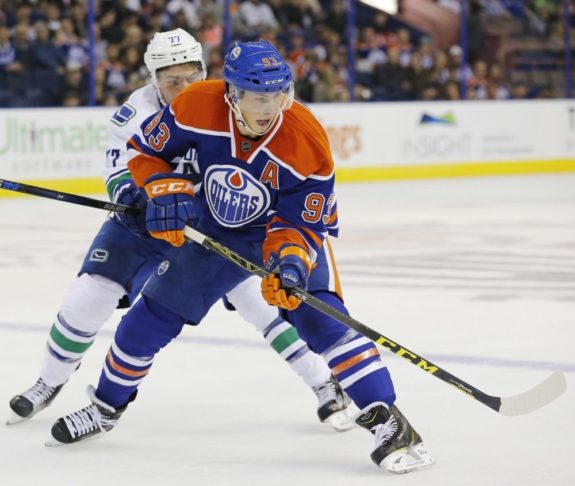 Those numbers would be fine if he played a solid possession game. He does not, though. His career Corsi for percentage is 49.0%, while he's started 56.8% of his shifts in the offensive zone. That indicates, that despite his coaches placing him in advantageous situations, he's still been terrible at driving possession. This is due, in part, to his putrid 43.7% faceoff win percentage. Essentially, he struggles with many of the same things Spooner does. To be fair, serious injuries have derailed much of Nugent-Hopkins' development, but that's hardly a reason to trade for him.
Bruins' In-House Options
There's really no gentle way to put it; Spooner is a disaster at even strength. Both his play over the past few years and his current injury woes are two of the primary reasons that the Bruins are exploring other options. He isn't long for this team, so he isn't the reason not to make a move. The Bruins do, however, have a number of prospects in the pipeline. Players like Ryan Donato, Jakob Forsbacka Karlsson and Trent Frederic offer an intriguing blend of floor and upside.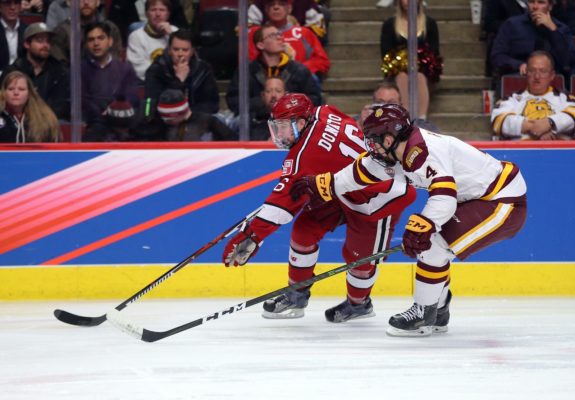 While their hands may have been forced by injury, the Bruins' rookie wingers have been forced into heavy action this season with generally excellent results. Rather than clogging the way with an expensive fill-in, a healthy competition among prospects for that third-line center job could be similarly beneficial in the near future. In short, the Bruins don't need Nugent-Hopkins.
Aerospace engineer covering the Boston Bruins for THW with a practical and rational bent.