Entering this week, San Jose Sharks goalie Martin Jones was prominent among the statistical leaders. One must be among the leaders to win a Vezina Trophy as the league's top goalie. So far this season, Jones is making a case for top goalie, and it is a really strong case.
Jones was injured late in the game against Winnipeg on November 25, a 38-save shutout performance in a 4-0 win. Jones managed to complete the game but is out for an unspecified time. Sharks coach Peter DeBoer indicated Jones might play on the current four-game road trip and Jones was not placed on injured reserve – both signs he is expected out for about a week or so. His injury appears to be a minor bump in what has been, thus far, a stellar season.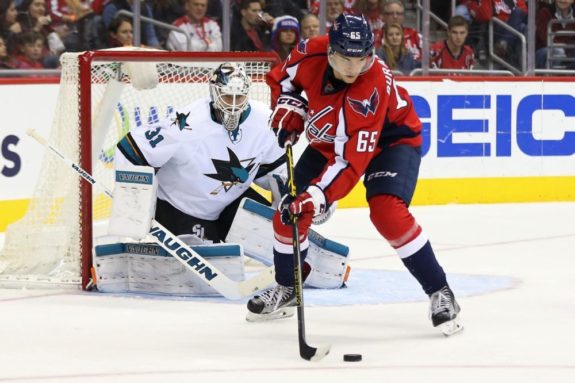 Jones has been one of the most heavily worked goalies in the league since he joined San Jose for the 2015-16 season. He played 89 games that season, leading the Sharks to the Stanley Cup Final. His total of 89 games played hadn't been exceeded in over a decade, last done by Martin Brodeur. Jones followed it up with a season of 71 games, the last six in a first-round playoff loss to Edmonton. Only Nashville's Pekka Rinne played more total minutes (regular season and playoffs) than Jones in the prior two seasons.
Perhaps the ice time took a toll on Jones. In the 2016-17 season, Jones' save percentage declined every month. This season, though, he is off to a strong start and this time, it seems sustainable.
Martin Jones, by the Numbers
In his first two games, Jones gave up eight goals on just 59 shots and lost both games. Since then, Jones has been, to borrow from Arturs Irbe, "Like wall."
In the 15 games since, he has allowed only 24 goals and posted a record of 10-3-1. His save percentage  (SV%) is a stunning .939 and his goals-against average (GAA) is 1.71. The current NHL leader in both these categories is Columbus Blue Jackets goalie Sergei Bobrovsky, with a SV% of .935 and a GAA of 1.92.
After the first two games of the season, by the numbers, Jones is the best goalie in hockey.
The Aaron Dell Effect
The Sharks have dealt with inconsistent backup goaltending for many years. Last season, however, Aaron Dell manned the nets when Martin Jones didn't. Dell had an excellent season, with a save percentage identical to Vezina winner Bobrovsky. However, Dell failed in one key area, the trust factor. DeBoer seemed a Dell skeptic, and Dell played in just 20 games, with only 17 starts.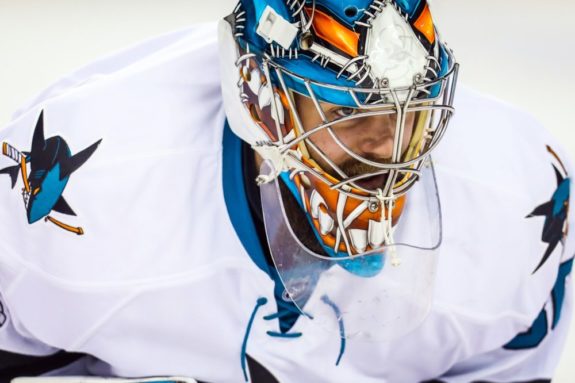 DeBoer is no longer a Dell skeptic. If Jones is off to a poor start in a game, Dell comes in. DeBoer has pulled Jones three times this season, the same total he did all last season. With Jones injured, Dell will get extra starts, something which can help both goalies. Dell's strong performance against the Philadelphia Flyers on Tuesday speaks to this point. He allowed a goal less than a minute into the game, then shut the door the rest of the way in a 3-1 Sharks win. On the season, Dell holds a solid .924 SV%.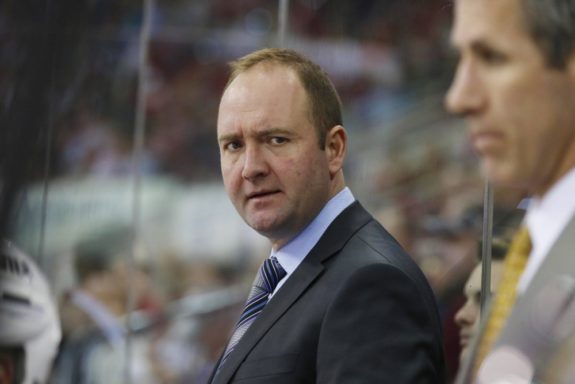 Dell is up to six starts this season, and his playing frequency is likely to increase. He'll likely play about 50% more than he did last season. The Sharks schedule has been leisurely this season (by NHL standards), with few back-to-backs and several lengthy breaks between games. Alas, this will change and as the Sharks play more back-to-back games and four games in six days. I expect Dell to get plenty of action.
Can Jones Continue?
Can Jones continue to play at this pace? There is reason to think he can – or at least something close to it. He'll get adequate rest during the season and won't be pushed to play when he isn't fully healthy. If Jones hits a slump, Dell can take the load for a few games, allowing Jones time to get back to form. Dell's success, and the trust coaches now have in him, is going to help Jones.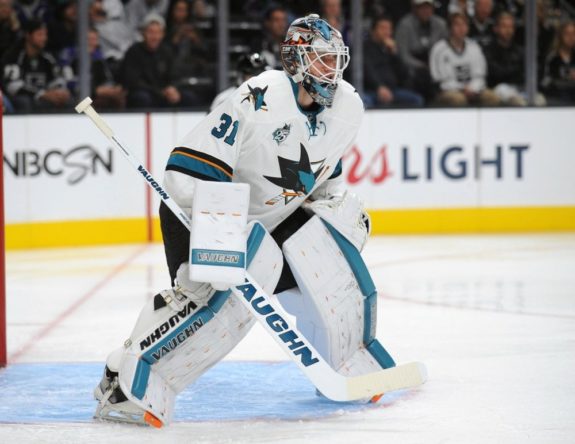 Jones will be aided by playing in the somewhat lighter scoring Pacific Division. Of the top eight or so Vezina contenders, six are in the higher scoring Metropolitan and Central Divisions. This should help his statistics, where small differences in save percentage and goals against averages can help a Vezina candidacy. In addition, the Sharks are one of the league's better teams at staying out of the penalty box, which also helps on both counts.
The Sharks are also a deep team. A smattering of injuries isn't going to disrupt this team's ability to defend. If Jones continues to play well, several subtle factors will work to his benefit.
The Vezina Trophy Candidate
Putting Jones in the Vezina discussion early in the season can help his case. San Jose is not a prominent market and roughly three-fourths of Jones' games come on Mountain or Pacific Time – meaning that many Vezina voters are headed to bed while Jones is playing.
The time zone factor is not a minor issue and works against Jones. The last time a Vezina winner came from the Pacific Time Zone, is well, never. You read that right. The time zone is a significant obstacle. It is only a little bit better for the Mountain Time Zone, which garnered just two Vezina winners; Miikka Kiprusoff for Calgary and before that, Grant Fuhr for Edmonton.
It is too early to handicap the Vezina race, but it is the time when we can start to scope out the main contenders. Jones is among them. Objectively speaking, he is playing as well as anyone, perhaps better than anyone. The Sharks have allowed the fewest goals in the league (few teams are even close), and this doesn't happen without stellar netminding. Getting the word out early can make a difference for this deserving Vezina contender.
Zeke's Notes
• Jones leads the league in one oddball statistic – shootout shots against. Alas, he's only been in two shootouts, one which lasted six rounds, the other which lasted nine.
• One might call this east coast trip the 'get even' trip for the Sharks. The first three games are against Philadelphia, Florida, and Tampa Bay, all teams which beat the Sharks in San Jose.
ZEKE is a native of the DC area where he witnessed the birth of the Capitals franchise. After graduating from Cornell University, which had seen hockey glory before he arrived, he moved west to San Jose. There he witnessed the birth of the Sharks franchise. His wait to witness a Championship from any of these teams finally ended in 2018.