Back in the summer of 2015, during the infancy of Don Sweeney's tenure as general manager of the Boston Bruins, the newly-appointed bossman had a lot of work to do. With the recent departure of fan-favorite power-forward Milan Lucic, Sweeney had big shoes to fill.
Eager to replace the assertive, powerful offensive presence provided by Lucic, Sweeney made a pair of moves to bring in Matt Beleskey and Jimmy Hayes, two large-bodied forwards whom Sweeney hoped would bolster the ranks.
Two and a half years later, it's safe to say that both moves were a bust.
The Bruins finally gave up on Jimmy Hayes in July, when Boston bought out the 6'6″ forward's contract after he cleared waivers without drawing a bite. Hayes' buyout was long overdue – the Dorchester native recorded just 34 points in 133 games with the Bruins, 18 of which came in his first 34 games in black and gold. That kind of production (or lack thereof) is flat-out unacceptable for a player who was making $2.3 million per year.
That is, unless you're Matt Beleskey, apparently. Beleskey's time in Boston has been a bit more complicated than Jimmy Hayes', with injuries providing a constant cloudiness surrounding the true worth of the veteran forward. But, the grand view shows a player who has been awfully ineffective since his first season in black and gold, and things don't seem to be turning around anytime soon for #39.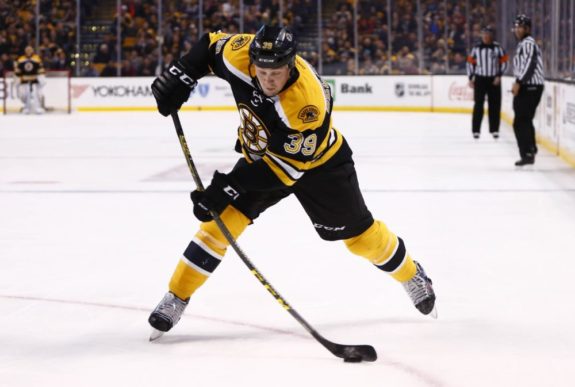 Ever since the forward notched 37 points in his 80-game introduction to Boston in 2015-16, he's looked like a different player. The fault isn't necessarily on Beleskey, who has struggled to stay healthy, which is especially difficult given the hard-hitting style that he plays. Nonetheless, his worth has been consistently plummeting for the better part of a year and a half – he's notched just eight points in 63 games for the Bruins since the 2015-16 season. And yet, as the calendar turns to December of 2017, Beleskey is still cracking the Bruins lineup… But why?
Injuries
If you're looking for an explanation as to why Beleskey has suited up for 14 pointless games with the B's so far this season, look no further than the team's list of injuries. Remarkably, this same Bruins team that seemed flooded with roster options just a few short months ago is now struggling to plug the holes left by injuries, leaving players like Beleskey floating through the lineup despite an utter lack of production.
Going back to the start of the season, it seemed perfectly reasonable to give Beleskey another crack at the lineup. The Windsor, Ontario native clearly wasn't at 100% last season, and he deserved a chance to earn a spot while healthy this season, especially with the influx of competition that made its way to the Bruins' lineup during training camp. I even penned a piece previewing (too optimistically, it seems) what a Beleskey bounce-back could mean for the Bruins.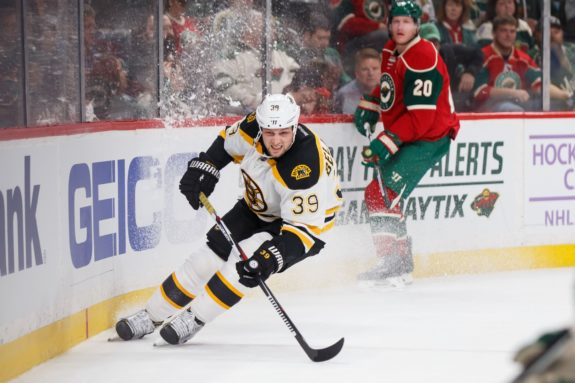 But now, with 14 games under his belt and nothing to show for it, it's time to question the legitimacy of the Beleskey experiment. He has contributed as many penalty minutes this season (17) as he has shots, and he's done very little to help the Bruins altogether. So, why is he still here?
Time to Cut Losses
It's tough to admit mistakes when you're wrong, but at times, it must be done. For Sweeney and the Bruins, this is one of those times. As the Bruins begin to heal, and the injury bug (hopefully) retreats to the shadows, so too should Beleskey.
In an ideal world, the Bruins could hand Beleskey off via a trade to a team that would be willing to take a risk on the forward. But, this is not an ideal world. Realistically, no team is going to take on Beleskey and his $3.8 million cap hit when there's no production to show for it.
With that in mind, the Bruins must look to other options. As sad as it is, Boston's best bet at this point is to waive him and move on.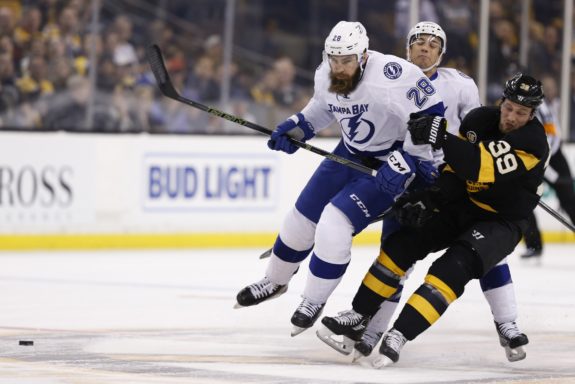 For one, Beleskey is a waste of money on Boston's NHL roster right now. His $3.8 million cap hit is ninth on Boston's payroll, well ahead of players like Riley Nash, or Kevan Miller, who have brought much more to the table as far as play goes. Some may be worried about losing Beleskey for nothing should he be claimed off of waivers, but why should that be a concern? In fact, if anything, that would be ideal for the Bruins, as there's likely no other way that they'd be able to dump the entirety of his cap hit (you'd rather pay $0 for zero goals than $3.8 million, right?)
And, should he clear waivers (and it's very likely he would), and the Bruins decide to send him down the road to Providence, then at least he'll be playing regularly, which is more than can be said now. After all, the source of the issue here is Beleskey's lack of production, and that problem won't be solved by sporadically sprinkling him into the lineup. If there's any way Beleskey can redeem himself, then he needs the opportunity to play consistently. Clearly, playing him consistently at the NHL level would be a mistake, so why not give him a shot in the AHL? Who knows – maybe he starts streaking and regains some confidence.
Plus, demoting Beleskey to the AHL could save the Bruins a little bit of money ($1.025 million, to be exact, but who's counting?), which could open up a bit more space for the Bruins to make a move.
I am working my ass off to be the best player I️ can be. I hope all Boston faithful know that! I️ want nothing more then to help this team win anyway I️ can. https://t.co/gjZZXTWCUf

— Matt Beleskey (@Matt_Beleskey) November 22, 2017
The point is, there's no reason to keep Beleskey around in Boston. Outside of hockey, that's a hard decision to make. Beleskey is known for his service throughout Boston, and he's a valued member of the Boston athletic community. To put it plainly, he is a dang good guy. But, everybody knows the old adage – that sport is a business, and unfortunately, business is not going well for the 29-year-old. Playing every once in a while isn't going to solve any of the veteran forward's issues, so why waste the money and the roster spot?
It's time for Sweeney and the Bruins brass to accept the hard truth – that July 1st, 2015 (the date the B's brought in Hayes and Beleskey) is a date that will live in infamy in the hearts of Bruins fans, and that at this point, the only option may be addition by subtraction.