For years, the Chicago Blackhawks proved to be exemplary salary cap managers. The cycle was clear – put together a strong roster, win the Stanley Cup, trade away non-core, but talented pieces, repeat. It led to three Stanley Cup victories in 2010, 2013 and 2015, but the formula has inherently led to salary cap issues for the Blackhawks. It's for that reason that the Blackhawks were forced to make a move involving budding forward Teuvo Teravainen in order to dump the larger salary of Bryan Bickell.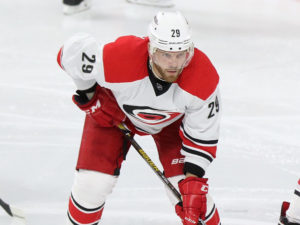 The Carolina Hurricanes were happy to take on the contract of Bickell with the prospects of getting such a talented young forward like Teravainen back as a result. It was a tricky move for the Blackhawks as they had already seen what Teravainen was capable of – often being confused for Patrick Kane when creating dazzling space in open ice during the 2015-postseason.
Scoring four goals and nine points in 34 games in 2014-15, his rookie season, Teravainen's real breakout was in those very same playoffs. Scoring four goals and 10 points in 18 postseason games to prove the Blackhawks right in using a first-round draft pick on him in 2012, Teravainen looked like the real deal.
Playing the full season with the Blackhawks in 2015-16, however, Tervainen only scored 13 goals and 35 points while adding just one assist in seven playoff games. His inconsistency was concerning, but not necessarily out of the ordinary for a player who was still only 21 years old. For the Hurricanes, the deal was a no-brainer. A soon-to-be 22-year-old who had a high ceiling and could join the already young core in Carolina for years to come, Tervainen simply fit the bill perfectly.
Slow Start for Teravainen in Carolina
In his first season in Carolina, Teravainen set career-highs in games played (81), goals (15), assists (27) and points (42). Still, despite all of those career-high marks, it seemed like the 5-foot-11, 178-pounder was still capable of more. It's hard to classify the 2016-17 season for Teravainen as disappointing, but when comparing it to what he's done in 2017-18, it's clear that the original expectations weren't blown too far out of proportion.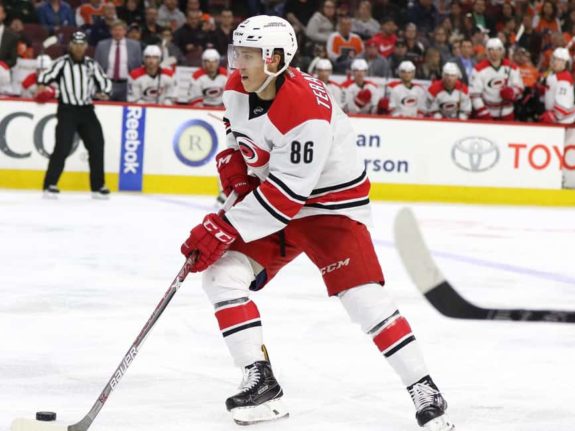 While his statistical marks last season weren't bad, the inconsistency that plagued him in Chicago was rearing its ugly head in Carolina. Failing to create and build upon any real stride at any point in the season, Teravainen posted decent but not great totals and could have done much more. It didn't lead to second-guessing of the trade, but it did leave a lot of people wanting more. Fortunately for fans of the Hurricanes, more would be coming just one season later.
Teravainen's Consistency a Bright Spot on the Season
In a season that has seen very little consistency across the board for a young Hurricanes' team, Teravainen has been a noticeable bright spot. Scoring eight goals and 21 points in just 22 games already this season, Teravainen is on pace to crush his previous career highs, projecting to score roughly 30 goals and 78 points over a full 82 game season. Whether he's able to keep up this pace or not isn't the important part. What is important is the fact that Tervainen he finally starting to look like a bonafide star in the NHL at 23 years old thanks in large part to his ability to consistently produce for the team.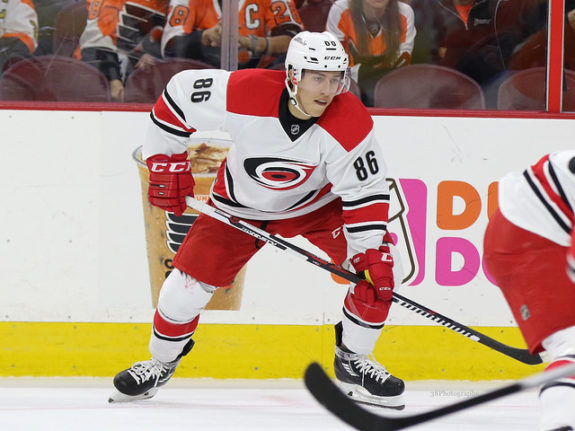 The skill level has always been there, but for whatever reason, the inability to string together a few good games in a row has always been the big question mark for the Helsinki, Finland-native. While it's still relatively early in the season, 22 games is a decent sample size to look at when estimating that Teravainen's consistency issues should be behind him.
While the start to the season was rough for Teravainen, going pointless in the team's first three games before scoring two goals in the team's fourth and going pointless again in the following three, Teravainen has been able to turn his season around since then. Scoring 18 points in the last 13 games and only being held pointless three times in that stretch, it's clear that Teravainen is leading by example.
The real kicker is the fact that Teravainen is being paid a modest $2.86 million per season this year and next – tremendous value for the Hurricanes who will likely have to break the bank to retain Teravainen for the long-term.