Bruins to Start McIntyre Against Rangers
Boston Bruins goaltender Zane McIntyre will be making the first start of his NHL career against the New York Rangers on Wednesday. The Bruins continue to juggle the team's goaltending duties after Tuukka Rask and Anton Khudobin have each gone down with injuries.
McIntyre, 24, is just days removed from being called up from the American Hockey League's Providence Bruins along with goaltender Malcolm Subban after Rask was ruled out with "general soreness" and Khudobin was injured in practice on Monday.
McIntyre spoke to the media about how he is preparing for the big game on Wednesday:
Great exchange during McIntyre's media scrum this morning. #goalies pic.twitter.com/g2SfaYqQr1

— Boston Bruins (@NHLBruins) October 26, 2016
This will be McIntyre's second taste of NHL action in as many days.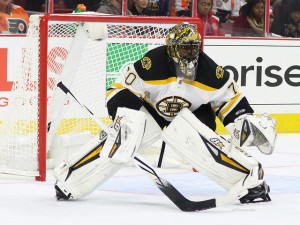 Subban made the second start of his NHL career in a 5-0 loss to the Minnesota Wild on Tuesday. He was pulled in the second period after giving up three goals on 16 shots. McIntyre turned away 15 of 17 shots in relief and finished the game with a 4.08 goals against average and an .882 save percentage in 29:24 of action.
McIntyre was originally drafted by the Bruins 165th overall in the 2010 NHL Entry Draft.
Rask is considered day-to-day and is a possibility to return to the lineup against the Detroit Red Wings on Saturday, according to Bruins head coach Claude Julien. Khudobin is estimated to be out at least three weeks according to an announcement by the team on Tuesday.
Bruins' Backes is Out, Czarnik Called Up
The Bruins will be without forward David Backes against the Rangers on Wednesday and likely through the weekend after the team announced he underwent a procedure on his elbow.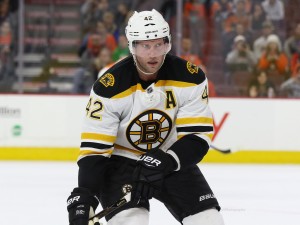 "David Backes underwent the removal of the olecranon bursa from his elbow on Monday, October 24. His condition will be updated after the weekend," according to general manager Don Sweeney on Wednesday.
Backes missed Tuesday's game against the Wild with what was being called a "minor issue" without any other details. Backes has scored two goals and two assists in five games this season.
The Bruins have also called up forward Austin Czarnik from Providence. Czarnik has skated in two games with the Bruins in 2016-17 and a pair of games in the AHL.
Stars Injury Updates: Hudler, Sharp and Spezza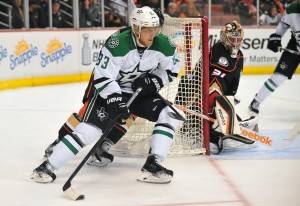 The Dallas Stars have been bitten by the injury bug early on in 2016-17, with injuries to a handful of the team's top-nine forwards, and are still feeling those effects as they prepare to face the Winnipeg Jets on Thursday.
Alex Hemsky missed the start of the regular season with a groin injury and joined the team's lineup for the first time on Saturday against the Columbus Blue Jackets before aggravating the injury and being placed on injured reserve.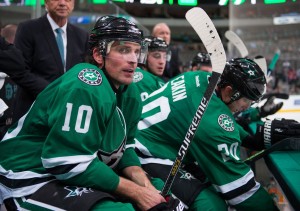 Jiri Hudler was signed to a one-year deal this offseason but has not played a game for the Stars as he has battled what is now a prolonged illness. He is still not ready to return, according to Stars head coach Lindy Ruff on Wednesday.
Patrick Sharp suffered a concussion in a game against the Los Angeles Kings on Oct . 20 and has not played since. Ruff said Sharp would be out "a while" after news surfaced of Sharp's concussion-like symptoms and Ruff reported that he has still not started skating as of Wednesday.
Jamie Benn underwent successful surgery to repair a core muscle injury this offseason and was able to start 2016-17 on schedule. He has scored two goals and two assists in six games, but on Wednesday, Ruff spoke about how the recovery process has effected the team's captain early on.
Here's Lindy Ruff talking about the maintenance days for Jamie Benn, who is still trying to shake off past injury issues. pic.twitter.com/DnYeciUPqh

— Mark Stepneski (@StarsInsideEdge) October 26, 2016
Ducks' Getzlaf a Game-Time Decision, Rakell Practices and Etem Placed on Waivers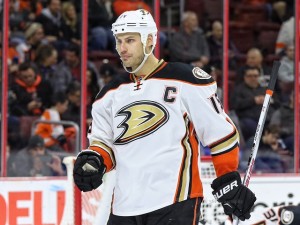 The Anaheim Ducks may be without captain Ryan Getzlaf against the Nashville Predators on Wednesday.
Getzlaf took a puck off his forearm during the second period of Tuesday's game against the Sharks and did not play during the third period. He is considered a game-time decision for Wednesday's matchup with the Predators, according to Ducks head coach Randy Carlyle.
The Ducks welcomed back forward Rickard Rakell to the team's optional morning skate on Wednesday. The Swedish forward had been waiting for a work visa to return to the United States and play with the Ducks after signing a six-year, $22.8 million deal on Oct. 14.
.@RickyRakell93: "I'm really excited to be here for six more years. I couldn't be happier." pic.twitter.com/Kz62N94jow

— Anaheim Ducks (@AnaheimDucks) October 26, 2016
The Ducks placed forward Emerson Etem on waivers on Wednesday. The team acquired him on the waiver wire from the Vancouver Canucks earlier this season. Etem has skated in two games with the Ducks and held scoreless with two penalty minutes.
Etem, 24, was originally drafted by the Ducks 29th overall in the 2010 NHL Entry Draft and started his NHL career in Anaheim, followed by stints with the New York Rangers and Vancouver Canucks before returning to the team this season.
In 172 career NHL games, the California native has registered 22 goals and 24 assists. If he clears waivers, he could be assigned to the team's AHL affiliate, the San Diego Gulls.
Ducks Recall Tokarski, Bernier Day-to-Day
The Ducks recalled goaltender Dustin Tokarski from the AHL's San Diego Gulls on Wednesday.
NEWS: #NHLDucks recall goaltender Dustin Tokarski (@dustintokarski) from the @SDGullsAHL. pic.twitter.com/9wCKNQW92s

— Anaheim Ducks (@AnaheimDucks) October 26, 2016
The call came after Jonathan Bernier left Tuesday's game against the San Jose Sharks with an upper-body injury. Bernier is considered day-to-day and John Gibson has moved into the starting role in his absence.
Tokarski, 27, has 27 career NHL starts and has seen action in a combined 33 NHL games with the Tampa Bay Lightning and Montreal Canadiens. He has posted a 10-12-5 record with a 2.85 goals against average and a .904 save percentage.
Odds and Ends
— The Pittsburgh Penguins have had their names engraved on the Stanley Cup to commemorate winning the famous trophy in the 2016 playoffs.
It's Stanley Cup official. pic.twitter.com/8GKN2rCDB1

— Pittsburgh Penguins (@penguins) October 26, 2016
Forward Beau Bennett's name was left off of the Cup, as he did not meet the minimum games requirement to be included. Bennett, who is now with the New Jersey Devils, seemed understanding of the situation in a series of tweets on Wednesday.
In all honesty though, there's no pride that comes with putting your name on someone else's success #plagiarism

— Beau Bennett (@BeauBennett19) October 26, 2016
Also, I wasn't taking a dig at anyone. I was just stating that I don't deserve to be on the cup because I didn't do anything.

— Beau Bennett (@BeauBennett19) October 26, 2016
Lastly, that wasn't a sad tweet, I'm chillin. My mood is only ever affected by being hungry or stuck behind a bad driver.

— Beau Bennett (@BeauBennett19) October 26, 2016