Wednesday saw four NHL teams in action. The Edmonton Oilers stayed red-hot beating one of the best teams in the east and the Anaheim Ducks trounced the Nashville Predators. Montreal squeaked out a win to stay unbeaten for the season and the Rangers took it to a Bruins team that is all of sudden, struggling.
Thursday there are nine games in the NHL and a variety of ways to build your fantasy team.
Yesterday's Games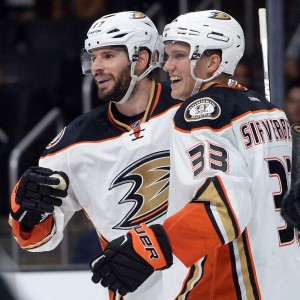 The big winners in fantasy were Edmonton's goaltender Cam Talbot, who just came off of being honored with the NHL's first star of the week award. If you took my advice and selected him as your goaltender, you got some much-deserved fantasy points. I'd also recommended Brendan Gallagher, who put together a strong performance with seven shots on goal and an assist.
I was most proud of Ryan Nugent-Hopkins, who, while somewhat snake-bitten, put together a strong game and came away with two assists and two shots on goal, finally earning some fantasy points.
Not every suggestion I made was pure gold as Ryan Strome got only one assist and Zack Kassian served up a big zero in the points column. Hopefully, if you used some of my advice, you'll notice I made some fairly budget friendly decisions, leaving money to take a player like Shea Weber or Jakob Silfverberg. Both turned in strong performances.
Related – Fantasy Daily Cheat Sheet: Oct. 26, 2016
Tonight's Games
Arizona Coyotes at Philadelphia Flyers
Minnesota Wild at Buffalo Sabres
New York Islanders at Pittsburgh Penguins
Florida Panthers at Toronto Maple Leafs
Tampa Bay Lightning at Montreal Canadiens
Dallas Stars at Winnipeg Jets
Detriot Red Wings at St. Louis Blues
Columbus Blue Jackets at San Jose Sharks
Nashville Predators at Los Angeles Kings
Centers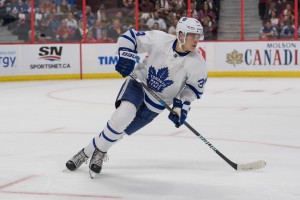 Auston Matthews ($7000)
He's hot so I'm going to ride his wave of fantasy points until he's not. Matthews will be playing at home against the Florida Panthers in what I think is a winnable game for the Leafs. Toronto has lost four in a row and their defense is terrible. Saying that, Florida lost its last game, the Leafs need a win and I think Matthews is the guy to take the bull by the horns and spark his team with a strong offensive performance.
Matthews has 10 points in six games and was just overtaken for the scoring lead in the NHL by Connor McDavid. Something about Matthews tells me he's not going to like being second place and will try to get back that lead coming out of Thursday's action.
Steven Stamkos ($7700)
I had predicted a couple days ago that Stamkos was set to break out. He'd been relatively quiet (for him, quiet meant not having a three or four point night). It was only a matter of time before he blew up offensively, and while I was a game off when that explosion occurred, Stamkos had a whale of a game against the Leafs with two goals, two assists and three shots on goal.
Tampa will be going up against the hottest team in the NHL in Montreal. You'd look at this matchup on paper and suggest the Canadiens take home the victory, but Montreal is playing a back-to-back, barely got by the Islanders on Wednesday and going up against one of the hottest players in the NHL in Stamkos. This has the makings of an upset.
Forwards
William Nylander ($5500)
In a loss to the Lightning on Nylander was one of the few bright spots for the Leafs. That makes two very strong games in a row for the young rookie and at his price, it makes sense to see if he can go for three. DraftKings.com has a profile on Nylander that makes a strong case for selecting him as part of your fantasy team:
His outstanding work has been largely overshadowed by linemate Auston Matthews' success, but Nylander is a star on the rise in his own right. He's now riding a four-game point streak, and he's already tallied four goals and five assists on the season. Nylander comes a little cheaper than Matthews in fantasy and will deliver more value on the dollar than the team's other rookies.
With Nylander and Matthews as a one-two punch, the only thing that could pose a problem is the fact that the Maple Leafs are struggling. That said, the beauty of fantasy hockey is that team success doesn't always equal individual success.
Defense
Johnny Boychuk ($4800)
Boychuk has had three strong fantasy games in a row. Whether he's scoring goals from the blue line, blocking shots or just getting pucks on net, he's earning steady results and for his price isn't a bad choice by any stretch. He also plays in many situations, scoring the game-winning goal while shorthanded during Friday's game against the Coyotes.
He plays a ton of ice time, has a wicked shot and has the ability to reach way beyond what is expected in fantasy play. He's not only a solid pick but a potential homerun at a good price.
---
Complete Fantasy Hockey Coverage From THW
---
Goaltender
Frederik Andersen ($6800)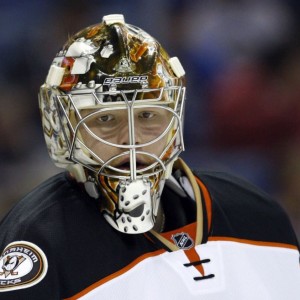 With the Leafs defense as bad as it's been, Andersen is in for a long night. He wasn't pulled in a 7-3 loss to the Lightning and a message like that has to have gotten his attention.
He'll be facing a plethora of shots against a Florida team that ranks fifth in the NHL with 31.8 shots on goal per game and he'll be given another opportunity to show he was worth the money handed to him this summer.
Toronto is a young team with a ton of talent, but they're also unpredictable. They can have great performances and skate circles around a team or look like they're not a professional hockey team at all.
Because I'm predicting Matthews and Nylander have big games and the Leafs rebound from a terrible performance, I'm going out on a limb and taking Andersen to improve his play as well. This could also be Andersen's last chance to perform if he doesn't want to be placed to side in favor of backup Jonas Enroth.