On Wednesday's I will focus on the recruits of Hockey East.
First Inside College Hockey released their annual Top Freshmen Classes. Four teams from Hockey East. Boston College comes in third, Boston University sixth, University of New Hampshire 13th and Merrimack College rounds out the top 15.
They also rank the top 20 freshmen forwards, defensemen, and top 10 goalies for the 2011-2012 season.
Here are my three stars of the week.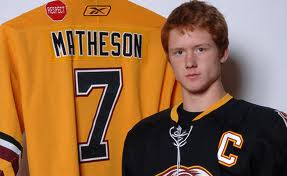 1.Michael Matheson D (Dubuque Fighting Saints (USHL)/Boston College)
He had a three point weekend including a goal and an assist against the Green Bay Gamblers and had an assist against the Waterloo Blackhawks. The 17-year old is finally getting adjusted to junior hockey after spending the last two years with the Lac-St. Louis Lions of the Quebec Midget AAA circuit. He has already played for Team Quebec at the World Under-17 Challenge and Canada this past summer at the Ivan Hlinka Under-18 tournament. The scouting service ISS just ranked him as 24 best player for the 2012 NHL Entry Draft. As it stands today, he's premiere defensive recruit for 2012 in Hockey East.
2.Austin Cangelosi F ( Youngstown Phantoms (USHL)/Boston College)
Brian Gianto and Nathan Gerbe are probably the two most famous undersized forwards to come out of Boston College. Austin Cangelosi fits that mold of an undersized forward at 5'8. He potted two goals on Friday night against the Des Moines Buccaneers and added an assist on Saturday night also against Des Moines. The Eston, Florida native is climbing up on the 2012 NHL Draft radar with his five goals and two assists so far this season.
3.Andrew Poturalski F (Buffalo Jr. Sabres (OJHL)/New Hampshire)
Poturalski had a big weekend with two goals and two assists against the Brampton Capitals this weekend. The 2013 recruit is on a tear in the OJHL this season with 10 goals and 15 assists in 12 games which places him third in the league. It will be interesting to follow him the rest of the season. He's eligible for the 2012 NHL Draft. He was ranked as a "B" prospect by NHL Central Scouting in their initial Watch-list.
Honorable Mentions

Devin Shore F (Whitby (OJHL)/Maine)
Just like Andrew Poturalski, Shore is absolutely dominating the competition in the OJHL. This past weekend he had two goals and two assists on Sunday against the North York Rangers. On Friday he had an assist against Trenton. This season he has nine goals and nine assists in eleven games which is tied for 26th in the league in scoring. Maine will be needing some skilled players offensively in the next few years and he could arrive to Orono in 2012 or 2013.
Kyle Smith F (Junior Bruins (EJHL)/New Hampshire)
Smith had a spectacular weekend as he had five goals and four assists in three games including two games on Saturday. You may ask why isn't he in the three stars category, and my explanation is they played two of the bottom feeders in the EJHL. He can't control the schedule and that's why I had to at least mention him here because nine points is pretty impressive either way.
New Recruits
1. Zachary Aston-Reese F (Lincoln (USHL)/Northeastern)
Northeastern is recuperating some of the recruits they have lost this summer and Aston-Reese is a nice addition. He was originally committed to Brown of the ECAC. He was courted by the Kitchener Rangers of the Ontario Hockey League this summer, but decided to keep his NCAA eligibility. He has had a slow start this season with one assist in three games with the Lincoln Stars.
2. Wade Murphy F (Victoria (BCHL)/Merrimack
Murphy is having a solid year this season with nine goals and eight assists. Merrimack has had solid recruiting the last few seasons out of Western Canada and has been a prime pipeline for them.
3. Thomas Parisi D (New Hampshire (EJHL)/Providence)
Providence may have found their next offensive defenseman as Parisi has two goals and six assists this season. The New Hampshire Junior Monarchs are known to have some solid defenseman come through their system including Brian Dumoulin of Boston College (Carolina Hurricanes) and Trevor van Riemsdyk of New Hampshire. Yes, Trevor is the brother of Philadelphia Flyers forward, James van Riemsdyk.
4.You can follow Nathan on twitter @jrhockeywriter