The Toronto Maple Leafs are entering into an offseason that will see a lot of changes in their lineup. Their will definitely be trades. Their might be a few free agent signings. However, the biggest change could come from the draft.
The two changes that Leafs fans want to see is the signing of Steven Stamkos and the drafting of Auston Matthews. Lets say that both of those things happen. The Leafs then have quality No. 1 and 2 centers. This of course will force some change when it comes to the center position. The Leafs have nine players listed as centers on their website. They are: Tyler Bozak, Byron Froese, Colin Greening, Peter Holland, Zach Hyman, Nazem Kadri, Leo Komarov, Brooks Laich and William Nylander.
Now, of course, some of those players have been playing the wing and might again next season. Now, only two players are free agents heading into the off-season and both of them are restricted. Those players are Kadri and Holland. Kadri is a bit more of a situation for the Leafs.
Centers Out Of A Job Soon?
When they are both healthy, Bozak and Kadri have been the Leafs' No. 1 and 2 centers. If the Leafs were to add both Stamkos and Matthews, Bozak and Kadri should be out of their normal jobs. That means one, or maybe even both of them could be moved in the offseason.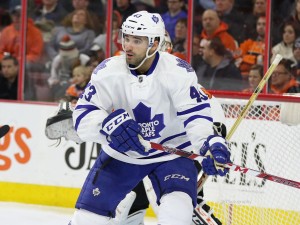 Now, as mentioned before, Kadri is set to become a restricted free agent on July 1. His current cap hit stands at $4.1 and stands a pretty good chance of going up in his next contract. Now, do you want to be paying someone who will most likely be the third-line center upwards of $5 million? Most smart NHL teams in a salary cap world would not do that?
The same question also applies to Bozak. While he has a cap hit of $4.2 million, his contract runs for another two seasons. There have already been rumors of Bozak being dealt last off-season and at the trade deadline. It would not be a surprise to see him on the market once again this summer.
So if the Leafs could keep one, who would it be? While Kadri seems like the obvious choice due to his age, he has had had problems with the organization that have led to suspensions. Are those days over? Can the Leafs risk it happening again? His past behavior is something the Leafs don't want rubbing off on the youth that is joining the Leafs in the near future. Bozak doesn't have those same problems.
The Leafs have plenty to accomplish this summer. If things go right for the Leafs, as in Stamkos and Matthews join the team, a choice will need to be made. Do they move on from Kadri or Bozak, possibly both? All we know for sure is that it will be far from a boring offseason in Toronto.
Toronto Maple Leafs Writer At The Hockey Writers.