Jaromir Jagr recently passed the legendary Gordie Howe in career points and is hot on the heels of #2 Mark Messier. He also passed Brett Hull for 3rd all time in career goals scored and, although he will never (unless he plays until he's 60, which is maybe not so far fetched) can Wayne Gretzky, his play this season is remarkable in the extreme.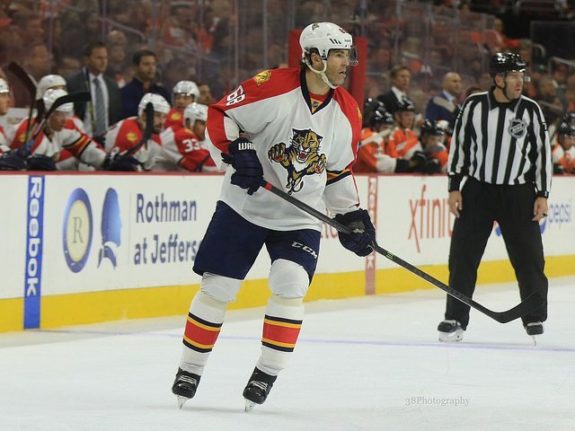 Jaromir Jagr Leading the Pack
The ageless wonder is the Panthers leading scorer this season going into a game against the Montreal Canadiens with 23 goals and 53 points and his been rightly credited for helping line mates Sasha Barkov and Jonathan Huberdeau to their break out seasons but let's dig a little deeper to see how dominating he has been this season.
While Jagr currently ranks in a tie for 28th overall among league scorers, a closer examination is even more revealing.
I've always considered points scored at even strength to be the best measure of a players value since power play opportunities and success with the man advantage vary widely and are subject to more "puck luck" than consistent even strength production. Thanks to the Behind the Net stats website we can see that Jagr's season, by that metric, is nothing short of astonishing.
P/60 5V5
It's generally considered that scoring more than 2.00 P/60 is the mark of an elite NHL player (Alex Ovechkin is currently 2.00 on the nose).  As we can see…Jagr remains one of the best forwards in the game.
Jamie Benn – 2.87
Tyler Seguin -2.83
David Krejci – 2.83
Jason Spezza – 2.82
Patrick Kane – 2.79
Taylor Hall – 2. 70
Evgeny Kuznetsov – 2.69
Brendan Gallager – 2.69
Vladimir Tarasneko – 2.63
Blake Wheeler – 2.57
Jaromir Jagr – 2.54
Every other player on that list is considered to be in his prime scoring years and, while others pad their stats on the power play, the 44 year old Jagr has no such benefit. The Florida Panthers power play ranks 25th in the NHL at a merger 16.9% and, if Head Coach Gerard Gallant could find a way to fix that, I would think Jagr could easily find himself in the top 20 in overall scoring pretty quickly.
What Could Have Been
The impact that Jagr is having around the league was clearly in focus going into Tuesday night's clash against the floundering Montreal Canadiens who trail the Panthers by 15 points in the Atlantic Division.
In a Montreal Gazette story headlined "Canadiens stoked to face NHL legend "Stu Cowan laments a decision by the Habs not to offer Jagr a contract after his return from the NHL.
"When Jagr returned to the NHL for the 2011-12 season after spending three years in the KHL, his first choice was to play for the Canadiens. Jagr has always loved Montreal and is good friends with countryman Tomas Plekanec of the Czech Republic. Jagr's agent is former Canadiens defenceman Petr Svoboda, who said the Habs were going in a different direction at the time with younger players.

Instead, Jagr signed a one-year contract with the Philadelphia Flyers. Jagr started the next season playing in the Czech league during the NHL lockout and again hoped to sign with the Canadiens after it was over. But again the Habs weren't interested and Jagr signed a one-year deal with the Dallas Stars.

On a team like the Canadiens, which struggles to score goals, Jagr definitely could have helped and he might have formed a dynamic duo with Plekanec.

But it didn't happen. Instead, the Canadiens got Alexander Semin."
Jagr bounced around with Dallas, Boston and New Jersey before landing in Florida and it appears he is a perfect fit to mentor their young forwards and to lead the Panthers to playoff success.
Looking Forward and Looking Back
Jaromir Jagr becomes an unrestricted free agent at the end of this season but I can't imagine he will retire or that GM Dale Tallon won't want him back considering the high level of performance he displays on a nightly basis. He reportedly is a fitness freak who is seen training at midnight so it's highly unlikely that his body will let him down anytime soon and playing with the Panthers' young stars has seemed too rejuvenate him.
It's an amazing season from an amazing player but let's the leave the last word to the man himself.
My life long passion is hockey…my life long profession is news and sports journalism.