The Detroit Red Wings were not very active on the first day of free agency, but they did make two important moves to help fill needs on their team. First, they signed defenseman Mike Green to a three-year deal worth $18 million. Green, now formally of the Washington Capitals, was arguably the best defensive unrestricted free agent on the market and will provide an offensive spark to the Detroit blue line and assist in manning the point on the power play.
The Red Wings also picked up recent Stanley Cup champion Brad Richards for one year at $3 million. While Green was an important signing, Richards is going to be an instrumental piece for Detroit during the beginning of the season and, at the present moment, is their most important signing.
Datsyuk Down
The Wings were dealt a blow in late June when they discovered that star center Pavel Datysuk needed ankle surgery.
Ken Holland said Datsyuk (ankle surgery) will be in a cast for 4-6 weeks, then start rehab and will be re-evaluated in three months.

— Ansar Khan (@AnsarKhanMLive) June 26, 2015
Datsyuk also missed 19 games this past season with injuries, and the team's offensive production took a hit as a result. The 36-year old Russian center amassed 26 goals and 65 points in 63 games, along with three goals and five points in the playoffs.  It is unclear whether or not Datsyuk will miss any time in the regular season, but reports indicate that the Wings' center might be out until some time in November. That means Detroit will play at least 11 games, six on the road, without one of its star players and most important offensive weapons.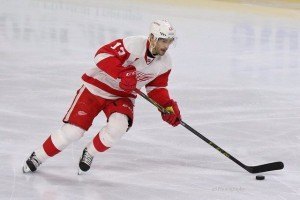 With the Datsyuk injury many thought Steven Weiss – though he struggled in his first two years with Detroit – would be kept on the roster in an effort to fill the void Datsyuk might leave for the first month of the season. However, the Wings decided to buy Weiss out  and see what their young players down in Grand Rapids could do to try to make the roster this upcoming season.
A few names stand out on the Griffins that could crack the Wings' roster this upcoming season, like Andy Miele, Andreas Athanasiou, even Michigan product Dylan Larkin has a chance to make the roster this season if he impresses in his first professional season early. Miele and Athanasiou will be fighting to crack the roster come camp with Luke Glendenning, Joakim Andersson, Riley Sheehan and Darren Helm all returning with an ability to play up the middle; and if they impress enough, perhaps Detroit would be okay moving one of these players over to the wing if it meant having better overall talent on the team.
Some say Datsyuk wants to move over to the wing for his last two years in the NHL anyway, so the torch would have to be passed to these youngsters at some point. However, any combination of these players would not be ready to fill the void at the top of the lineup that is left by Datysuk if he is not ready come October. One year down the road sure, but right now Datysuk cannot move over to the wing until one or two of these players step up and show they can be NHL-caliber centers right now.
Henrik Zetterberg has manned the faceoff circle before, but he appears to be much more comfortable as a winger, and with Datsyuk out he will need to be at the position where he will be most valuable to the team. Despite Weiss' struggles, he is a proven 20 goal-scorer in the league. If healthy, he might have been able to put up those numbers for Detroit again this year, but it was too risky given the need at that position for the Wings to wait another year and see if Weiss not only would score goals, but stay healthy.
The only player that is close to that production at the present moment is Helm, who scored 15 last season, and there's no telling how Miele or Athanasiou will play in the NHL yet. So while the Red Wings were comfortable with their prospect pool and have decent center depth, it wouldn't have hurt them to go out and get another with scoring ability that could help them in the midst of the Datsyuk injury.
Filling the Need
That is exactly what they did with the Brad Richards signing. After being bought out of his contract by the New York Rangers last season, Richards signed a one-year, $1 million deal with the Chicago Blackhawks. Richards was a valuable asset to the Hawks at a very reasonable price, scoring 11 goals and 37 points in the regular season. But where he really helped Chicago was in the playoffs, where he saw time on the second line with Patrick Kane. He had 11 assists and 14 points, including this very important one in Game 6 of the Cup Final, on the way to his second Stanley Cup:
Low Risk, High Reward
The Blackhawks took a shot at Richards, 34 years-old at the time, and it paid off. At worst, he would perform below expectations, be a small hit on their cap and wouldn't be signed back. At best, he would be a decent scorer with playoff experience that could provide a boost to their offense at a very low price, and lucky for Chicago the latter occurred.
Seeing how he performed for Chicago, the Wings were wise to sign Richards. Showing once again that he can be a valuable offensive weapon, Richards will be very important in the early part of Detroit's season if Datsyuk is unable to play. His abilities as a facilitator and scorer already improve the Wings' talent up the middle, and can also be utilized as a potential forward on the second power play unit if necessary.
The signing of Richards also allows the Wings to wait on Miele, Athanasiou or Larkin if they need to, allowing them to grow another year in the AHL and get themselves ready to play center for Detroit later in the year or even next year. Plus, if the Wings are comfortable with Richards and their depth, they could move Datsyuk over to wing like he's wanted without having to rush their rookies into the NHL.
All in all, this is a great signing for the Red Wings. While Green was the defenseman everyone was talking about heading into free agency, Richards might prove to be even more valuable an asset.