Flyers GM Ron Hextall is absolutely killing it. In just his second offseason in Philadelphia's executive role, the former Broad Street Bully has found a way to open up over $5 million of cap space, while adding valuable assets via the NHL Entry Draft and free agency.
How exactly is the former netminder pulling it off? As it turns out, Hextall's brilliance is a lesson in not only business, but discipline as well.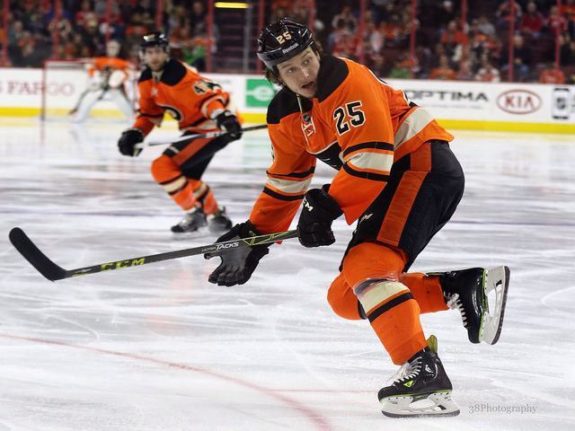 Salary Cap Era Business
When Hextall became the seventh general manager in franchise history last year, the former assistant to Los Angeles Kings GM Dean Lombardi brought with him a plan: A commitment to adding, keeping, and developing prospects, while complimenting the current roster in a responsible manner.
Over the course of just over a year, Hextall was able to not only free up significant cap space, but add value in return. The Flyers received multiple draft picks, including a first-round pick, for Kimmo Timonen and Braydon Coburn, while the popular GM turned Nicklas Grossmann's upcoming $3 million AAV, as well as Chris Pronger's LTIR contract into more picks and 41-point scorer Sam Gagner.
Arizona needed a boost to get closer to the salary-cap floor of $52.8 million for next season, and using Pronger's money as a writeoff and adding Grossmann's salary (and defensive presence), this trade puts them in a position to get there. — Rob Parent, Delaware County Daily Times
Aside from the discipline of avoiding knee-jerk decisions, this is perhaps one of Hextall's best attributes. He identifies a team's need and/or weakness and pounces on it.
That's what allowed him to move Timonen, who was retiring after the past season regardless, and the 30-year-old Coburn, whose $18 million contract is set to expire after the 2015-16 season.
https://twitter.com/todougherty/status/604843970582020097
Hextall even exploited Boston's need for physicality by yielding a third-round pick for Zac Rinaldo. The same Rinaldo who posted 24 points and 572 penalty minutes in 223 NHL games.
While many are left scratching their heads as to how an unarmed Hextall walked out of these gunfights unscathed, the result has allowed him to re-sign intricate parts to the fourth line in Chris VandeVelde and Ryan White, as well as replacing backup goalie Ray Emery with 27-year-old free agent Michal Neuvirth.
"He's a proven goalie, a good goalie," said Hextall, per CSN Philly's Tim Panaccio. "One of the attractive things for us with a backup goalie is, God forbid, if something happens to Mase [Steve Mason], he can carry the load and he's done that in the past.
"We think we brought in a real good goalie who is going to give us a solid backup and probably play more than the typical backup."
Hextall's latest signings now leave the Flyers' cap space at $4.458 million, with defenseman Michael Del Zotto yet to be re-signed. But while this again handicaps the creative GM in pursuing others in the free agent market, the Flyers are better off than they were at this time last season.
Even more impressive, they've reached this point without falling into the trap that's snared the organization for many years: moving and/or disrupting the development of their prospects on the farm.
Drafting Like a Boss
Looking back on Hextall's first draft with the Flyers last year, the home run picks of Travis Sanheim and Oskar Lindblom got the new GM off on the right path. But even the most critical cynic can argue, however, that a dead clock is right twice a day.
That's until, of course, Hextall's return from this year's draft, his first with two first-round picks (one of which, within the top 10).
Philadelphia's seventh pick was used on defenseman Ivan Provorov, who at 19 years of age, was ranked 10th among all of NHL.com's North American skaters at midterm rankings.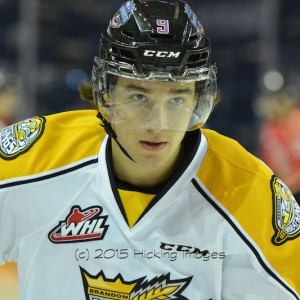 "He's very composed with the puck, has excellent vision and knows where everybody is on the ice," said NHL Central Scouting's Josh Williams, via NHL.com. "He has good hockey IQ and takes advantage when he sees an opening both offensively and defensively. He will play a physical game and can separate the man from the puck."
Along with the 6'0", 201-pound blue liner, Hextall traded the 29th and 61st pick to move up five slots to obtain 14th ranked Travis Konecny, whom Pro Hockey Talk compares to Andrew Shaw.
"The former No. 1 pick in the Ontario Hockey League didn't contribute as much offensively as some expected this year, but his game took great strides under 67's head coach Jeff Brown," said Mark Seidel, president of North American Central Scouting, per Mike Halford of Pro Hockey Talk. "His calling cards have always been intensity and ferocity, which he combines with a high skill level that can bring fans out of their seats.
"The young Ottawa captain embraced the leadership mantle with his team this year, and propelled a tremendous showing at the CHL/NHL Top Prospects game — where he won MVP — into a big finish to the season. It should translate into a top-15 selection for the fiery forward."
While Hextall continued his first-round success, the calculating GM stuck with a plan predicated on a particular position, much like he did a year ago.
Scouting, drafting, player development, asset management, short term and long term planning, Hextall has a plan #Flyers

— Jim Stark (@JimmyStizzle) July 2, 2015
Of Philadelphia's six draft picks in 2014, Hextall selected three defensemen in Sanheim, Mark Friedman, and Jesper Pettersson. This time around, the trend was centered around goalies, as the former goaltender himself plucked Felix Sandstrom, Matej Tomek, and Ivan Fedotov.
Although taking that many goalies isn't exactly a common strategy, Hextall again exhibited a method to his madness.
"We took a lot of goalies," Hextall told CSN Philly's Panaccio. "They're tough. So much mental is involved and they're hard to hit on. A couple guys fell in spots where we felt comfortable."
In Hextall's world, there's no such thing as a guarantee – the right mentality for one that places so much emphasis on adding and nurturing youth. This, along with the inevitable unknowns, explains such attention to a position prospect Anthony Stolarz is believed to have a handle on in the future.
It should also be considered shrewd of Philly's mastermind to stock up on protecting the crease, considering Stolarz's unforeseen NHL call up last season due to the injuries to Steve Mason, as well as back ups Emery and Rob Zepp.
"You can put me in the cheering fans category," Philly.com's Jeff Neiburg reported TSN analyst Craig Button saying of the Flyers' draft. "Ron Hextall understands what a winning team looks like. He understands that you don't just go out and find players very easily."
Gone are the days of "we'll cross that bridge when we get there." The Flyers not only have a distinct plan, but they're sticking to it as well. Thanks to their forward-thinking GM, the orange and black are moving toward the direction of sustained success.
Philadelphia may not be anyone's favorite to win the Stanley Cup next season, but with Hextall in the GM's seat, that's about to change, perhaps sooner than anyone first anticipated.
Come to think of it, maybe politicians would benefit by emulating Hextall. After all, he's putting on quite the clinic.
Andy is a contributor for The Hockey Writers, covering the Philadelphia Flyers. He holds a Bachelor's Degree in Communications from Walsh University. He enjoys spending time with his family, golfing, and reading. He is married with a daughter. You can follow Andy on Twitter @ADudones.