It's become a foregone conclusion that the Flyers should be re-signing Michael Del Zotto by now. With eight points in his last 10 games, the 24-year-old blue liner deserves to be compensated now more than ever. But with 17 games left in the season, should GM Ron Hextall be acting with more urgency?
The answer is no. Here's why.
Fools Rush In
The phrase is more than a song by the King, Elvis Presley. It's a nugget of wisdom; a mantra for life, if you will. And even though sports is our escape from certain areas of reality, the same applies in that arena as well.
The Flyers know all too well what it's like to rush into a contract with a newly acquired body. It's what led to the responsibility of paying Ilya Bryzgalov $1.63 million through the year 2027, as well as being stuck with Andrew MacDonald's $5 million AAV through the 2019-20 season.
The salary cap restricts Hextall from building a team the way the Flyers once did, bolstering their homegrown guys with free agents every summer. Instead, according to Hextall, more of owner Ed Snider's money has gone into the development and scouting end of things. — Sam Donnellon, Philly.com
For the purpose of clarity, Del Zotto is not one of Hextall's homegrown prizes. But his $1.3 AAV this season makes him one of the best turnouts from last year's free agency market.
But talent has never been the issue for the sixth-year veteran. After all, how many first-round draft picks lack skill?
Sure, there are busts. Especially taken as early as the opening round of the draft. But that can be attributed to an array of other factors such as, but not limited to, what's going on in between the player's ears.
"Physically, yes; mentally, I think even more so," Del Zotto said after inking a one-year deal with the Flyers back in September. "I think that's the most important part. This game is such a mental game. It's pretty easy to lose your confidence. It's a confidence game. Every player's a great player; sometimes it's a matter of confidence and keeping that consistency."
Executives and scouts can see talent, some better than others. But what's more difficult to quantify is how a player handles adversity. Along with work ethic, how an athlete handles failure tells just as much, if not more, about the likelihood of long-term success at the professional level than pure skill alone.
"In the past couple of days the coaching staff has showed a lot of trust in me, throwing me in all situations, the first penalty kill, power play, 5-on-5," said Del Zotto after scoring the game-winning goal against his former team on Feb. 28. "Anytime that happens it helps with your confidence and it's going well right now."
In a morbid way, Del Zotto's past struggles are now turning out to be a blessing in disguise. His fall from grace in New York, where he turned in a career-high 41 points for the Rangers in the 2011-12 season, turned into a 25-game prison sentence in Nashville. That, of course, led to the present day redemption story he's now become in Philadelphia.
"Just goes along with the attitude, I came into the offseason with," added Del Zotto. "I knew I would have to prove people wrong. I know there were a lot of people doubting me out there and kind of having that attitude each day."
But what happens when the North York, Ontario native finds himself on the downturn once again? In spite of his recent surge, all athletes experience their ups and downs. And as we've seen throughout Del Zotto's personal journey, he is not the exception to the rule.
Fortunately, Hextall and the Flyers have time to sort that question out.
Time on Your Side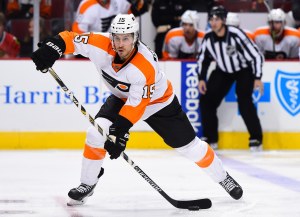 Despite trading away Braydon Coburn before Mar. 2's trade deadline, re-signing Michael Del Zotto can wait. At 28-25-12 through Mar. 5's slate of games, Craig Berube's gang sit only four points back of the Eastern Conference's final Wild Card spot.
With a matchup on Saturday against the team that holds that post – the Boston Bruins – no one within the organization should be focused on anything but the task at hand.
In other words, the Del Zotto contract talks won't help the Flyers in their push for the post-season.
Hextall will hedge longer the next time he's involved in contract negotiatons — such as what should be pending extension talks with Del Zotto's agents Don Meehan and Pat Morris — while first trying to improve the club's cap standing and stockpile more draft picks. — Rob Parent, Delaware County Daily Times
Hextall's diligence isn't just a one-prong scheme. After all, what happens if Del Zotto completely crumbles down the stretch, whether it be in a critical phase in making the post-season, or even in the playoffs?
While the latter is unlikely to deter the goal of extending the left-handed sniper from the blue line, it could have an impact on contract conditions. That's a good thing too. Have we not learned from the Andrew MacDonald contract?
Hextall knows, too, that he won't be forced to compete against other inflated offers come summertime. Because Del Zotto is neither above the age of 27, nor has seven years of NHL experience, the slick-haired defender will be a restricted free agent this summer.
Don't expect an MDZ extension until after the draft. Del Zotto is an RFA, the #Flyers will take their time negotiating a deal.

— Chris (@Chris_Carnovale) March 6, 2015
This allows Hextall to either make a qualifying one-year offer, or add additional years to the contract, making Del Zotto an unrestricted free agent at the conclusion of the new agreement.
Depending on the terms of the offer, along with Philly's salary cap capacity, negotiations could potentially lead to salary arbitration. But given Del Zotto's fit, and the requited desire to keep him, that route stands to be improbable.
"Coming into camp, I worked the hardest I ever worked in my life this summer as far as offseason training," said Del Zotto last month. "Not so much physically but mentally. I think I had a lot of people that helped me out, and just getting back to believing in myself and my game.
"You know the coaching staff has done a good job of letting me play here. Having that mutual trust of playing 50/50 offense and defense and if they show that confidence in me to play it makes it easy to get your confidence back."
Philly's top shelf extraordinaire didn't always see eye-to-eye with the coaching staff this season, though. Along with a handful of other skaters, Del Zotto found himself in the press box for a block of time, doing wonders for that ever so important confidence.
Only 6 d-men in NHL with more points in 2015 than #Flyers Del Zotto (10). Laughable he was a healthy scratch earlier this season.

— Brady Trettenero (@BradyTrett) February 8, 2015
Del Zotto has bounced back, of course, and in a big way. The 6-0, 195-pound defenseman is one goal shy of tying his career-high of 10, set in the 2011-12 season. Four of his nine marks have served as game-winners, while his 21:21 of average time on ice trails only Mark Streit.
Re-signing Michael Del Zotto sure does sound like a no-brainer. Luckily for everyone involved, Ron Hextall knows what he's doing.
Andy is a contributor for The Hockey Writers, covering the Philadelphia Flyers. He holds a Bachelor's Degree in Communications from Walsh University. He enjoys spending time with his family, golfing, and reading. He is married with a daughter. You can follow Andy on Twitter @ADudones.