After a major trade deal Thursday, T.J. Oshie is heading to the Washington Capitals from the St. Louis Blues in exchange for Troy Brouwer, Phoenix Copley and a third-round pick.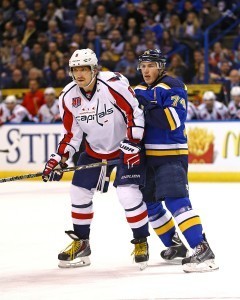 By sealing that deal, the Capitals' general manager Brian MacLellan doubled up on his promise of landing a top-six forward during the offseason – because he got two players to fit the bill. Three-time Stanley Cup winning forward Justin Williams was a steal for the Caps when they picked him during the free agency frenzy. Former L.A. King Williams and Oshie are indicative of a general manager intent on pushing his team over the final hurdle.
So, who will join superstar left wing Alex Ovechkin and assist maestro center Nicklas Backstrom on the Capitals' top line? Either of the new additions is capable of slotting in at right wing, leaving the other to compete on the second line alongside Marcus Johansson and Evgeny Kuznetsov. In the coming months, I see Oshie as the player hungrier to line up with two future Hall-of-Famers.
Oshie and Ovi – Missing Puzzle Piece Found
Oshie has 110 goals and 200 assists for a points tally of 310 in his 443 career NHL games; he posted a 51.7 shot attempt percentage last season. According to RMNB, Oshie posted 2.27 points per 60 minutes of five-on-five play, which put him at 23rd among the 362 NHL forwards with more than 500 minutes of ice time. RMNB also reports that this would have placed Oshie first among all Capitals' forwards last term, behind Backstrom with 1.91 points per hour of five-on-five play. Those stats are top-line stats.
"As I thought about the trade, and going to Washington, a team that had a really good chance of winning a Stanley Cup last year," Oshie said after the deal was inked. "I'm just excited to be included as a piece to the puzzle."
The puzzle analogy is appropriate because the Caps have been looking for the ideal top-line right wing for a while. Oshie and Ovi on the same line, with one of the league's best centers between them, would – by itself – improve the Caps' chances of a Stanley Cup win next year. However, Washington went a step even further by picking up Williams. Now, for the first time in a long while, the Caps actually have six top-six forwards on their roster.
Let's not forget that in Braden Holtby (once he's signed – and he will be) the Capitals have a goalie in the same mold as many of the great netminders of the past two decades. Holtby was an icy machine in goal for the Capitals last season; throw in a quality group of heavy-hitting blue-liners, and the recipe for a run into June of next year is complete.
A Formidable New Top Six
If Backstrom is fully recovered from his recent arthroscopic hip surgery by the start of the season, here is how I see the Capitals' new lines shaping up:
Ovechkin – Backstrom – Oshie
Johansson – Kuznetsov – Williams
Andre Burakovsky – Jay Beagle – Tom Wilson
Jason Chimera – Brooks Laich – Stanislav Galiev
Ultimately, an Ovi-Oshie partnership is a mouthwatering proposition for the Capitals. And, if Oshie doesn't work out immediately, I suppose they can always go to their new three-time Stanley Cup winner Williams instead. That kind of luxury is almost unheard for the Capitals' organization.