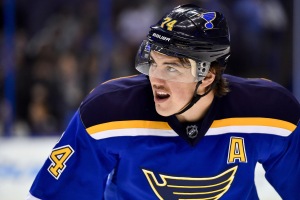 The Washington Capitals to continue to reload for the upcoming season, and a run to the Stanley Cup.
After signing Mr. Game 7 himself, Justin Williams, on Wednesday night, the Capitals went out and traded for St. Louis Blues star T.J. Oshie on Thursday afternoon. Going back to the Blues in the deal are right wing Troy Brouwer, goaltender Phoenix Copley and a third-round pick in the 2016 NHL Draft.
In a press release from the team, Capitals general manager Brian MacLellan talked about what Oshie brings to the team.
"T.J. is an outstanding skater with a tremendous skill set," he said. "He is a powerful player and has consistent track record of production throughout his career in the NHL. We feel that he complements our core group nicely and can help us get to the next level in achieving our ultimate goal. We also want to thank Troy for his contributions to our organization on and off the ice and wish him well in St. Louis."
Oshie joins a team in Washington that is priming itself for a run at the Stanley Cup in 2016. Should he produce at the level he has over the last two seasons, the Capitals may have just acquired the missing piece need to get over the playoff hump.
The biggest piece going back to the Blues in the deal is Brouwer. In 531 career games with Chicago and St. Louis, Brouwer has scored 132 goals and 123 assists. Copley spent last season in AHL Hershey where he went 17-4-3 with a 2.17 goals against average and a .925 save percentage.
With the Blues needing to sign Vladimir Tarasenko to a long-term extension, it made sense that salary was going to be moved. It just comes as a surprise that it was moved for so little in return.
Michael is a former Managing Editor for The Hockey Writers. He's covered the Buffalo Sabres, along with the NHL in general, for various outlets since 2009. His work has been featured on outlets such as Yahoo, Sports Illustrated and Fox Sports.