Thursday marked the end of one of the best careers by an undrafted free agent in the National Hockey League as free agent Martin St. Louis decided it was time to hang up the skates.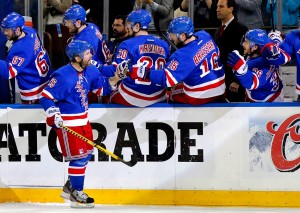 One of the smallest players in the game, St. Louis played the game passionately  – allowing him to remain in the league for 16 seasons. In Tampa, he became the true set-up man for the young (at the time) Steven Stamkos. In New York, he was the grizzly veteran for a team filled with youth.
But anywhere he went, St. Louis' compete level was off the charts. Like any small player, the start of his career came with doubts and questions about his size. But 16 years later, fans of hockey will likely miss the competitiveness and hockey IQ that St. Louis brought to the game.
St. Louis' Statistical Value
In 1,134 career regular season games, St. Louis topped the 1,000-point plateau finishing his career with 1,033 total points (391g-642a). He was a powerplay specialist alongside guys like Brad Richards, Vincent Lecavalier and Steven Stamkos in Tampa scoring 101 powerplay goals over his career – adding 29 shorthanded goals and 66 game winners.
His experience, however, also extended to the postseason where he played in 107 career games with the Lightning and Rangers. He scored 90 points (42g-48a) in those 107 games adding a Stanley Cup in the process with the 2003-04 Lightning team.
That same season he won the Art Ross Trophy, the Hart Trophy and the Ted Lindsay Award – helping to fill a trophy case that didn't stop there.
But it's his career rankings – milestones met by an undrafted free agent under six-feet tall – that defined the success that St. Louis had over his career. At the time of his retirement, St. Louis sits among the top 100 all-time in regular season goals (391), the top 65 in assists (642), and among the top 75 all-time in points (1,033).
St. Louis' Trophy Case
To go along with his statistical rankings and his 2004 awards, St. Louis padded his already impressive resume during his 16-year career. At the age of 37, in 2012-13, he became the oldest player to win the Art Ross Trophy as the leagues highest scorer when he recorded 60 points (17g-43a) in just 48 games during the regular season.
On top of that, the Quebec-native won the Lady Byng on three occasions as the player to have exhibited the best type of sportsmanship and gentlemanly conduct – in 2009-10, 2010-11 and again in 2012-13.
Add to that, the six times he was named to the NHL All-Star Game and his Olympic gold medal and it's hard to believe that St. Louis went undrafted.
The Thunder in His Lightning Career
Aside from changing the game for small players with the odds stacked against them, St. Louis was part of a Lightning franchise that changed the game in Tampa Bay – to the point that they finished 16th in average attendance in 2002-03 (16,545) to 12th in 2003-04 (17,820) to 2nd in 2005-06 (20,509) following their Cup win and the NHL lockout.
That's a jump of nearly 4,000 fans in just two seasons and when the Lightning finally got another star in Steven Stamkos, St. Louis became the mentor and the set-up man for a clearly talented sniper.
Just look at where he ranks all-time on the Lightning's statistical categories. He retires second on their all-time list for games played (972), second all-time for goals (365), first all-time for assists (588), first all-time for points (953) and that's just the main categorical stats.
Congratulations to Martin St-Louis on a Hall-of-Fame-worthy career. No NHLer's heart was bigger. An inspiration for players at all levels.

— Adam Proteau (@Proteautype) July 2, 2015
He wasn't just a game changer for that franchise on the ice, but a guy who changed the game for that franchise all across the board. And while it was a shock and surprise when he was moved to New York during the 2013-14 season, his importance within the Lightning organization certainly won't be forgotten by fans and those who played with him.
And even though he played a huge role, it was St. Louis who recognized those who helped his career along the way in a statement released by the New York Rangers:
"I have been blessed to play for 16 years in the NHL; it has been an amazing ride. I would like to thank the Tampa Bay Lightning and New York Rangers organizations and owners for providing me the opportunity to play the sport I love for so many years. I could have never played for so long or accomplished all that I have without the unwavering love and support from my wife, Heather, our three sons, Ryan, Lucas, and Mason, and my parents.

I have had the good fortune of working with some incredible players and trainers throughout my career who I am grateful to also call good friends. I am also thankful to all of the fans who have supported me through the years; it has meant so much to me. I have dedicated my life to being the best player I could be and now want to turn more of my focus to my three boys. I look forward to this next chapter of my life and the time I will have with my family."
He stood at 5-foot-8 and only 180 pounds, but St. Louis played a much bigger role for any club that he represented. From the Calgary Flames to the Tampa Bay Lightning and onto the New York Rangers and Team Canada, he played with heart and determination. He epitomized the underdog and defined the success story and it's not hard to believe that St. Louis will eventually find his place in the Hockey Hall of Fame.
For more, follow Andrew on Twitter at @AndrewGForbes or his THW column at @Tape2TapeTHW.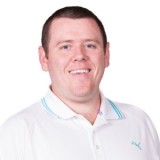 Andrew is in his 8th year reporting for The Hockey Writers covering the Toronto Maple Leafs. He began his broadcasting with CBC's Hockey Night in Canada team as well as being part of their coverage of the 2014 Winter Olympic Games in Sochi. He's the former play-by-play voice of the London Jr. Knights for Rogers TV and currently hosts the Sticks in the 6ix podcast. You can follow him on Twitter at @AndrewGForbes.