After 16 years in the NHL, the bulk of which was with the Tampa Bay Lightning, Martin St. Louis announced his retirement from the NHL this afternoon.
From the Tampa Bay area, there are assuredly some mixed emotions. For 13 years culminating in his ascension to captain of the franchise, St. Louis gave every ounce of energy, will and desire to help the Lightning organization both on and off the ice.
Bad Departure
The fans in Tampa may never really understand all the factors that led to St. Louis demanding a trade to the New York Rangers in the spring of 2014. It was hard to fathom that a player who was arguably this town's favorite player for well over a decade would demand of general manager Steve Yzerman that he be traded.
Could things be this bad that St. Louis wanted out? Would Yzerman trade him even as this young team was sniffing the playoffs for the first time in three years?
Sure we know that St. Louis had been left off the 2014 Canadian Olympic Team and that Yzerman was the executive director of that team as well as St. Louis' boss in Tampa. Awkward is an understatement.
St. Louis' career, though, should not be questioned as his final days in Tampa are.
Undrafted
Most hockey fans know the story of St. Louis. After playing for the University of Vermont, where he made the all-rookie team his freshman year and was a finalist for the Hobey Baker Award for two seasons, he went undrafted by the NHL.
Some thought him too small; some feared he wouldn't be able to take the pounding of a grueling NHL season. After a tryout with Ottawa, St. Louis found himself playing in Cleveland in the International Hockey League. After scoring 50 points in 56 games, St. Louis scored his biggest goal by signing an NHL contract with the Calgary Flames.
After a year in the AHL, St. Louis split time during the 1998-99 season between Calgary and their AHL affiliate, Saint John. After a change in management in the Calgary organization, Calgary did not protect him in the 2000 NHL Expansion Draft.
Now an unrestricted free agent, St. Louis was able to negotiate with any NHL team and he chose to sign with the Tampa Bay Lightning.
Tampa
Just as St. Louis began his Lightning career, a change within the organization occurred that would change St. Louis' life forever. Halfway through his first season in Tampa, a coaching change would bring John Tortorella behind the bench.
This was a team in Tampa that was beginning to take on a look of a playoff contender. The cornerstone player then was a young man by the name of Vincent Lecavalier. Along with Vinny were Brad Richards and St. Louis — the big three if you will.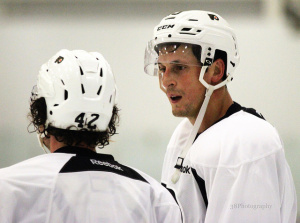 Three amazing players all under the age of 25 with a coach who, if nothing else, would work tirelessly to get the best out of every player on the roster.
Stanley Cup
In St. Louis' third year in Tampa, Tortorella coached the team to their first playoff spot in seven seasons by capturing the Southeast Division in 2002-03. But this was only a harbinger of things to come.
The very next season was one that will never be forgotten in Tampa and St. Louis played a huge hand in the accomplishments that year. During the regular season, St. Louis won the Art Ross Trophy as the leading scorer in the NHL.
It was during the Stanley Cup Final in Game 6 at Calgary that St. Louis etched a moment that is frozen in the minds of Lightning fans everywhere. As the Lightning were down three games to two playing for their playoff lives in Calgary, the game goes into overtime.
If Calgary scores, they win the Stanley Cup, which is in the building. If Tampa scores, all they get is a chance to play another game, albeit a Game 7.
St. Louis scores at the beginning of the second overtime period for Tampa to give them the 2-1 victory, sending the series to a seventh game. In that contest, the Lightning won their only Stanley Cup championship. Along with other players such as Richards, Lecavalier, Dave Andreychuk, Dan Boyle, Nikolai Khabibulin, Tim Taylor and my personal favorite, Chris Dingman, St. Louis was a factor in his team's ultimate victory.
Tampa Two
Even after the Cup year, St. Louis continued to put his body through ungodly, legendary workouts every summer so he could come back in the fall and winter and play his heart out for the fans in Tampa.
This undrafted, undersized kid from Canada laced them up day in and day out for well over 13 seasons in Tampa. In fact, for a nine-year period from the 2002-03 season through the 2011-12 season, St. Louis played in every game on the Lightning schedule, with the exception of only seven games (731 of 738). In one stretch during this time, he played in 499 consecutive NHL games.  Not bad for a player nobody in the league wanted.
To his credit, St. Louis was in Tampa through the highs and lows — Stanley Cup champ to worst team in the league. It appeared as he hit his mid-30s that St. Louis would retire with the Lightning.
He played as the team transitioned from the Big Three to a young dynamic duo of Steven Stamkos and Victor Hedman, two top draft choices for Tampa Bay. There was St. Louis, helping Stammer every chance he could. It's quite ironic that the guy who was drafted as the No. 1 pick in the 2008 NHL Draft was listening and taking advice from the guy that wasn't drafted and had to scratch and claw his way into the league.
Epilogue
Like most Lightning fans, I have mixed emotions upon hearing this retirement announcement. How I wish it would have played out differently in 2014. How I wish that St. Louis would have remained a Lightning forward until this day.
Sadly, it did not happen and the wounds are still fresh in this town. Some have forgiven St. Louis and want to see him come back for one day to retire as a member of the Lightning, while others simply state good riddance and wish unspeakable things to St. Louis, who they view as a traitor. I was deeply angry at the way he left this team over a year ago. Captains don't behave like this. But today, all that is water under the bridge.
I am happy that I saw St. Louis play for almost 1,000 games for the Lightning (972 to be exact). I'm fairly certain I saw most of the 365 goals and the 588 assists he tallied for the franchise. I'll never forget the scream I let out when he scored that Game 6 OT winner against Calgary. I still see Marty after the Game 7, lifting the Cup as blood was trickling out of the bridge of his nose.
That moment, more than anything else, is how I will remember St. Louis. He gave everything he had inside of him to play a child's game for all the best reasons in the world – to be a champion. Despite the less than classy exit he made from Tampa, St. Louis exerted class 99.9 percent of his time in the NHL.
Best wishes, Marty, and thank you for rising above the initial jolt of not being drafted in this league to play the game as you did.  By doing so, you proved to all that not only did you belong in the NHL, but you will one day take your rightful place in the Hockey Hall of Fame among the greatest who ever played.