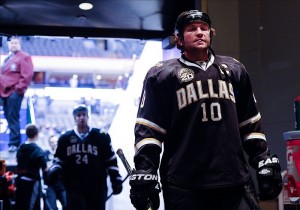 Brenden Morrow may possibly be too old, washed-up and slow to play in the Penguins system. But he may also be exactly what they need to win another Stanley Cup.
Remember, it wasn't too long ago that people were saying the same things about Bill Guerin – and we all remember how that turned out.
When Bill Guerin joined the team in 2009, a great number of Penguins fans – myself included – were a bit underwhelmed by the move, and for good reason. After losing Marian Hossa to free agency the year before, it seemed like the Penguins would target another high flying sniper to fill the void, not a 38-year-old, over-the-hill power forward coasting his way into retirement.  But Ray Shero saw something more in Guerin – and for only a fourth round draft pick, it was a very low risk proposition.
"I think it's worth a chance with a Billy Guerin, that playing with good players he will be able to score goals. I'm hoping he can re-energize his career here in Pittsburgh," Shero said at the time. "I think it's a good move for both of us."
How right he was.
Guerin never came close to filling the void left by Marian Hossa offensively, but it turns out that isn't what the Penguins needed after all. Guerin, the former captain of the Islanders, quickly became a veteran leader in the the Penguins' locker room and played a hard-nosed, vicious brand of hockey that perfectly complemented his younger, more skilled teammates and ultimately led to a Stanley Cup victory.
History Repeats Itself?
And now that's exactly the role they need Morrow to play. But as in 2009, there are still a lot of lingering doubts around the new addition.
Brenden Morrow's numbers don't look great as of late. His ice time has dropped precipitously from years past, as have his scoring totals. Watching his game film, Morrow was never the fleetest of foot and certainly hasn't added an extra gear in his old age, either. And advanced stats don't help his case  – he's right around the bottom in Corsi amongst Dallas forwards this year. But Shero, no stranger to analytics himself, feels that the stats may not tell the whole story when it comes to Morrow. "Analytics don't show the character, grit or heart of a player," he said. "It's just a tool we use. if you can get a little information that's fantastic."
And other experts believe that the move to Pittsburgh may be the shot in the arm that he needs to get his game back on track.
"Western Conference coaches I talked to about Brenden Morrow say he has gas left in the tank to be [an] effective top 9 forward, [playing] 14-15 [minutes per] night," Bob McKenzie of TSN reported on Twitter. "They believe he'll be re-invigorated playing on true contender in [Pittsburgh] and [the Penguins] could use his physical play/edge."
A Piece of the Puzzle
Indeed, the Penguins don't need Morrow to blow anyone's doors off offensively. They can score enough goals as it is. Shero lauded Morrow's experience as a playoff-proven player and his former role as captain of the Stars could prove invaluable should the team lose focus like they did against Philadelphia last year.
"[We're] not [looking for] a savior at all," Shero said. "[We need] a complementary piece that can add to our group."
The Penguins need a tough, gritty forward to do the dirty work in the corners and in front of the net. "[Morrow] is a guy that goes to those dirty areas," Shero explained. "And when you get to the playoffs … that's an important aspect of what we're trying to do."
Morrow himself seems comfortable with that role, as well. "This is Sid's team. No question there," Morrow said. "He's the best player in the world … I'm going to be a piece of the puzzle."
At What Cost?
The biggest concern in all of this is that Shero gave up too much. Cap space is not an issue, but Joe Morrow is a much higher price to pay than the fourth round pick they gave up for Guerin. However, losing a top defensive prospect isn't such a huge blow to the Penguins. The Penguins have a glut of young talent at the position including players like Simon Despres, Robert Bortuzzo, Olli Maatta, Scott Harrington and Brian Dumoulin, which made Joe Morrow expendable. "It's a position of strength for our team," Shero said. "We've drafted a number of quality defensemen [so] that was an area we had [available] to trade."
Only time will tell if this move pays off, but with his track record I'm willing to give Ray Shero the benefit of the doubt.