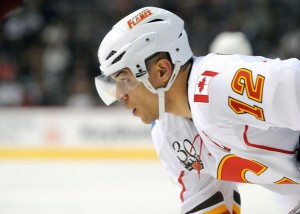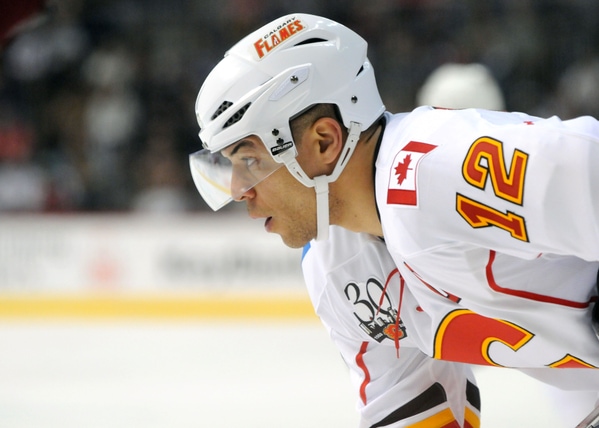 With the NHL's April 3rd trade deadline rapidly approaching, the Los Angeles Kings have reportedly been named on an exclusive list of teams long-time Calgary Flames captain Jarome Iginla would agree to waive his no-trade clause for, were a trade to be negotiated. According to Darren Dreger over the weekend, the 35-year old veteran power forward has also named the Pittsburgh Penguins, Boston Bruins and Chicago Blackhawks as possible desired destinations. To convolute the issue a little bit more, let's toss in the Anaheim Ducks, Vancouver Canucks and Detroit Red Wings while we're at it, as various rumors have them on the short list as well.
Or perhaps not. Maybe Iginla plays a few more years and retires, having never played for any other team besides the Flames.
The case for Iginla in Los Angeles
The evidence supporting an eventual trade of Iggy to Los Angeles is, at the very least, intriguing. The Kings, sixth in the West with 38 points, will be buyers this year if they can find a deal they like. Calgary, at 14th with 28 points, will clearly be sellers. At 2.88 goals/game, Los Angeles is much improved offensively this season, but is still struggling at times with consistency and has been skating rookie Tyler Toffoli on the second line since the Gagne trade. Iginla, a massive upgrade over Toffoli when considering his experience, physicality, leadership and proven ability, would fit like a glove on a line with Mike Richards and Jeff Carter, his $7.0 million cap hit sliding neatly within L.A.'s $9.2 million available cap space, especially if an expiring contract such as Dustin Penner's ($3.25 million) went the other direction.
But wait, there's more: Los Angeles has a young goaltender in Jonathan Bernier who could be Kiprusoff's successor as soon as next season, although more likely in 2014-15 after Kiprusoff's contract is up. Toffoli, a two-time 100 point scorer in the OHL and having netted 28 in his first professional season (not to mention two in four games with the Kings), would also appear to be an attractive trade piece.
The Kings are playing for history: no team has repeated as Stanley Cup champions since Scotty Bowman's Detroit Red Wings did it in 1997 and 1998. They are also one of the league's youngest teams, with an average age of just 26.6 years. Iginla is definitely on the other side of 30, but his experience, leadership and natural goal-scoring ability could be just what the doctor ordered in Los Angeles.
The case against Iginla in Los Angeles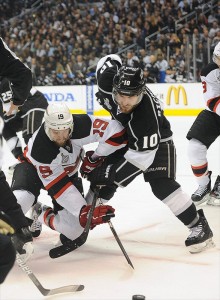 At some point, Father Time is going to catch up to the sure Hall of Fame forward. Has it already happened? With just nine goals so far this year, he's on a pace for just 25 were this a full 82-game season, a steep decline from the 43 he scored in 2010-11 and the 32 in 2011-12. Losing Bernier, Toffoli or other young talent is by no means a small price to pay, and furthermore, it hasn't been General Manager Dean Lombardi's modus operandi to rent players, even those of the caliber of Iginla. Perhaps the star forward would agree to a contract extension as part of a deal, but it is by no means certain that they could juggle all the puzzle pieces together, especially given that the cap will drop to $64.3 million in 2013-14.
Without question, Jarome Iginla would make a fantastic pickup for the Kings. However, with Anze Kopitar, Mike Richards, Jeff Carter, Drew Doughty, and Jonathan Quick signed for the rest of eternity and already eating up almost half of next year's projected cap, taking on another star player — with the requisite star player's salary — would seem more than a little problematic.
The verdict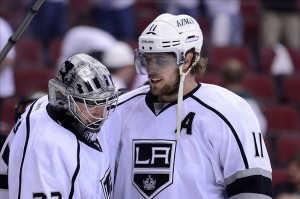 There's no way any of us know which way the winds will blow with respect to a potential trade of Jarome Iginla this year. Cap space appears to be an issue for all the major players named on Iggy's alleged list, and besides, the long-time Flames forward might just be exactly where he wants to be, Cup or no Cup. Having said that, it would be a major surprise were he to be dealt to the Kings. Their offense has enough star players to light the lights — not to mention the lamp — in Hollywood, and with the way the team is constructed for the long term, upending that balance even for someone as great as Jarome Iginla just doesn't seem to be Dean Lombardi's style.
Or perhaps not. Maybe Iginla plays a few more games and then finds himself scoring goals for the champions with a new contract in his back pocket. We'll know for sure within the next week.