Out of all of the stars and scorers in the San Jose Sharks lineup, including Marleau, Couture, Thornton, and Hertl, the most important piece of the puzzle has played fewer games than all of them.  Brent Burns is the component that is most important to the Sharks' hopes for a Stanley Cup.  Hertl and Marleau will score the fancy goals, Couture and Thornton will provide that leadership and precision passing, but it is Brent Burns that will have the largest impact going forward.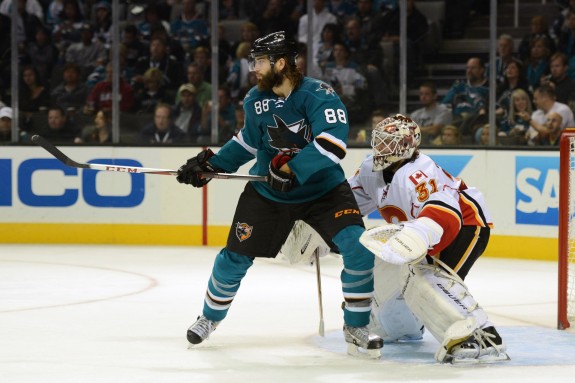 The Absence of Brent Burns
After eight games to start the season, Burns was flying high with the Sharks and earned four goals and four assists.  It can also be noted that the Sharks were 7-0-1 in those games and scored at least 3 goals in each.  Then, his injury sidelined him.  What seemed like a brief recovery turned into a long and painful wait for the dynamic forward to return.  There is still no explanation as to why it took so long for Burns to recover, but after 13 games, Team Teal is happy just to have him back.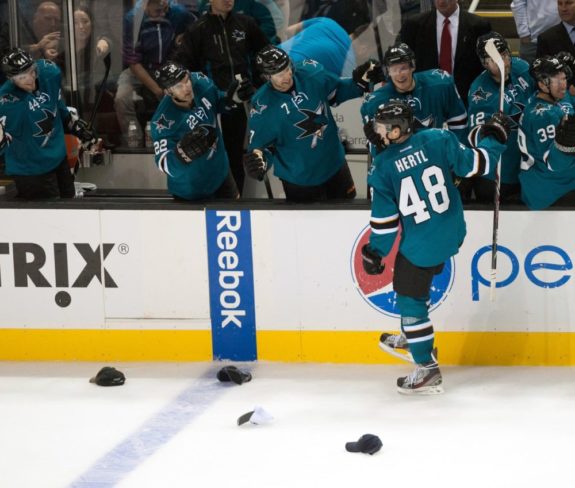 Those 13 games were, in short, much tougher for the Sharks.  All of a sudden, a 6-foot-5, 230 pounder with speed and shooting ability is removed from your lineup.  That combination is not easy to replace.  Todd McLellan tried, but nobody could skate with Thornton and Hertl to the effect that Brent Burns did.  Tyler Kennedy, Martin Havlat, Matt Nieto, and others all had time on the once-deadly Thornton line.  But a 6-3-4 record (not bad, but not elite) showed how important Burnzie really is.
With Brent Burns on the ice with Tomas Hertl, the Sharks maintain a Corsi for percentage of 66%.  That stat plummets to 49.9% when Hertl takes the ice without him.  That means that the youngster and Brent Burns create offensive situations for the Sharks for two-thirds of their time on the ice.  The NHL doesn't keep possession stats, but these two would own them if they did.
Immediate Returns After His Recovery
In two games since coming back, Burns has two points.  Unlike the anti-climactic, yet somehow surprising, return of Martin Havlat who has only mustered 3 points in 10 games.  Against Tampa Bay, the Sharks dominated.  The trickle-down effect of Burns' hard work and heavy pressure allowed Tommy Wingels to net two goals of his own.
This trickle-down theory, while largely unsuccessful in economies, is vital to teams with depth among their forwards.  Teams must now again match up their best players to the Thornton line as the three wreak havoc on opponents.  This forces defenses to put their best against the line that doesn't even have the most pure shooters on it!  Couture and Marleau will benefit by facing lessened competition.  With Burns out, Couture and Marleau are both in the top five for highest percentage of ice time against quality opponents.  That will likely drop with the less-hairy Burns back in the lineup.

Repercussions on the Rest of the Roster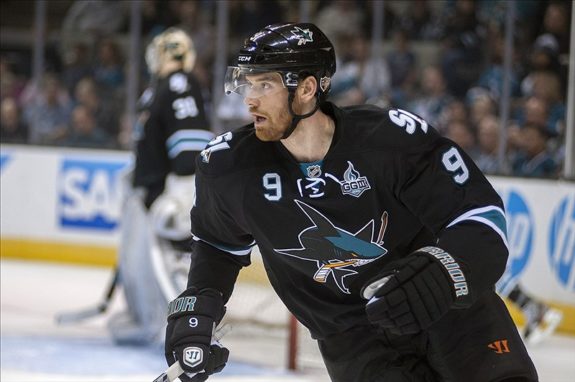 As the Sharks slowly get healthy, (they are still waiting on Raffi Torres) their depth only gets better.  Early call-ups Matt Nieto, Matt Pelech, and John McCarthy have proven capable of playing at this level.  With Marty Havlat struggling to regain his form, a spot on the third line is up for grabs.  Brent Burns' return has flung either Tyler Kennedy or the high-flying Tommy Wingels to the third line.  You're telling me that Raffi Torres, the guy who can skate and hit with the best of them is going to skate the fourth?  No.
This opens the Sharks up to entertain offers for their skaters.  Namely, Martin Havlat.  Interest from Ottawa and the New York Rangers has already been reported.  Sharks coaches have seemingly stuck with Havlat for this long, but their roster of forwards has never been this deep.
These are the moments when the Sharks front office pulls off "refreshing the roster" moves that avoid rebuilding seasons.  Last season, it was Ryane Clowe.  The year before, it was Jamie McGinn for TJ Galiardi.  Planning for the future isn't just for cellar-dwellers, the smart teams plan every season, no matter their position in the standings.
Kenneth is a graduate of the University of San Francisco in Politics and Chemistry. But his passion in life has always been hockey. He has played since he was four and even coached a few teams. Kenneth writes for the San Jose Sharks at thehockeywriters.com