Adaptability has been a necessary attribute for Brian Boyle of the Tampa Bay Lightning. That trait is nurtured when you are one of 13 children. Boyle developed flexibility within his surroundings because he has six older siblings and six younger ones putting him smack dab in the middle of the Boyle brood.
Drafted in the first round, 26th overall, by the Los Angeles Kings in the 2003 NHL draft, Boyle delayed his professional debut by attending and playing for his hometown Boston College for four years. It was during his AHL assignment with the Kings' affiliate, the Manchester Monarchs, that the organization wanted to develop Boyle as an NHL defenseman, primarily due to his size.
At 6 feet 7 inches, Boyle is a big one and the Kings loved his size on the blue line. Adapting to this change wasn't easy, but Boyle took it in stride, knowing that learning different aspects to his game was a way to make himself more valuable to the team. So, he was versatile enough to learn how to play defense.
New York State of Mind
In honing his skills as a defenseman, Boyle developed his abilities as a defensive forward. Perhaps it was the task of learning a new position but most of his two seasons with the Kings, was spent in the AHL. Boyle did score four goals in his first seven NHL games but that Gretzy-esque scoring trajectory did not last. Ultimately, Boyle was traded to the New York Rangers in June of 2009.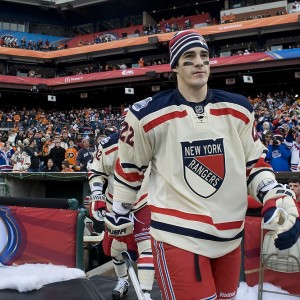 Once he arrived in the East coast, Boyle became a full-fledged NHL player, never to see the AHL again. In five seasons in the Big Apple, Boyle continued his evolution as an NHL player. As a center with fierce defensive skills and above average knack for winning faceoffs, Boyle became a staple of the penalty-killing unit.
As a measurement of his versatility, Boyle also had an offensive touch. He scored 21 goals during the 2010-11 season in New York. Another plus in his game was his iron-man proficiency. In his five seasons with the Rangers, Boyle played in 345 of the 366 regular season games that were on the regular season schedule.
Sunshine State
After half a decade in New York, Boyle became an unrestricted free agent in the summer of 2014. Having played for the Stanley Cup with the Rangers before losing to his former team, the Los Angeles Kings, Boyle signed with the Lightning a few hours after his New York teammate, Anton Stralman, locked up a deal with Tampa.
To add to the reunion of ex-Rangers, the Lightning had also re-signed Ryan Callahan prior to the start of the free-agent period in the 2014 off season. In fact, behind-the-scenes credit had been given to Callahan for acting as a broker in the Lightning's ability to sign both Stralman and Boyle.
Continuing his Cal Ripken-like approach to the NHL, Boyle played in all 82 regular season games in his first season with Tampa Bay. Centering the fourth line for Tampa, Boyle scored 15 goals — fantastic production for a fourth line center in the NHL.
The real value Boyle brought down to Tampa was his play on the penalty kill. Winning more faceoffs than he lost especially in the defensive zone when the team was a man short proved vital to the effectiveness of the PK unit. Boyle plays with such grit and ferocity and with his size he proves to be at times an immovable object. All these factors make him the kind of lunch-pail player that has won over the Lightning fans at Amalie Arena.
Coach Jon Cooper shows so much faith in Boyle's game that in addition to centering Coop's fourth line, he plays Boyle confidently on the penalty kill. Recently, due to some struggles on the power play, Cooper has put Boyle on one of the team's power-play units. In that particular role, Boyle has the responsibility of standing in front of the opposing net.
Normally, this is a challenging duty, but when you are standing in front of a Steven Stamkos slap shot or a Nikita Kucherov blazing wrister, it not only takes skill but a whole lot of ice in your veins. Just some more of that Boyle versatility.
While it is true that a lot of NHL teams have forwards that play on their regular line that also contribute on one of the special-team units, there are more than a few who play on both the power play as well as the penalty kill. But how many forwards in this league with the speed of the NHL game today can step in and play as a defenseman?
Boyle has and does when called upon because of injuries or just plain necessity. Cooper has absolutely no qualms about inserting Boyle as a defenseman on his team. Sure, the experience on the blue line early in his career helps in this capacity, but keep in mind that it was almost a decade ago that Boyle was honing his D-man skills.
When he has played on the back end, Boyle has exonerated himself well. Obviously, his value to the Lightning is as a forward but it speaks volumes about what his organization thinks about Boyle. To be counted on by his coach to this extent conveys the confidence Cooper has in his player.
His overall game and his seemingly limitless prowess in numerous aspects of the NHL game have all made Boyle a fan favorite. He's much appreciated for his desire and is worthy as the Mr. Versatility of the Tampa Bay Lightning.
Born in Chicago, Illinois. Grew up playing and loving sports. Spent most of my formative years playing, debating, arguing and talking sports. for the last couple of years I have written about hockey. I am currently a Tampa Bay Lightning contributor for The Hockey Writers. I know that I may not always be right, but I am passionate about hockey and it is damn hard to hide that passion in my writing.