Just a few weeks ago, I had predicted that the Philadelphia Flyers would be sellers at the trade deadline. However, that date came and passed and the Flyers didn't make any significant moves. And here we stand on March 15th, 2016 and the Flyers are just three points out of a playoff spot. It's also worth noting the Flyers have two games in hand on the current second place wild card team, the Detroit Red Wings.
Back on January 20th, I extensively covered the Flyers playoff chances at that time, and back then they had between 20-35 percentage chance of making the 2015-16 playoffs. Take a look at their chances as of today and most statistics websites give them around a 50 percent chance to make the playoffs.
What's changed? Well, the Flyers are playing excellent hockey and are 6-1-1 in their last eight games played as they've rapidly closed the gap between them and the wild card teams. Personnel wise, the team is probably weaker than it's been all season.
They're currently missing Jakub Voracek, Michael Del Zotto and have goaltender Michal Neuvirth and defensemen Andrew MacDonald struggling with small ailments. Yet, the team is playing some of their best hockey of the season, how are they doing so?
Shayne Gostisbehere is Carrying the Philadelphia Flyers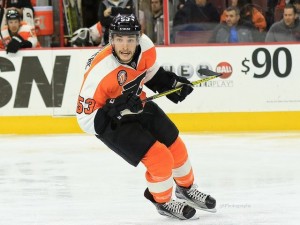 I can't say enough about how great of a player rookie defender Shayne Gostisbehere has been this year. If it was up to me, "Ghost Bear" would be the recipient of the Calder Trophy. I've seen him play countless times this year and there is no player that has impacted the Flyers as much as he has.
Prior to Gostisbehere joining the Flyers, the team was 6-11 and falling in the standings, and since then they're 26-15-9. That's a gigantic difference and you might think that one rookie has not been responsible for all of that. However, consider that all 15 of his goals have changed the lead of a game and four of them have won games.
Without Gostisbehere, the Philadelphia Flyers are not a playoff team. With him, they have a fighting chance and if we've seen anything in the last few months, they're going to give it their best shot this season.
And the road ahead doesn't get any easier for the Flyers. They have a busy schedule coming up and out of their last 15 games, 9 are "must-win" games against division rivals and other teams competing for a playoff spot.
Where does this leave the team? Well it's going to be a struggle for this team that refuses to give up on playoff hopes. They know what was said about them early this season and from the very beginning they've been looking to prove doubters wrong.
But one thing is for certain, if the 2015-16 Philadelphia Flyers hope to make the playoffs, they need Gostisbehere to play his best. He's been the "engine" of their team since he was called up and we shouldn't expect anything to change in the final 15 games.
Thanks for reading! Feel free to leave your comments below or tweet me anytime @MPityk_PHI
***
Featured image courtesy Amy Irvin/ The Hockey Writers
***
Can't get enough hockey? Want to talk about it with our writers, and fellow fans? Join The Hockey Writers Group on Facebook today!
Michael Pityk is an analyst who has written for numerous sites since beginning his professional career. He's acted as a credentialed member of the media for the Philadelphia Phillies, Philadelphia Flyers, Pittsburgh Pirates and the Pittsburgh Penguins. His work has been featured in Sports Illustrated, The Sports Journal, MSN, PensLabyrinth, Montreal Hockey Talk, ESPN Pittsburgh, The Hockey Writers, Todays SlapShot and The Bleacher Report. He formerly was the editor of Pens Labyrinth and an analyst for The Sports Journal. Michael presently acts as an NHL Analyst for The Hockey Writers