The Philadelphia Flyers currently sit at 26-22-11 and are five points behind the second wild card spot. Leading experts give the Flyers, on average, a 37% chance of making the playoffs at this time. This is significant due to the rapidly approaching trade deadline which is now just four days away.
Statistically speaking, the Flyers are 17th in Corsi For percentage at even strength with a break even 50.0. They also don't make the most out of their shots as they're 19th in percentage of scoring chances for at  49.2.
General manager Ron Hextall has already come out and said the Philadelphia Flyers will not be adding players at the trade deadline. Here's what he had to say about the trade deadline.
It's tough because there's a lot of teams in the position we're in, where we're out but close enough so it's hard decisions. You always weigh you're at and the upside of what you can bring back, so if you're going to sacrifice a little bit for now, you want more for the future. They're hard decisions.
Philadelphia Flyers Trade Deadline Outlook
The Toronto Maple Leafs have already set the market for rental players, and they're in full rebuild mode. Nick Spaling and Roman Polak cost two second-round picks. Mike Weber also just cost the Washington Capitals a third-round pick.
Philadelphia is no longer a cap strapped team, they got some significant breathing room with the trades of Vincent Lecavalier and Luke Schenn. The team currently is projected to have $5.2 million in cap space on the trade deadline, according to General Fanager.
It's clear that the salary cap isn't an issue this season, but both Jakub Voracek and Sean Couturier get significant raises next year that will account for an extra $6.5 million in cap space. This does not even talk about the Philadelphia Flyers five restricted free agents, one of which is Brayden Schenn who will be re-signed, or their four unrestricted free agents.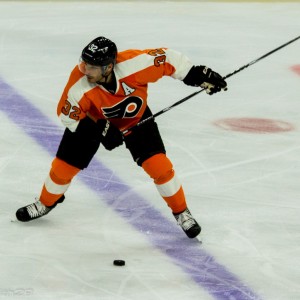 That means the team probably will be looking to move some salary this season and I'm looking at one player in particular, Mark Streit.
Streit is now 38 years old and has another year remaining on a deal that counts for $5.25 million on the cap annually, and he does have some sort of limited no-trade clause. However, with the emergence of Shayne Gostisbehere, Streit isn't impacting the game like he used to and is no longer the top power play defender.
If a team comes calling for Streit, I believe that Hextall will absolutely listen to what they have to say and it could be the end of his time with the Flyers.
Another name listed in trade rumors is Radko Gudas. He's a polarizing player and when he doesn't take costly penalties, he's a solid defender.
Broad Street Hockey recently made the case for trading Matt Read, and they make some good points. Read has been a lock for 20 goals for the past few years, this season hasn't been his best and he might be starting to decline, but he's a valuable player around the league.
Philadelphia Flyers Trade Deadline Concluding Thoughts
Whichever way you look at it, the Flyers look like they're going to be sellers at the deadline. They need to shred some salary to make room for new contracts next year and they're in a "quiet retooling" as one scout told me.
When you also consider that the Flyers have some promising defenders looking to make the jump next year. Something is going to have to give, the only question remains is how much does Hextall move at this deadline? We'll find out in just a few short days.
Thanks for reading! Feel free to leave your comments below or tweet me anytime @MPityk_PHI