For all the fanfare a first round draft pick gets in the NHL, there have been many star players that went unheralded throughout their junior career, not attracting much attention until blossoming into stars at the NHL level. From Pavel Datsyuk (171st in 1998) to Jamie Benn (129th in 2007), the league is littered with late-round picks that have blossomed into high-profile studs.
The Toronto Maple Leafs are currently wallowing near the bottom of the NHL standings, as their previous regime failed to utilize the draft to build the Maple Leafs into a contender. However, their new management seems to be committed to developing their own players in their quest to climb back to respectability. One holdout from the previous regime currently showing his high-scoring talent is forward Josh Leivo, currently plying his trade with the AHL-leading Toronto Marlies. Despite being an afterthought in the 2011 Draft as the 86th overall selection, Leivo has proven that he could become a valuable contributor for an NHL club in the near future.
Late Bloomer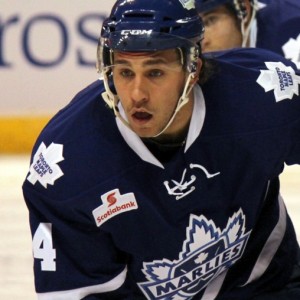 Leivo was selected in the 11th round of the OHL Draft, making him a long shot to put himself on the NHL radar. However, he was able to crack the Sudbury Wolves a year after he was drafted, getting into 64 games and tallying 30 points, cementing a roster spot by the time the Wolves made the playoffs. There, he showed his capabilities, as he posted 6 goals and 13 points in just 8 games, including his first career OHL hat trick. This offensive outburst was enough to get him selected in the 3rd round by the Toronto Maple Leafs.
The following season, Leivo showed his playoff performance was no fluke, potting 32 goals and 73 points in 68 games, second on his team only to Michael Sgarbossa. Leivo returned to Sudbury in 2012-2013 as one of the team's leaders, but was a trade deadline acquisition by the Kitchener Rangers. There, he tallied a point per game before helping the Rangers to the second round of the playoffs with 12 points in just 10 games. He then made his professional debut, getting into four regular season games and three playoff games with the AHL's Marlies.
Development into AHL All-Star
Leivo moved to the Toronto Marlies full-time in 2013-2014, notching 23 goals and 42 points in 59 games with a +6 plus/minus rating. He again showed his ability to perform under pressure, adding on 3 goals and 8 points in 12 playoff games. His great play in the NHL earned him a cup of coffee with the Leafs, getting into 7 games and scoring his first NHL goal before being sent back to the Marlies. He followed his strong rookie season with a disappointing 32-point performance in 2014-2015, but he again showed his mettle with a 6 point performance in the Marlies' short-lived playoff run.
Leivo, despite his great offensive instincts, was continually overlooked for his less than stellar skating speed. However, as he grew into his 6'1″ frame, Leivo developed a knack for being tough to push off the puck and became a very agile skater. His NHL-calibre shot has been on display throughout his development with the Marlies, flashing the potential to provide the Maple Leafs with a capable scoring threat. With the consistently contending Marlies, Leivo has blossomed into one of their top players and a candidate for extended NHL time with the Maple Leafs.
Joseph Aleong is an At-Large writer for THW from Toronto, Ontario. He is a graduate of Brock University in St. Catharines, ON. Follow him on Twitter @josephaleong11