No matter what side you are on, the same question is being asked: Where is the money going to come from?
The only one who may be losing sleep over it is general manager Doug Armstrong.
The St. Louis Blues have quite the salary cap dilemma approaching quickly. Already rubbing elbows with the NHL's mandated cap limit, the Blues will see a slew of players enter free agency at the end of this season. This includes captain David Backes (UFA), as well as forwards Kyle Brodziak (UFA), Troy Brouwer (UFA), Dmitrij Jaskin (RFA) and Jaden Schwartz (RFA), among others.
These issues have expanded into rumors that Armstrong is entertaining the thought of trading offensive defenseman Kevin Shattenkirk to get his salary off the books, since the team has already committed $11.9 million in cap space to its top pairing, Alex Pietrangelo and Jay Bouwmeester.
Reports have surfaced that Backes, 31, is seeking a pricey raise from his current $4.75 million per season deal ($4.50 million cap hit) he is currently playing under. St. Louis Post-Dispatch reporter and team beat writer Jeremy Rutherford reported in January that Backes' camp turned down a three-year, $5.5 million extension at training camp.
Now, rumors have circled that Backes and his agent are seeking a contract that is upwards of $6 million. Rightfully, Backes can point to the recent Ryan Kesler extension that saw the two-way center sign for six years at $41.25 million.
Thank the Anaheim Ducks for driving up the price on aging forwards of Kesler's variety.
Nevertheless, if the Blues want to keep the team captain, they will have to debate against the Kesler extension and hope they can drive Backes' asking price down from the bloated fee.
Suggestions that the salary cap could decrease by as much as $4 million has made this problem turn from ugly into putrid.
Told by an NHL & NHLPA source that 2016-17 cap could go down as much as $4 million. If true, interested in what that does to trade deadline

— MurphysLaw74 (@MurphysLaw74) February 12, 2016
Not the Popular Option
Backes has been a staple in the team since the rebuild. He crashed and banged his way into Blues' fans hearts and worked his way up the NHL ladder, quickly becoming one of the league's elite defensive forwards. His captaincy has been synonymous with regular season success and the Blues have been a hated team to play against with him playing 20 minutes a night.
Despite all of this, Backes is not worth more than $5.5 million to this franchise.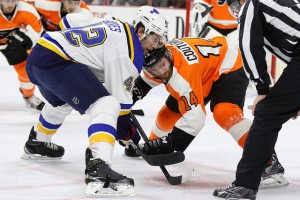 The former top-line center has seen his role diminished, as well as his point totals take a drastic drop. The 62-point scorer in 2010-11 has posted just 33 points in 62 games this season, which puts him on pace for 44 points by season's end. Although he has been assigned to mostly second- and third-line duty, he still averages 19:37 of ice time per game, which is far better than his 18:14 career average and still better than last year's 18:38 he averaged when he put up 58 points.
These statistics go without mentioning Backes' foul five goals and 13 points in 29 career postseason contests.
There is some truth to the thinking method that you can't quantify leadership and locker room presence, but on a team that desperately needs offense (currently ranked 24th in goals per game with 24.7 this season), it simply cannot be justified that Backes deserves upwards of $6 million to play in his current role.
Armstrong has made a career of overpaying talent (see Jay Bouwmeester, Jori Lehtera and Steve Ott), but this is one time he just needs to cut his losses and focus on his team's future.
Can the Captain be Traded at the Deadline?
Trading your captain is not a rare event in the NHL. Just recently, Dion Phaneuf was pulled from the Toronto Maple Leafs locker room due to a trade with the Ottawa Senators. The Winnipeg Jets are likely to move their captain, Andrew Ladd, at the trade deadline. Of course, the most famous example would be the Edmonton Oilers and The Great One in August 1988.
The issue here is Backes' current contract, which includes a full no-trade clause. The only way the team can move him is if he accepted a trade out of town. That is not likely, as the Blues are destined for another playoff appearance.
The St. Louis franchise is in a win-now mentality. Any team in their position would not make a major trade to move the team captain. No matter the return, it would appear to be a step back to team chemistry and overall locker room morale.
Although it is plausible for a move, it's highly unlikely that all the pieces would fall in place for a must-make trade.
The Conclusion
Sometimes, you have to do things that you despise doing. Sometimes, the easiest answer seems like the worst answer, but it's the only one that fits.
Let him walk.
This isn't a situation that mirrors the Brad Richards and Dallas Stars debacle in 2011. The Blues are well on their way to a postseason berth — they aren't fighting for their playoff lives — while Backes has a no-trade clause and is asking for a hefty raise.
The Blues have two options: re-sign Backes and forfeit other assets (Shattenkirk, Schwartz or even a goaltender), or let him walk and redistribute the contract savings to the future of the team.
Make no mistake about it: Backes will get a sizeable contract on the open market. A team that requires a veteran center will give him exactly what he thinks he is worth.
That team just simply cannot be the Blues. After all, money doesn't grow on trees.
Featured Image was provided by Amy Irvin / The Hockey Writers