The Philadelphia Flyers found a gem of a player in the 2012 NHL entry draft when they selected defenseman Shayne Gostisbehere in the third round, at 78th overall. Through 47 games played, Gostisbehere has accumulated 14 goals, 23 assists, for a total of 37 points and is a +5 skater.
He's having one of the best rookie seasons in Flyers history and he's already scored the most goals of any rookie defender with the club.
Shayne Gostisbehere having the best season by a rookie D, and 1 of the best by a rookie overall, in #Flyers history pic.twitter.com/cwj2CFkVX3

— StatsCentre (@StatsCentre) March 8, 2016
Two days ago, Gostisbehere added another line to his resume with his first multi-goal game in the Flyers 4-2 win over the Tampa Bay Lightning. He already had six two-point games, but this was his first multi-goal game of his brief career.
Evaluating Shayne Gostisbehere's Calder Trophy Chances
Before I begin, this won't be a satirical piece like Broad Street Hockey recently posted, here's the argument for Gostisbehere to be considered for the Calder Trophy.
To really appreciate how great of a season he's having, we need to give his statistics some context. Here's a list of the highest scoring rookie defenders in NHL history as well as their goal and point production per-game played.

I had originally hoped to compare relevant production in terms of per-sixty minutes played, but that data is not available for all of the mentioned players except Dion Phaneuf. Whichever way you look at it, Gostisbehere is producing points at an incredible pace, especially when you compare his goals per-game to the rookie seasons of Mark Howe, Barry Beck and Mark Howe.
And here's something else that you should know, all 14 of Gostisbehere's goals have been lead changing goals, with four of those being game winning goals.
Then if you want to talk about impact on the power play, Gostisbehere is doing more than any other rookie player. This figure from NHL public relations is a few days old, but it still gets the point across.
POWER-PLAY PTS LEADERS, ROOKIES:
Gostisbehere: 6-13—19
Eichel: 7-9—16
Panarin: 6-10—16
Domi: 3-11—14
Duclair: 6-4—10 pic.twitter.com/034GUxcOMZ

— NHL Public Relations (@PR_NHL) March 5, 2016
His power play work has been impressive, just as his slap shot has been all season. Take a look at the second goal he scored in the Flyers 4-2 win over the Lightning.
https://twitter.com/myregularface/status/707027767414669312
Giving Shayne Gostisbehere's Season Context in NHL Action
Let's talk about the topic that almost everyone is going to be thinking about right now, and that's "don't other players have more points."
Here's the top ten rookie scoring leaders as well as relevant point production metrics, and keep in mind Gostisbehere is the ONLY defender within the top 13 scorers.

Considering that Gostisbehere is out producing every player not named Artemi Panarin and Connor McDavid, the argument Calder trophy contention is getting stronger.
And let's talk about Panarin first. He's not a "true rookie" as numerous NHL scouts have told me. Panarin is 24-years old and had been playing in the KHL professionally since the 2008-09 season. Many individuals around the NHL don't really consider him a rookie due to his extensive playing career and his age. Additionally here's some interesting statistics about Panarin that prove he is being carried by Patrick Kane this season.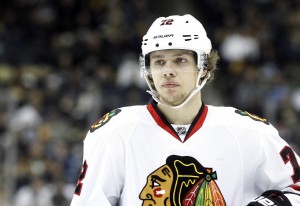 In the 838:02 that Kane and Panarin have played together at even-strength, the Chicago Blackhawks score 3.01 goals per-sixty minutes played, allow 2.43 and have a Corsi-For percentage of 53.8. Now let's look at those metrics when Kane is apart from Panarin, Chicago scores 3.37 goals and allows 1.45 per-sixty played and has a Corsi-For percentage of 47.2. Now let's look at Panarin away from Kane, the Blackhawks score .46 goals and allow 4.16 per-sixty and have a terrible Corsi-For percentage of 42.8.
Whichever way you look it, Panarin's numbers are grossly inflated by playing alongside Kane, who's having a career season.
Next let's look at Connor McDavid's rookie season. I've seen him play, he's a phenomenal player, his vision and hockey IQ are off the charts, but he hasn't impact the Edmonton Oilers season at all. Sure he's produced 34 points in 32 games played, but overall the Oilers are on pace to finish in the same area in the standings that they have for the last five years. Add on that McDavid missed a large portion of the season due to a broken collarbone and it seems that he simply won't have played enough games to deserve the Calder trophy.
Before the Flyers called up Gostisbehere, the team was 6-11 and falling in the standings. After he joined the team the team is 25-15-8. Not all of that can be credited to Gostisbehere, but he's had a huge impact on the Flyers season and they're playing some of their best hockey of the year and actually pushing for the playoffs.
Then there was the fact that he set the rookie record for the most games with a point, at 15 games straight and it really seems like Gostisbehere should be in the thick of Calder trophy discussion. In terms of actually impacting the course of a season, no rookie has had a bigger impact than Gostisbehere has had. Instead of being a deadline seller, the team held onto pending free agents and they're currently just two points out of a playoff spot.
Has Shayne Gostisbehere done enough to win the Calder trophy? I certainly believe so and many around the league agree, but it depends if the NHL is willing to take that award away from presumed winner Connor McDavid.
Thanks for reading! Feel free to leave your comments below or tweet me anytime @MPityk_PHI