If the Avalanche Miss the Playoffs, It's Time to Find A New Coach
The Central Division is typically considered one of, if not the, toughest division in the NHL.  From start to finish, it's a seven-team dogfight to get into the playoffs, boasting an all around juggernaut in the Chicago Blackhawks, offensive juggernaut Dallas Stars, strong and experienced teams in the St. Louis Blues and Nashville Predators, with the Wild, Jets, and Avalanche able to provide enough punch to give the top seeds a run for their money.  In what is typically an arms race, the Avalanche have a core of players that should stack up well against anyone in their division, their top two lines boasting offensive wizards Matt Duchene and Nathan MacKinnon at center, Gabriel Landeskog, Jarome Iginla, and now Mikkel Boedker at the wings.  So can someone tell me why they're fighting Minnesota, a team with no comparable center to the Avs and a group of aging wings, remains tied with them in the standings AND has a game in hand?  How about the fact that they have this much talent up front, plus Tyson Barrie, Erik Johnson and Francois Beauchemin, the Anaheim Ducks leading D-man last year, on their blue line, yet Per War on Ice, are dead last in Corsi for?  If I had to venture a guess, my first thought would be 'black magic', then, more logically, the coach.
Patrick Roy vs. Fancy Stats
It's no secret Patrick Roy has been opposed to analytics throughout his NHL coaching career.  And hell, why shouldn't he be?  In his first full season, his team led the Thunderdome of divisions with 112 points.  They may not be beating the Wild as bad as they should, but tied for the final Wild Card spot with about a month left to play certainly isn't terrible.  But, wait, what's that logic? What about last season, the only one in Roy's entire coaching career he hasn't made the playoffs?  How could that be?  Well, it works something like this:  Without Semyon Varlamov making 30-40 saves per night, the team summarily had their teeth kicked in on a nightly basis and, predictably, ended up last in the division.  Don't forget, that was with the amazing two-way play of Ryan O'Reilly, who is no longer with the team in part because of the (mercifully) removed Greg Sherman, but there were some reports that the Ryno wasn't happy playing wing when he's a natural center.  Just look at this highlight reel goal he scored for the Sabres this year and try to convince yourself they don't need him.
You might be tempted to look at this team and say "maybe it's the players", and that's fair, considering the Avs have only been a positive possession team once in the last ten years.  But it's hard to ignore the fact that they have been able to win in spite of their poor Corsi rating, making it seem less like a bad mix of players, and more a system problem that's hampering these guys from reaching their full potential, which is certainly a scary proposition to consider.  This is a team with three of their best offensive players still under the age of 26, and it's becoming increasingly frustrating to watch as theses prime years are wasted by mismanagement, a garbage system, and by extension, a not-great coach.  Their division is difficult, but it's inexcusable that they don't have a death grip on that wild card spot over an aging Wild team that A) had one win in 14 games at a point during this season, B) were missing arguably their best forward in Zach Parise for 11 games, and C) fired their coach.  As they are now, even if they were to usurp Minnesota for the final Wild Card spot, what then?  A first round beating at the hands of either the Hawks, Kings, Ducks, or Stars is pretty much all that awaits them as a reward for not failing hard enough to end up in the Draft Lottery.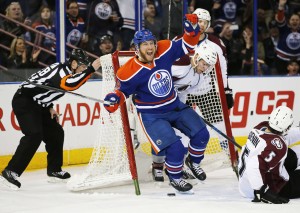 So What's the Solution?
Unfortunately, the best time to have fired Roy seems to have come and gone.  Last season there were several good coaches on the move, all with solid track records of winning with a puck possession system.  Sure, Todd McLellan never made it to the Cup Final in his tenure as head coach in San Jose, but it must be said that the situation experienced in Southern California would be quite the upgrade for this Avalanche team.  Hindsight is a powerful thing, but when you come in last in your division, lose your best two-way forward, and have one of the lowest possession ratings in the game for the second season running, maybe you shouldn't have gotten a third crack at this line up.
Complicating things further is that legacy of Roy's.  He's an icon in Colorado, him and his buddy, Executive of Hockey Operations Joe Sakic, making a firing, even if they don't make the playoffs, even less likely, for the time being.  But as we saw this past summer when Sakic went out and acquired a veteran defenceman to shore up a thing blue line, you'd have to expect him to do something similar this offseason, especially with some very interesting pieces like Dan Hamhuis going into unrestricted free agency,  while certain other star blueliners are said to be available via trade (looking at you, PK).  If Sakic makes another solid signing and this team falters again, maybe then we'll see some changes, though the only thing you can absolutely count on in this regard is an angry post by yours truly.