For those that don't know, Brianna Decker is a highly skilled hockey player, and a well-decorated one also.
Brianna is one of the best players in the game, not just today, but ever," said the general manager of the Boston Pride, Hayley Moore, after they signed the standout player. Basically, if she has a trophy case — she's going to need another one because there are more coming.
Decker was named the MVP of the inaugural Isobel Cup playoffs, in the NWHL's inaugural season to put an exclamation point on the Pride winning the first-ever Isobel Cup. In 2015, she won the CWHL rookie of the year and was part of a Boston championship team there; in 2014, as a silver medalist, she was named one of the three best players at the Winter Olympics (2g-4a); she has three gold medals from the Women's World Championships (2011, 2013, 2015) and one silver medal (2012). In college, at the University of Wisconsin, she won the Patty Kazmaier Memorial Award as the best player in 2012 and is one of the best players to ever come through that tremendous program.
This year with the Pride, she netted the league's first ever hat trick, led the league in shorthanded goals, was second in the NWHL in points, goals and assists and was named player of the week twice. Basically, what we're trying to say here is this: Brianna Decker is really, really, really good at hockey. It's time to get another trophy case, Ms. Decker.
@bdecker14 and @kbells22 pay tribute to @dlaing14 after their Isobel Cup Finals Victory. #14Strong pic.twitter.com/BagI4Y4yTm

— Mike Hetzel (@mikehetzelphoto) March 13, 2016
Usually we do our interviews off the ice, but following the Pride's 3-1 Isobel Cup-clinching victory over the Buffalo Beauts in Game 2, The Hockey Writers spoke with Brianna Decker on the ice minutes after celebrating with her teammates to get some insight into what made this team so special and how tough a task it was to win the NWHL's first championship.
The Hockey Writers: You just won the first NWHL championship and were named MVP; what's going through your mind right now?
Brianna Decker: Honestly all I can think of is two things: we made history today and we did it for Denna (Laing). That's just the bottom line right there. We worked hard and outworked the other team today.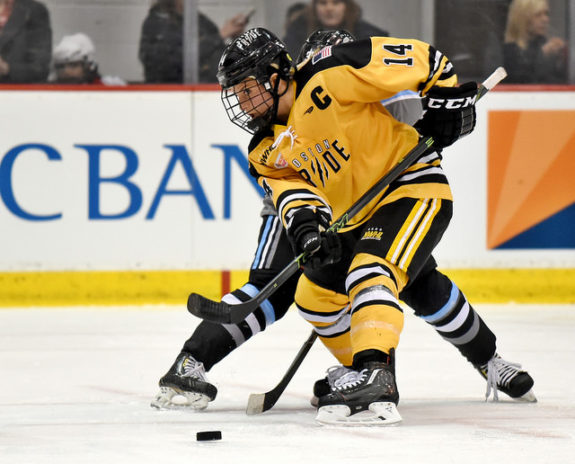 THW: This was your team's 11th consecutive win, but the last two games against Buffalo were pretty rugged. What kind of challenges did they present to you these last two nights?
BD: I haven't seen a team get better, more than them, all year. They worked so hard all year, they became a different team; I give them a lot of credit. They have great leaders on that team — Megan Bozek, Emily Pfalzer, Meghan Duggan — they're all great leaders and that's why they came so far this year.
Brianna Decker gets the eventual game-winning goal, shorthanded, on a one-time blast:
https://www.youtube.com/watch?v=Eyo6L7HyVio
THW: Your game tonight — the first goal, and then the shorthanded goal — you and Hilary (Knight) were buzzing up and down the ice all night … not that that's any different from any other night … how determined were you to end this series tonight?
BD: Today we wanted to change-up our game from yesterday; we were a little lazy yesterday. (But tonight) we had our feet under us, we said we had to move the puck quicker and we did that tonight. We had a lot of chances and we put a few away luckily.
Dan Rice can be reached via Twitter: @DRdiabloTHW or via Email: drdiablo321@yahoo.com.